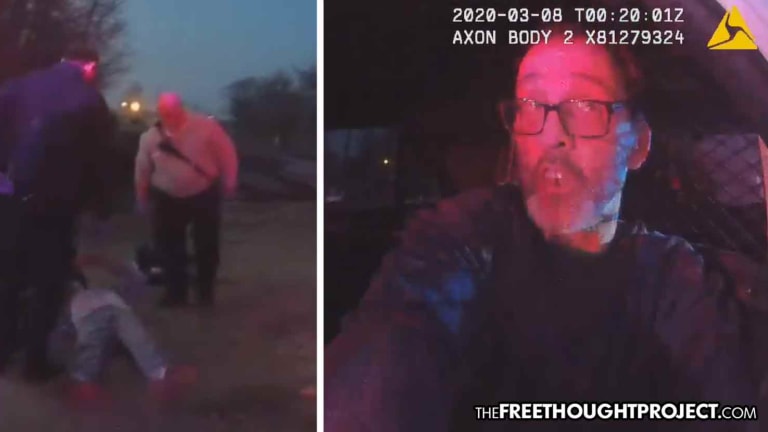 WATCH: 'If You're Gonna File a Complaint, We'll Just Charge You'—Tyrant Cop Arrests Good Samaritan
A good Samaritan stopped to help an injured man and was subsequently arrested and falsely charged after a tyrant cop showed up to the scene.
Centralia, IL — Earlier this month, Aron Flanagan and his daughter were driving over a railroad crossing in Centralia, Il. when they say a man on the ground who claimed he had been struck by a vehicle. Flanagan immediately stopped to help and then called 9-1-1. This good Samaritan's kindness would soon get him arrested, however, because Centralia police officer Billy White arrived on the scene — drunk on power.
This week the Centralia Police department released body camera video of the incident that occurred on March 7, 2020. The infuriating body camera footage shows what happens when power-tripping cops lose their temper and abuse their authority.
As the video shows, when officer White shows up on the scene, he is immediately belligerent and began yelling at Flanagan to move his vehicle. However, Flanagan told the officer they were just going to leave because help had arrived and this good Samaritan's 911 call had potentially saved the man's life.
White was not content with Flanagan's decision to leave and he then demanded to see the innocent man's identification. Since Flanagan was not suspected of committing a crime, he declined to identify himself to officer White. This infuriated White who was quick to abuse his badge.
White began cursing at Flanagan and then moved in to kidnap the innocent man.
"God damn, let's make everything f**king difficult, please!" the tyrant officer says as he deprives an innocent man of his rights while placing him in handcuffs. "You're gonna go sit in the county jail 'cause you wanna be an idiot."
When Flanagan asked officer White why he was being arrested, White made up an erroneous charge of "obstructing justice."
After several minutes pass, officer White likely realized that he shouldn't be arresting a man for no reason so he went back to the cruiser and began to take the handcuffs off of Flanagan. As White scolds the innocent man like a child for asserting his rights, Flanagan asks for his name and badge number so he can file a complaint — infuriating the tyrant cop.
"Oh you're gonna file a complaint on me?" he says. "Well, you're going to jail. I'll give you something to file a complaint about."
White then slams the door on Flanagan, arresting him for promising to file a complaint.
After slamming the door, White flies off the handle and throws a temper tantrum to his fellow cops who seem perplexed as to why he is being such a baby.
*WARNING - GRAPHIC CONTENT - WARNING*This video was provided to us by a member of the community who obtained it through a FOIA request. The video shows Officer Billy White placing Centralia resident Aron Flanagan under arrest for not providing his name or ID. The video also shows Officer White in the process of releasing Mr Flanagan after receiving his name, only to continue with the arrest once Mr Flanagan stated he wished to file a complaint against Officer White.In the video, Officer White mutes his body camera so that he can't be heard talking to his supervisor, Sgt Joe Rizzo. In audio obtained from another officer's body cam, Officer White can be heard berating Mr Flanagan, calling him names, and at one point telling newly hired Officer Myles Niedbalski to "get the fuck away" from him while he's talking if his camera isn't muted. Officer Niedbalski then muted his camera.You may remember Officer White from a video we shared a year ago, after he rammed his squad car into a young woman's vehicle at the Centralia High School during a false threat of a bomb in the school.

Posted by The People of Centralia Illinois on Saturday, March 21, 2020
For being a good Samaritan who crossed paths with a tyrant, Flanagan was then kidnapped and brought to jail. Despite White's attempt to accuse Flanagan of a criminal act, the judge could not find anything on which to charge the man, so he was released.
After he was released, Flanagan made good on his promise and immediately filed the complaint. Centralia Police Chief Greg Dodson responded to the complaint this week. According to Dodson, White was "disciplined" and steps have been taken to prevent this type of conduct in the future.
Exactly what discipline this tyrant cop faced remains a mystery. However, Dodson assures the community that the department as a whole will be provided further training. Dodson also says he is reinforcing his expectations of how officers' interactions with the public are and how they must meet the department's clearly established code of conduct.
Despite the chief's reassurances, we take no solace in his claims that this won't happen again — especially considering the fact that this problem cop was in the news last year for injuring a 17-year-old girl and got off with a wrist slap. In March of 2019, dashcam footage from White's police SUV was released showing him speeding through a school parking lot before slamming into a 17-year-old girl's car.
While patrolling the school's parking lot during a prank call bomb threat, the officer noticed a white car enter the school. Video shows the officer immediately stepping on the throttle, crossing over a strip of grass and accelerating between rows of parked cars before slamming into the side of the car.
He smashed into the car so hard that it broke the student's collar bone. Luckily, he didn't plow down any students in the process. For recklessly endangering the lives of multiple students and plowing his cruiser into an innocent child, causing her injury, White received a one-day suspension.