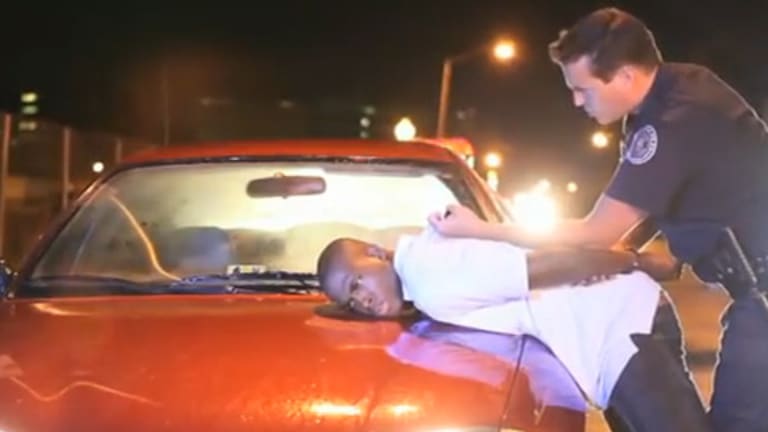 How the Government Bribes Police to Arrest People For Smoking Pot
Police use the number of low-level drug arrests to sustain critical law enforcement funding from the federal government.
June 14, 2014
Activists have long claimed that cops have quotas for ticketing and arresting people, but evidence to support those claims varies from state to state. However, newly obtained documents reveal that local police agencies have indeed used the number of low-level drug arrests to sustain critical law enforcement funding from the federal government under a program called the Edward Byrne Memorial Justice Assistance Grant (JAG) Program.
You may have heard of the Byrne Grant program from Michelle Alexander's book The New Jim Crowe. Alexander writes,
"The Byrne program was designed to encourage every federal grant recipient to help fight the War on Drugs. Millions of dollars in federal aid have been offered to state and local law enforcement agencies willing to wage the war."
Scholars say the program has had a major impact on the precipitous rise of low-level drug arrests over the last twenty years.
"This money has helped reshape policing strategies and policies in major cities and a lot of rural areas throughout the United States," says Harry Levine, a sociologist at Queens College, CUNY, who has studied drug policy for decades. "Although the government claims [Byrne grant money] goes toward apprehending high level traffickers, it's often very low level people who get arrested. It targets low-income people and people of color much more than anyone understands."
Nationwide, reforming our bloated prison system—the largest in the world—and the drug laws that fed its growth is coming into vogue, after decades of either willful ignorance or complicity by political and media establishments. Yet little attention is being given to pieces of the apparatus that sustain racist and class-based patterns of arrests and prosecutions. The Byrne grant program may well be at the heart of this arrangement.
Launched in 1988, the Byrne grant program was most recently invigorated in 2009 with $2 billion from President Obama's signature recovery act. Here's how it works: At the beginning of every fiscal year, states participating in the program receive a certain amount of funds from the federal Bureau of Justice Assistance. The money first goes to the highest criminal justice agency in a given state (for example, the State Division Criminal Justice Services in New York), which then doles out the money to local precincts based on a competitive application process. At the end of the fiscal year, a state's criminal justice agency must submit a "state annual report" to the federal government indicating how the Byrne funds were spent, using certain "performance measures" to show productivity and qualify for renewed funding.
These performance measures are universal across all states, and have not changed in the program's 26-year existence. And here's what they are, taken directly from one of the reports:
Click to enlarge.
Source: Tennessee 2004 Byrne Annual Report
The Marijuana Arrest Research Project obtained a total of 20 state annual reports from 10 states and territories. The documents span from fiscal year 2000 to 2013. Across all the reports, we found similar trends. Below are some of our most significant findings.
1. Marijuana related arrests and seizures are, by far, the most common "productivity measure" across states
In the reports we examined, states listed the raw volume of drugs seized to show productivity. In nearly all of the reports, the amount of cannabis seized significantly dwarfs all other drugs. Here's a typical example from Missouri's state annual report showing total volume of drugs seized:
We also discovered that the simple possession of marijuana is, overall among all states examined, the most frequent arrest and conviction cited as a productivity measure. Here's a chart showing top drug arrests and prosecutions in Arizona in 2013:
Click to enlarge.
Click to enlarge.
Source: Arizona 2013 Edge Report (its version of Byrne Annual Reports)
Culling together data from Byrne grant state annual reports and a 2013 ACLU report called "Marijuana Arrests in Black and White" reveals an ugly reality about the war on drugs: through the promise of Byrne grant funding, the federal government is using tax dollars that incentivize local police forces to arrest non-criminal young men of color.
The ACLU report reveals that nationwide, the number of marijuana-related arrests rose 18% between 2001 and 2010, and of those, 7 million (out of 8 million) were for simple possession. In 2010, over half (52%) of all drug arrests were for marijuana, and of those, 88% were for simple possession.
Click to enlarge.
Source: ACLU
Even more startling, the ACLU report notes that blacks are nearly four times as likely as whites to be arrested for marijuana possession (data on Latino marijuana arrests is inconclusive due to outdated modes of categorizing arrestees by race). Furthermore, 71% of all marijuana possession arrestees were between the ages of 16 and 29, and 6% were 15 or younger.
Click to enlarge.
Source: ACLU
The state annual reports do not usually break down arrests by any sort of personal identifies—race, age, etc.—but a cross comparison with the ACLU's data, along with a trip to any probation office or jailhouse in the country, more than affirms the assertion that Byrne dollars create motives to arrest black and brown youth, saddling them with all the baggage that comes with an arrest and possible criminal conviction. But no matter to the police: they get paid to haul in people for low-level drug crimes, and for some officers, their jobs literally depend on making those arrests.
2. Police used Byrne grant funds for officer payroll
Byrne grant money is officially meant for special narcotics squads called multijurisdictional task forces, but the money can also be allotted to prosecutors and police officers, especially in the service of drug crime. Although Byrne money can be put toward non-enforcement endeavors like drug treatment, courts, and crime prevention, the vast majority of Byrne money is spent on "law enforcement."
Some of the state annual reports are surprisingly candid about how necessary the Byrne money is for sustaining certain law enforcement operations. This is from Missouri's 2013 report:
Click to enlarge.
Source: Missouri 2013 Byrne Annual Report
Similar language is found in Iowa's 2006 report:
Click to enlarge.
Source: Iowa 2006 Byrne Annual Report 2013
New York's 2013 report notes that a whole investigative unit was supported with Byrne money. Although many would agree that violent crimes should be investigated, keep in mind how often states use low-level possession arrests to keep the spigot of salary-sustaining federal money flowing.
Click to enlarge.
Source: New York 2013 Byrne Annual Report
Louisiana's 2013 state annual report shows that federal funds were used to subsidizethousands of overtime hours for dozens of officers in a twelve-month period, and officers themselves noted how invaluable those hours were to the livelihoods of their officers:
Click to enlarge.
Click to enlarge.
Source: Louisiana 2013 Byrne Annual Report
It doesn't take a genius to figure out that the more low-level drug arrests cops make, the more assured their federal funds will be, and the more stable the salaries of officers will remain.
But it isn't only overtime hours that Byrne money pays for: local police have also used federal dollars to buy virtually any kind of equipment they need, rendering the funds even more sacrosanct.
3. Cash-starved precincts use Byrne funds to seize and buy anything they need
As states have cut funding to virtually all public services in the last few years, subsidies from Washington have become even more critical to police, according to the reports we examined.
"With Byrne grant money," says Harry Levine, "the police can buy all kinds of stuff - police cars, bullet proof vests, computers, bullets - buy whatever they want." The state annual reports confirm just that.
Click to enlarge.
Source: Missouri 2013 Byrne Annual Report
Many of the firearms obtained through Byrne grant funding aren't directly purchased with the funds; rather, the federal dollars pay for programs that enable cops to seize weapons from people they apprehend. Even if those arrested are acquitted on all charges, police can still keep anything they confiscate in the course of making an arrest, under an overarching policy called civil asset forfeiture.
Click to enlarge.
Source: Arizona 2013 Edge Report (its version of Byrne Annual Reports)
Click to enlarge.
Source: New York 2013 Byrne Annual Report
Budget tightening has made federal dollars even more precious. Missouri's 2013 state annual report explicitly makes that point:
Click to enlarge.
Source: Missouri 2013 Byrne Annual Report
In rural communities, where funds for law enforcement are slim, Byrne money is even more critical than for urban places:
Click to enlarge.
Source: Idaho 2003 Byrne Annual Report
To summarize: states can only renew their Byrne grant funding if they impress the government with their state annual reports. States show they're putting funds to good use by touting the number of drug arrests made and prosecutions opened, along with the volume of assets and drugs seized. This funding lifeline has shifted policing tactics to focus heavily on the apprehension of low-level drug offenders, especially on those in possession of the most benign and abundant illegal drug: marijuana.
Data from the ACLU shows that the overwhelming majority of those arrested for minor marijuana possession are non-white youth. These young people are the cash cows that police apprehend in order to fatten arrest statistics submitted in state annual reports. Without these arrests, police in cash-strapped states could not sustain federal funding for vital priorities: overtime salaries, vehicles, ballistic vests, and so on.
Any program that pegs law enforcement funding to a raw volume of arrests and prosecutions, without acknowledging systemic racial and class-based biases in policing, will inevitably exacerbate and perpetuate the racial disparities that exist at every level of our criminal justice system. The Byrne grant program not only demands the arrest and prosecution of low-level offenders, but also ties the livelihoods of dozens of police precincts across the country to those numbers. If we are ready to undo the harm wrought by decades of aggressive policing and incarceration, then we must decide to finally kill the Byrne grant program.
Aaron Cantú is an investigator for the Marijuana Arrest Research Project and an independent journalist based in Brooklyn. Follow him on Twitter @aaronmiguel_