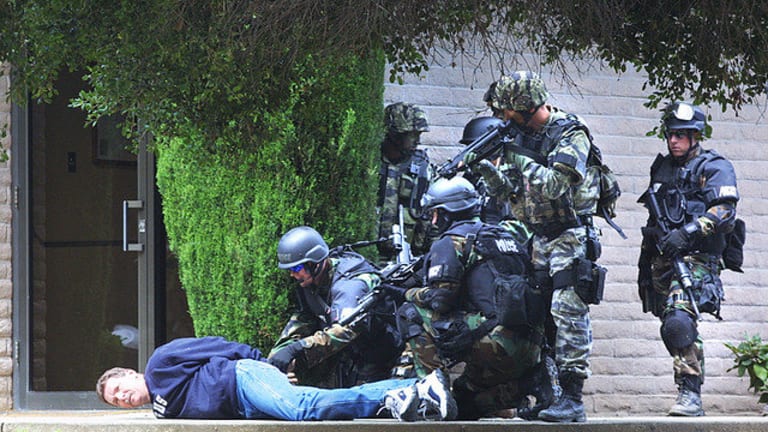 Government Can Only Wage War Elsewhere for So Long, Before it Inevitably Comes Home
You can't assemble a totalitarian war machine and expect it to never come home. Sooner or later, all those military-grade weapons end up in your own back yard. Pointed at you.
Over the last several decades, we've seen the rise of militarized law enforcement. From no-knock raids to Ferguson under armed occupation, America is beginning to look a lot less like the peaceful land of the free and more like a land where only the brave dare venture. Even sleepy little towns in New Hampshire are getting armored assault vehicles, despite hundreds taking to the streets in protest. Weapons of war are in our streets, and they're here to stay.
Many ardent critics of America's transition into the land of checkpoints and armored personnel carriers supported military interventions and occupations abroad. The argument goes, fight them there so they don't come here. Heavily-armed patrols and universal inspections are easier to tolerate when they aren't in your back yard, especially when accompanied by the expectation that they will never, ever, happen at home.
As it turns out, that expectation was foolish. The war has come home. To begin with, America's civilian law enforcement increasingly benefits from tactics, training, and close ties with its military. Train cops with Navy Seals and give them a "war" on drugs to fight, and it's hardly surprising when officers begin to view the people more like enemy combatants than civilians. With dispositions and training more suited to fighting a war than keeping the peace, it's easy to see how an otherwise peacefully-solved conflicts could escalate into violence and death.
Next, state and city police departments are stocking up with some heavy equipment. Much of this is either direct military hand-me-downs or made available through federal grants. This means that federal defense spending approved under the assumption that none of it would be used against Americans is being employed for just that purpose. Local government, always aware of the popularity cost of raising taxes and fines to fund various projects, simply can't say no to free stuff.
Finally, many military-style operations, though carried out by local law enforcement, are funded by the federal government. A prime example of these are so-called sobriety checkpoints, where police are paid by federal money to hold regular checkpoints arbitrarily detaining motorists. Slowing traffic and harassing citizens in a sleepy little town is hardly something that would be deemed cost effective in a city budget meeting. Provide the funding for free, however, and the objections simply wither away.
The tanks have come home to roost.
Joël Valenzuela is the editor of The Desert Lynx.