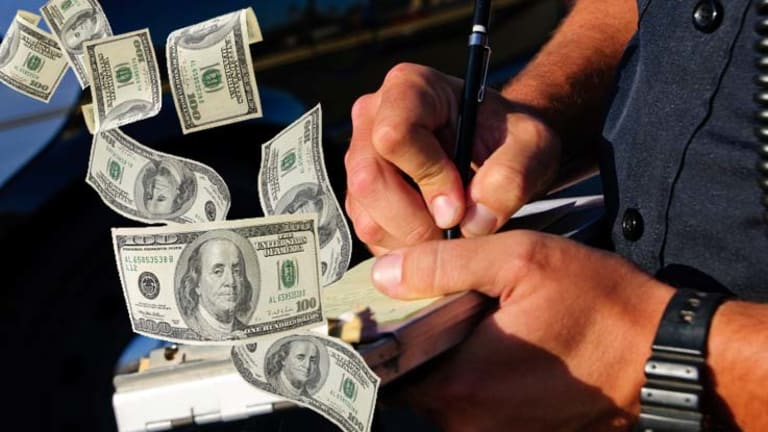 Govt Officials Furious at Drop in Revenue as Cops Write Less Tickets to Stop Actual Crimes
A sharp decrease in ticket writing has not led to an increase in dangerous conditions and has only had a positive impact -- unless you're a politician.
Bergen County, NJ -- Most people reading this article know what it is like to have the blue and red lights pop up in your rearview mirror. The last thing going through your mind at this point is the feeling of 'being protected.' This feeling comes from the fact that the overwhelming majority of the time a driver sees police lights in their mirror is because they have been targeted for revenue collection, and they are about to be given a ticket.
Police, we are told, are here to keep us safe and protect us from the bad guys. However, public safety all too often takes a back seat to revenue collection. Time and time again, the Free Thought Project has exposed quota schemes in which officers were punished for not writing enough tickets.
But what happens when officers actually focus on fighting crime instead of revenue collection?
In short, the bureaucrats can't pay themselves, and they get angry -- as is the case in Bergen County, New Jersey.
Beginning in 2011, Bergen County saw a sharp decline in the number of tickets written.
While there are multiple inputs contributing to this decline, Sheriff Michael Saudino noted, according to North Jersey.com, that he had asked officers to use more discretion when stopping landscapers and other small truckers who were sometimes hit with eight to 10 tickets in a single motor-vehicle stop. He said that there was no pullback on serious infractions, like weight, but that an officer might choose a warning over a violation for lesser violations, like a light being out or having a bent license-plate frame.
"I think it just gives the working man an opportunity," Saudino said. "Sometimes a warning goes just as far as a summons." But there is no money in a warning.
Former County Police Chief Brian Higgins said that the decline in tickets was also due to police patrolling for actual crime and responding to more allegations of assault.
This decline in ticketing has left county leaders with shrinking court revenue and, predictably, they are fear mongering about road safety. However, there is no data to show an increase in dangerous conditions correlating with the decrease in revenue generation. In fact, it is quite the opposite.
The police department also chose to educate drivers instead of extorting them, which actually decreased driving while texting fatalities by more than 50 percent. Lt. Vincent DeRienzo, said the educational effort — which included public-safety announcements and coordinated activities with municipalities and such groups as AAA -- was responsible for the swift decline.
Now for the bad news -- ticket numbers are going back up.
After county officials noted the decline, they began to squeeze the department.
Saudino said, in February, after getting a call from County Executive James Tedesco, he looked at the numbers and talked with his command staff about reversing the trend.
Although ticket quotas have been specifically outlawed in New Jersey since 2000, pressure from officials coupled with veiled threats of disbanding the department and losing out on pay increases has had an apparent effect on ticket numbers.
Since January of this year, the number of tickets written has skyrocketed by nearly 450 percent, from a mere 700 tickets written in January to 3,100 tickets written in June.
"You have Bureau of Police Services folks handling responsibilities that are more broad than just traffic enforcement and ultimately their job is to protect and serve the public and not write tickets," Alicia D'Alessandro, a spokeswoman for Tedesco said.
However, her sentiment does not reflect the prevailing desire of the county.
When police aren't kidnapping, caging, and killing people for possessing substances deemed illegal by the state, in turn creating a criminal black market for them which drives up crime, they are out enforcing traffic laws.
Any number of arbitrary traffic infractions will lead to your extortion, arrest, imprisonment, or in the case of Philando Castile, death.
Policing for profit in the United States is the norm. Those who resist, like Bergen County, are met with swift action.
The total number of people who receive speeding tickets only, is 41,000,000 a year with an average cost of $152.00 each. That is 1 in every 5 licensed drivers in the US.
The total number of speeding tickets paid each year is $6,232,000,000, which breaks down to around $300,000 generated per police officer for speeding alone. Tack on seat belt violations, license plate lights, window tint, rolling stop signs, and expired state-mandated stickers and that number skyrockets.
Police departments need you to break traffic laws. Revenue generated from traffic tickets is not for your safety, it is necessary for the survival of police departments and county officials alike, as seen in the above example.
Unfortunately, the police officers who see this problem are in the minority. And, when they attempt to stop it, they are chastised -- as seems to be the case in Bergen County. Unfortunately, an encouraging trend in policing has fallen prey to the greedy nature of politicians and their ability to legally rob the public.
[author title="" image="https://tftpstagingstg.wpengine.com/wp-content/uploads/2016/03/magorist-e1456948757204.jpg"]Matt Agorist is an honorably discharged veteran of the USMC and former intelligence operator directly tasked by the NSA. This prior experience gives him unique insight into the world of government corruption and the American police state. Agorist has been an independent journalist for over a decade and has been featured on mainstream networks around the world. Follow @MattAgorist on Twitter and now on Steemit[/author]