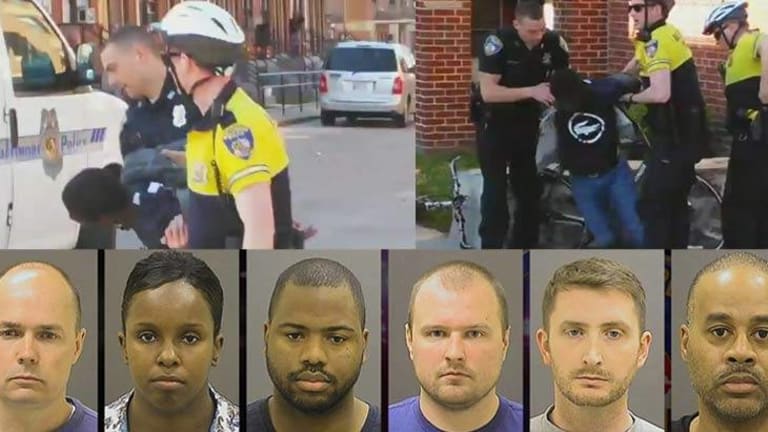 Paradigm Shift? Grand Jury Actually Indicted All Six Officers In The Death Of Freddie Gray
A grand jury has indicted six Baltimore officers implicated in the death of Freddie Gray.
Baltimore, MD -- Six officers charged in the death of Freddie Gray early this month were indicted Thursday by a grand jury. This comes after two weeks of reviewing the evidence presented by the prosecution, according to Baltimore City State's Attorney Marilyn Mosby.
Mosby announced the charges May 1, which ranged from second-degree murder and involuntary manslaughter to assault and misconduct in office. According to NPR:
Mosby said she has assured Gray's family that "no one is above the law," also cited her oath of office, in which she promised "uphold justice."
She said that her review of the case found there had been no reason to detain Gray, and that his arrest was illegal.
According to the report, "the van transporting Freddie Gray, the 25-year-old black man who suffered a serious spine injury while in police custody and later died, made one more stop than previously thought."
That 40 minutes Gray spent in the van alone was the center of the independent investigation.
The original charges included misconduct, illegal arrest, assault and involuntary manslaughter. The grand jury, however, returned a slightly different list of charges in the indictments, some of which have been removed. While all officers are being indicted on charges of reckless endangerment, the officer allegedly driving the van transporting Gray, Caesar R. Goodson Jr., faces second-degree depraved heart murder.
Mosby declined to answer questions at the press conference but responded to the alteration of the charges stating :
"As our investigation has continued, additional information has been discovered, and as is often the case during an ongoing investigation, charges can and should be revised based upon the evidence."
Attorneys representing the officers have demanded Mosby be taken off the case, alleging "conflicts of interest." Mosby has vehemently denied this accusation. It's not surprising that the defense seems to be afraid of an attorney dedicated to bringing police officers to justice, as it is quite rare for a prosecutor to do so.
Ivan Bates, Attorney for Sgt. Alicia White, made a statement challenging Mosby, stating:
"I look forward to trying this case against Marilyn Mosby herself and proving Alicia White is innocent." Sgt. White is accused of involuntary manslaughter, misconduct, assault and reckless endangerment."
All six officers are scheduled to be arraigned on July 2.