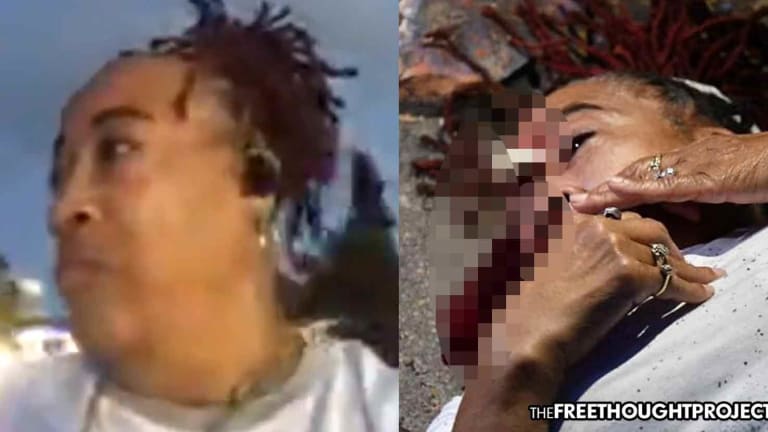 WATCH: Grandma Shot Between the Eyes by Police Rubber Bullet While Peacefully Protesting
An innocent grandmother, protesting her son's death at the hands of police, was shot between the eyes by a police sniper as she live-streamed.
La Mesa, CA — According to the family of Leslie Furcron, she just buried her son in February after he was killed by police for running from them. They say cops approached him with guns drawn, scaring him, so he ran. Unfortunately, they would kill him over this. Illustrating the level of suffering faced by so many communities across the country, as Furcron peacefully marched to protest the death of her son and police brutality in general, she was shot between her eyes by a cop firing a rubber bullet.
Furcron is currently in the Intensive Care Unit and her family is unable to visit her due to COVID-19 restrictions. She is unable to talk and doctors are unsure if they will be able to save her eye.
The only thing that Mrs. Leslie was doing when she was shot in the middle of the head with a near-deadly projectile, was filming and talking. 
According to her family, Furcron, lost her son during the beginning of the year, so she decided to take her voice to the streets to be heard. Furcron was entirely peaceful and simply practicing her first amendment right to voice her anger over police killings.
As the video shows, around the ten minute mark, Furcron is filming cops on top of the buildings who were reportedly firing rubber bullets into the crowd.
"Look, they are shooting people," Furcron says as rounds go off in the background.
"They're murderers! They're murderers!" she yells.
As Furcron turns the camera back to herself momentarily, another round goes off and that one hit her right between the eyes. She then goes down.
The aftermath of the shot was gut wrenching as folks around her went into panic thinking she was dead. The round can be seen sticking out from her head as the innocent grandmother fades in and out of consciousness.
It takes one sadistic and heartless individual to shoot an unarmed, innocent grandmother in between her eyes as she practiced her constitutional right to free speech. And yet these are the people who claim to "protect" society.
This is why people are in the streets. 
According to her family, Furcron is still in the hospital.
"Right now she's in a stable condition and dealing with the situation. We're keeping our prayers out for her. She's a very strong woman who's always been there for our family and always wanted other people to be happy. So, right now we're hoping all the people out there can give that energy back and help her get well and also work toward justice," said the woman's son, Azim Furcron Sanders.
"When I first saw her it was kind of crazy to see my mom like that with a tube down her throat. It kind of made me tear up for a second. I was used to seeing her bright smile, or yelling at me or talking about something. So, to see her like that really shocked me. I was like, how could you do her like that? I know black men have been involved in a lot of stuff but I couldn't believe they would actually shoot an innocent black, grandmother in her face with her hands up. So, I was really hurt about it," said her son Ahmed Furcron.
"The police need to be held accountable. There are consequences to these police actions that will bring harm and death to anybody anywhere, especially over and over again to black people. There are consequences. They can either hold their rogue officers accountable and provide us with the peace and justice that we have been pleading and begging for, or they will get some of the same of what they've been getting. We will continue to fight. We will continue to stand up. We will continue to resist the state-sanctioned actions of murdering, and slaughtering and injuring severely our black women, our black men, our black children and any of our people of color," Community activist Tasha Williamson told News 8.
According to CBS 8 the La Mesa Police Department did not respond to multiple email and telephone message requests for comment. The San Diego County Sheriff's Department issued a statement to News 8 saying the incident, "did not involve a Sheriff's deputy" and advised News 8 to contact La Mesa police.
WARNING. DO NOT WATCH THE VIDEO BELOW IF YOU ARE EASILY DISTURBED. (Shooting happens at the 10-minute mark)
Posted by Leslie Furcron on Saturday, May 30, 2020