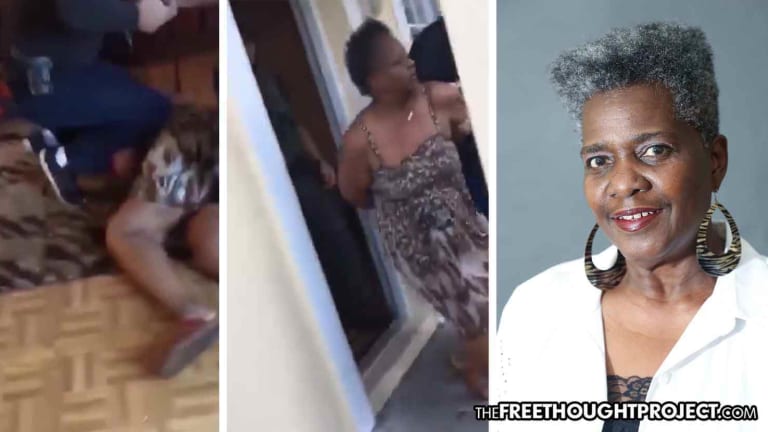 Internal 'Investigation' Finds it Was 'Proper' to Taser, Tackle Grandma Over Asking for Warrant
After investigating themselves, police found they followed "proper procedure" when tasering and tackling a grandma for refusing to allow cops in her home without a warrant.
Bradenton, FL — Barbara Pinkney of Bradenton, in Manatee County, Florida wanted to see the warrant from the cops who had come to her home attempting to arrest a man who she says did not live there. Because she was steadfast in her decision to see the warrant, Pinkney, a 70-year-old grandma who had never been in trouble with police before, was tasered multiple times, thrown to the ground and arrested. Now, after they "investigated themselves" the department has found that tasering the grandmother over asserting her rights was "proper."
"The Manatee County Sheriff's Office said it found that the deputy's level of applied force was lawful, proper and in accordance with agency policy," the report from the internal investigation released last month reads.
This grandma is now facing charges of obstruction and battery on a law enforcement officer, according to a probable cause affidavit obtained by WFLA. To make matters that much worse, the incident unfolded at 7:30 a.m. on the day after Christmas — which also happens to be Pinkney's birthday.
"We heard a knock at the door. Actually, there wasn't a knock. I think they kicked the door. Bam! Bam! At the door," Pinkney said.
According to WFLA, Manatee County Sheriff's Office deputies say they came to serve an arrest warrant to Tevin Turner, Pinkney's grandson, on violation of probation for carrying a concealed weapon. However, Pinkney says he doesn't live there.
"When he was on probation he gave this as his address, but he wasn't living here," she said.
Pinkney tried to tell the deputies this information but they wanted nothing of it. That's when this rights-flexing grandma demanded cops show her a warrant before coming in her home. When they refused to show her a warrant, Pinkney tried to close the door.
According to the investigation, the officer explained FSS 901.19 authorized him to search the residence without a warrant because he reasonably believed Turner to be inside, but Pinkney said, "No, you show me the warrant."
The investigation notes that Florida Statute 901.19 states "if a peace officer fails to gain admittance after he or she has announced both authority and purpose in order to make an arrest by a warrant, the officer may use all necessary and reasonable force to enter any building or property where the person to be arrested is, or is reasonably believed to be."
Video taken by her grandson's wife captured what unfolded next. As this 70-year-old grandma attempts to close the door, a deputy barges in, grabbing her by the arm before tasering her. This grandma is then violently thrown to the ground where she is tasered two more times.
"I was just hollering. I was scared. I didn't know what else to do. I was just hollering," Pinkney said.
As WFLA reports, the probable cause affidavit shows Pinkney was hit three times with a stun gun in her "left arm," her "back," her "upper back," and was held to the ground with the deputy's "knee."
For asking cops for a warrant and refusing to let them in the house unless they produced it, this grandma had her house raided, was attacked, kidnapped and charged — all of it, on her birthday.
Pinkney — who has never had a run-in with police — told local media that she is now scared to death of cops, so much so that she won't even make eye contact with them.
"I don't know. Whenever I see police I just try to not look at them," Pinkney said through tears.
As WWSB reports, last month, national civil rights attorney Ben Crump and his co-counsel announced they were filing a notice of intent to sue the Manatee County Sheriff's Office. Crump said deputies did not have the right to enter Pinkney's home without a search warrant after she said no to their request.
Below is this most disturbing imagery showing what happens when you ask police for a warrant to come into your own home. As you watch the video, remember that everything police are seen doing is "proper."
If you think that cops attacking grandmas is a rare occurrence, think again. As TFTP reported last year, an innocent grandma was killed by cops Oklahoma because they suspected her son was in possession of a plant.
Michael Anthony Livingston, 50, was suspected of selling a plant that is legal in some form in well over half the country. Because the other half of the country still violently and callously kidnaps, cages, and kills people for this plant, however, Livingston is in jail and his mother is now dead.
Geraldine Townsend, 72, was shot and killed this week as a Bartlesville SWAT team executed a search warrant to bust Livingston for the alleged sale of marijuana.
When the heavily armed and likely militarized men kicked in the door to their home, Townsend, likely not knowing who her home invaders were, picked up a pellet gun and fired off two pellets. A Bartlesville officer then shot and killed her.