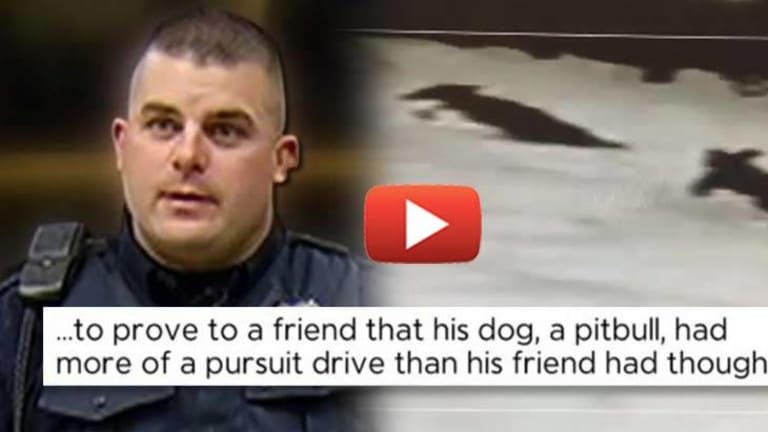 Graphic Video: Cop Films Himself Breaking the Law By Ordering Pitbull to Attack Wounded Deer
Using dogs to attack deer is illegal in Connecticut, but that didn't stop this officer of the law from doing it, filming it, and bragging about it.
Cavanna told investigators that he did it "to prove to a friend that his dog, a pit bull, had more of a pursuit drive than his friend had thought."
Hartford, Conn. - In a newly released video taken by an off-duty Hartford cop John Cavanna, Cavanna can be heard commanding his dog to attack a wounded deer. The graphic video of the dog mauling the injured deer is sparking controversy.
Outraged animal lovers, as well as some sportsmen, have come out to condemn the actions of Cavanna, with many questioning his judgment in light of his other professional title. Aside from being an officer with the HPD, Cavanna is also employed by the Department of Energy and Environmental Protection (DEEP), which regulates hunting in Connecticut, as an environmental conservation officer.
"This is the first time I've seen anything like this," Bob Crook, executive director of the Coalition of Connecticut Sportsmen, told NBC Connecticut Troubleshooters. "And it's horrendous."
There is much debate around the practice of using dogs to track or hunt deer. While it is legal in a number of other states, the state of Connecticut has outlawed the practice.
For his part, Cavanna believes he did nothing wrong claiming that he was simply attempting to have his dog "hold" the deer. He said he believed it was the deer he had shot and injured earlier in the day, and this was an effort to humanely euthanize it. Crooks strongly disagrees with that assertion.
"It goes against all hunting ethics," Crook said.
Cavanna claims that he wasn't hunting anymore and subsequently didn't have a firearm on him when he came upon the deer, and the dog was his only means of not leaving behind an injured animal.
But Crooks says that regardless of the circumstance, "It's illegal, and they're taught it's illegal in hunter safety courses."
When DEEP, which oversees hunting regulation in the state, was asked to weigh in on the subject, spokesman Dennis Schain made it clear that hunters are not allowed to use or allow a dog to pursue, hunt or kill deer.
"That's behavior in violation of state statutes," Schain told NBC Connecticut Troubleshooters.
Cavanna was investigated and interviewed after the video was brought to DEEP's attention, but no charges were brought due to the statute of limitations having expired.
"Unfortunately, from their interviews, they determined this took place two or three years ago and the statute of limitations on that offense is a year. So as deplorable as it may be to see that kind of behavior, there's nothing we can do to press charges in this," Schain said.
The Hartford Police Department, where Cavanna is employed, chose to take no action against him claiming that the video showed nothing that would violate the departmental code of conduct.
It appears that Cavanna will no longer work as a conservation officer for DEEP after telling investigators he "would not apply for the seasonal conservation officer's position this year due to the investigation and content of the video."
"Given what we see in the video, that's probably a wise decision, because that would be a difficult decision for us to want to bring onto the force somebody who looks like they violated the game laws of the state which are part of their job to uphold," Schain said.
What is very revealing about Cavanna's actions is his response to a question asked by investigators about why he recorded his dog going after the deer. Cavanna claimed to investigators that he did it "to prove to a friend that his dog, a pit bull, had more of a pursuit drive than his friend had thought." The honesty in that answer seems to make it very clear that he was in no way attempting to humanely euthanize the deer.
"He should be no where near the woods having conducted this," Crooks said.
Did this officer act to humanely put down this injured deer, or was the officer enjoying some sadistic pleasure, watching his pit bull maul an injured animal?
Let us know what you think in the comments and share it with your friends.
Jay Syrmopoulos is an investigative journalist, freethinker, researcher, and ardent opponent of authoritarianism. He is currently a graduate student at University of Denver pursuing a masters in Global Affairs. Jay's work has previously been published on BenSwann.com and WeAreChange.org. You can follow him on Twitter @sirmetropolis, on Facebook at Sir Metropolis and now on tsu.