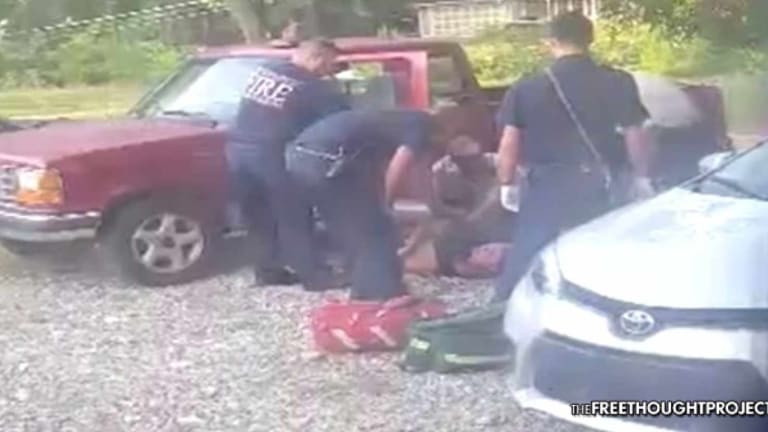 Graphic Video Shows Cops Hold Down Handcuffed Teen, Torture Him With Taser—For Sleeping in Truck
Georgia cops didn't know they were being recorded as they held down a handcuffed teen and repeatedly tortured him with a taser—for sleeping.
Cherokee County, GA — The family of a teenager who was viciously assaulted for sleeping in his truck has filed a formal complaint against the Cherokee County Police Department after a disturbing video shows their handcuffed son being tortured by police with a taser.
"Please, please, I can't breathe," screamed Daniel Fruhling as Cherokee County Police Officers knelt on his back and repeatedly tasered him while he was face down and handcuffed.
Fruhling, 19, was found asleep in his pickup truck at 8 a.m. on August 1 by a woman who tried to wake him up. After being unsuccessful in her attempt to wake the teen, the woman called 911 for medical help. Instead of medical help, however, Fruhling quickly found himself on the receiving end of baton blows and 50,000-volt taser strikes.
"When the video first starts, the first thing you hear is the sound of taser…you've got a small young kid face down on the ground with handcuffs on his back with two Cherokee County Sheriff's deputies on his back…and you hear, 'Please, please, I can't breathe,'" attorney Kyle Koester described to CBS46 while watching the video.
While the video doesn't capture the first part of the interaction, according to the police report — if we are to trust it — Fruhling would not get out of his truck, most likely because he was still passed out.
In an effort to get the teen out of the truck, police say they resorted to baton blows and a taser. Police said this force was necessary on the nonviolent barely conscious teen, according to the report, because there was a possibility he could've put the truck in gear.
Instead of simply reaching into the cab as Fruhling slept and removing the keys from the ignition, police decided to take advantage of a seemingly inebriated kid.
After they beat him into submission with batons and a taser and had him in handcuffs, this is where the video picks up. Fruhling is face down in the gravel — with his hands handcuffed behind his back — and police continue to deploy their taser in spite of Fruhling clearly pleading for his life.
Conveniently absent from the police report, however, was any mention of the taser strikes while Fruhling was on the ground in handcuffs. After all, why would police officers make any record of torturing a teen with a taser who was handcuffed with multiple officers on top of him?
"When you hear a child scream for help and all they continue to do is hurt him, it is very gut wrenching," contended Jeanette McDonald, the boy's mother.
While the family's attorney chose to keep details of why the teen was sleeping confidential, he did give the following statement.
"This opioid epidemic is not something we can jail our way out of…there was no care or concern at all for his medical needs. It was purely an effort of law enforcement to make sure that they made and effectuated an arrest," Koester asserted.
Even if this young man was high on opioids, the fact that he had enough common sense to pull over and not endanger any other lives on the road should be commended, not met with police violence. However, that is what he got.
Fruhling was charged with DUI, obstruction and public drunkenness.
"I don't understand how someone can call for medical help and how it can go to that," McDonald argued.
Sadly, however, this seems to be a standard police practice.
As TFTP reported last month, Jordan Norris, another teen, allegedly involved in drugs, was in need of mental health help and instead got tortured by cops with tasers.
After Norris was arrested, he had somewhat of a mental breakdown and began banging his head against the cell door. So, police dragged him out of his cell and strapped him in a restraint chair.
In the extremely disturbing video, Cheatham County Sheriff's Deputies are seen holding Norris down with a gag while another deputy sadistically and repeatedly deploys the taser. Naturally, Norris squirmed as 50,000 volts ran through his body. His movement seemed to provoke the deputies who responded with more taser strikes.
At one part in the video, you can hear a deputy tell Norris, "I'll keep doing that until I run out of batteries."
Norris said he remembered deputies asking him, "Do you want me to do it again? We got a whole bunch of batteries we can drain into you pretty much. We will do it over and over until we have no more."
In the land of the free, torture by cop is becoming so rampant that there is no shortage of videos of it. Worrisome indeed.