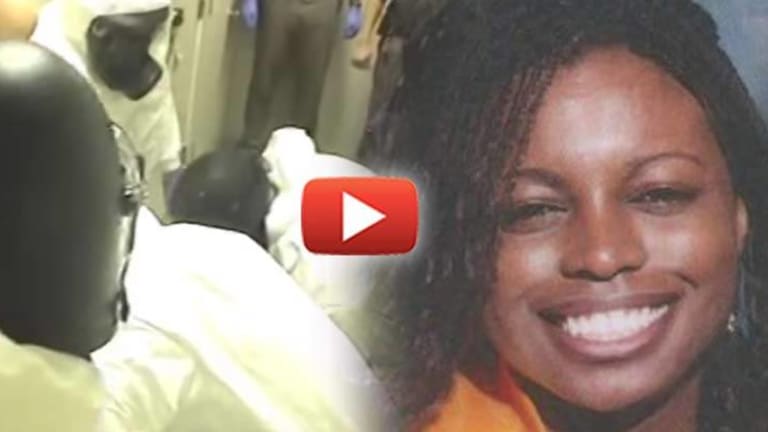 Terrifying Video Shows Cops Shock a Cuffed, Shackled Natasha McKenna to Death - Cops Walk Free
Imagine what six large men, attacking in gas masks, and white biohazard suits look like to a schizophrenic woman who's being shocked to death. Now you don't have to.
Fairfax County, VA — Fairfax County Sheriff Stacey Kincaid released a graphic video on Thursday depicting deputies restraining a mentally ill woman and repeatedly tazing her with a stun gun, which resulted in her death. The sheriff decided to release the footage two days after a criminal investigation declined to file charges against the officers for excessive use of force.
Diagnosed with schizophrenia at the age of 12, Natasha McKenna, 37, was arrested by Fairfax police on January 26 for allegedly punching an Alexandria City police officer. Although technically Alexandria's prisoner, McKenna was held in a Fairfax jail for over a week because Alexandria police officers refused to pick her up and give her a mental health evaluation. Fairfax police could not transfer McKenna to a mental health facility due to the fact that she was Alexandria's prisoner.
On February 3, McKenna initially began cooperating with Fairfax deputies as they attempted to transport her to the Alexandria jail. But when the deputies placed restraints on her wrists through the open food slot in her cell door, McKenna panicked. According to The Washington Post, a nearby deputy recorded that McKenna yelled, "You promised you wouldn't hurt me! You promised you wouldn't hurt me!"
In the newly released video, six members of the Sheriff's Emergency Response Team, dressed in white full-body biohazard suits and gas masks, along with several uniformed deputies can be seen wrestling the 130-pound mentally ill woman down onto the floor. They continue to wrestle her into a wheeled restraint chair and start to strap her down. In order to secure her into the chair, a lieutenant shot McKenna with four 50,000-volt shocks from his Taser.
With her hands cuffed behind her back, her legs shackled, and a restrictive mask placed over her face, McKenna begins swaying back and forth in the chair. After a few minutes, McKenna becomes unresponsive while a deputy repeatedly asks her if she is okay, but McKenna does not answer. More than 16 minutes after tazing her, the deputies finally realize that McKenna does not have a pulse and has stopped breathing. After removing her mask, the officers take off her restraints and attempt CPR to revive her.
Twenty minutes later, paramedics were able to revive McKenna in the ambulance en route to Inova Fairfax Hospital. Her breathing stopped three more times before they were finally able to stabilize her, but McKenna's brain suffered too much damage due to the lack of oxygen. She died several days later.
Instead of attempting to calm McKenna down before transporting her, Fairfax deputies merely escalated a potentially dangerous situation. Diagnosed with schizophrenia, McKenna had every reason to panic when she saw men in gas masks and biohazard suits approach her jail cell and tackle her to the ground.
According to numerous experts, using a Taser on a restrained prisoner, especially a prisoner suffering from mental illness, is considered an unreasonable use of force. And using a stun gun more than three times on a person is also considered excessive.
On Tuesday, Fairfax Commonwealth's Attorney Raymond Morrogh released a report declining to press charges against the deputies responsible for killing McKenna. In response to heavy criticism for not filing charges against the deputies, Sheriff Kincaid released the full, unedited video on Tuesday to show that her deputies followed standard protocol while attempting to restrain McKenna.
Unfortunately, the video also depicts the subhuman treatment mentally ill patients routinely suffer at the hands of law enforcement. Prisoners with diagnosed mental disorders deserve to be treated better than abused animals. But without proper training and improved policies, officers will continue treating mentally ill patients like hardened criminals.
Warning disturbing video.