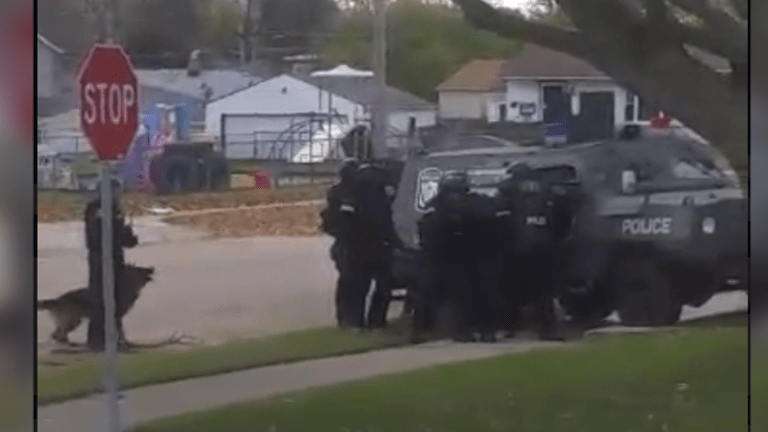 Graphic Video Shows SWAT Team Kill a Small Dog as it Walked Away From Them
Racine, WI -- An argument between two neighbors escalated to a SWAT standoff and ended with a man's small dog being shot as it ran from the police.
The graphic incident was caught a cellphone by one of the neighbors. It is absolutely disgusting.
The incident began when a man's dog defecated on his neighbor's lawn, and when she asked him to clean it up, he threatened her family.
When the police were called the confrontation ended up in a 2 hour standoff.
Allegedly the man threatened to use the dog as a weapon against police during the standoff. When the small dog came outside, it was obviously frightened and tried running away. That is when the SWAT team apparently feared for their lives and fired, killing the dog.
WARNING: GRAPHIC VIDEO
In an email reply to a concerned citizen, Racine Police Chief Art Howell wrote the following message:
On a personal level, I am saddened over the loss of a domestic pet that more than likely, had no malice against anyone. As more information is released however, members of the public will have a better understanding of nature of the dilemma officers faced as this incident unfolded.

"During this standoff, the dog owner threatened to use a body armor piercing crossbow to kill officers, and this subject threatened to use his dog as a weapon against officers as well. After several hours of dialogue with crisis negotiators, the barricaded subject ultimately made good on his threat to introduce the dog into the active standoff.

"After the dog was released, the dynamics of this encounter changed. Officers, who for over three hours were focused on peacefully resolving this crisis through dialogue, were now forced to deal with the distraction and unpredictability of having the subject's dog moving through the scene of this active encounter at a critical time.

"Additional review is in order; however, judgement relative to the actions taken should be reserved until the matter has been thoroughly reviewed and all facts are known and considered.

"Please know that our policy is such that, all use of force incidents are reviewed internally. In the event our review process exposes misconduct, or if we find that additional training could have resulted in a better outcome, we will take appropriate action as dictated by our findings."