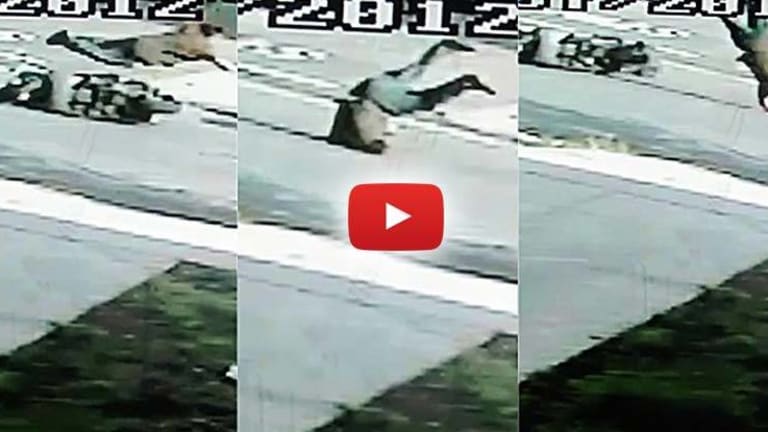 Video Exposes NYPD for Falsifying Charges Against a Great Grandpa After a Cop Ran Him Over
After a reckless NYPD cop broke his neck and wrongfully arrested him, a great-grandfather recently received a $2.9 million settlement.
Brooklyn, NY – Falsely charged with endangering the life of a police officer, an innocent great-grandfather suffered two fractured vertebrae in his neck after a reckless NYPD cop lost control of his vehicle and crashed into the pedestrian. Although the great-grandfather recently received a $2.9 million settlement from the city, the officer and his sergeant have not been charged for allegedly writing a false police report to justify the jaywalking charge and denying proper medical attention.
On August 7, 2012, great-grandfather, José Flores was crossing the street when NYPD Officer Thomas Hopper lost control of his motor scooter and crashed into the elderly man. A ">surveillance video that recorded the crash revealed Hopper's scooter skidding across the pavement at high speed when he sent Flores into the air, landing on his head. Instead of showing even an ounce of compassion for the severely injured man, Hopper charged him with endangering the life of a cop.
" width="790" height="444" frameborder="0" allowfullscreen="allowfullscreen">
Claiming that Flores had suddenly darted into the street from behind two parked cars, Hopper reportedly told Sergeant Colleen Price that he had no way to avoid the collision. But the surveillance video revealed Flores was not standing beside a parked car, had looked both ways before crossing, and had been in plain view during broad daylight before Hopper lost control of his scooter.
Suffering from two fractured vertebrae in his neck, Flores was transported to nearby Brookdale Hospital when Hopper and Price allegedly pressured the hospital staff to discharge him without even taking an X-ray. Instead of releasing Flores, the police locked him up in jail for 36 hours for an open container summons from 2009. According to Flores, the other inmates gave him their sandwiches to use as a pillow because his neck had been in agony.
After dismissing the warrant, a judge recommended Flores immediately seek medical attention for his injured neck. Diagnosed with two fractured vertebrae, Flores spent the next four months in the hospital wearing a halo brace before he was finally discharged. A few months later, he underwent major surgery on his neck. Diagnosed with dementia a month before her husband's accident, Flores' wife suffered a heart attack three months after his arrest and died while he remained hospitalized.
Eventually acquitted of the charges against him, Flores filed a lawsuit accusing Hopper and Price of writing a false police report, discharging him from the hospital prematurely, and wrongfully arresting him. Instead of allowing the lawsuit to go to trial this month, the city agreed to give Flores a $2.9 million settlement.
"I wasn't surprised they eventually settled it," Flores' attorney, Steven Goldstein told the Gothamist on Tuesday. "It's a terrible case. It was the worst-slash-best case I've ever had. The city just did everything they possibly could to make this a great case. Everything they could have possibly done to make the case better and better, they did."
Although the city decided to settle the lawsuit, the reckless NYPD officer and his police sergeant currently do not face any criminal charges. Besides crashing police scooters into innocent great-grandfathers and falsifying police reports, Hopper was suspended from the department in 2009 for pulling his gun on a fellow officer. NYPD Officer Joseph Giordano sued the force after Hopper pulled out his service weapon and threatened him for refusing to replace Hopper on the switchboard during his meal-break.