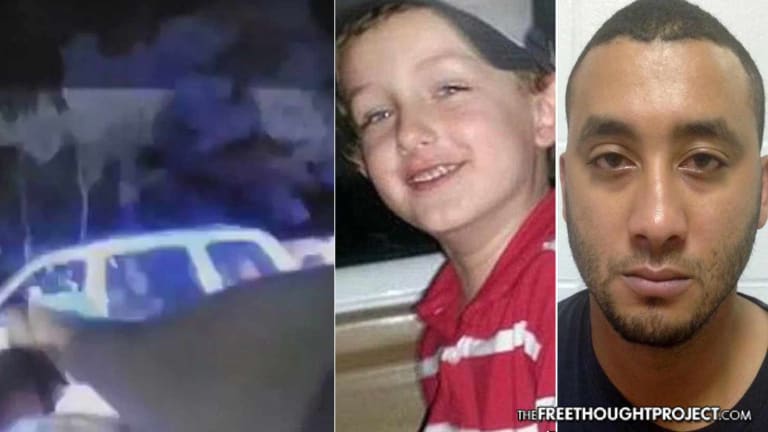 Cop Who Murdered 6yo Boy on Video Quietly Released from Prison Well Before He Was Supposed To Be
Norris Greenhouse Jr., who murdered an innocent child and gravely wounded his father—on video—was quietly let out of jail, well before he was supposed to be released.
Marksville, LA — As TFTP reported in 2017, Norris Greenhouse Jr. reached a plea deal with the Louisiana Attorney General's Office. For this cop's role in murdering 6-year-old Jeremy Mardis, an innocent young boy, and shooting his father, he only received a sentence of seven and a half years. At the time, this sentence was a kick in the teeth to those who watched him murder a child on video. However, last week, he was quietly released after serving just a fraction of this already insulting low sentence.
Norris Greenhouse, Jr. has been released from the custody of the Louisiana Department of Public Safety and Corrections as of June 28, according to Ken Pastorick, the communications director for the department.
At the time, the slap on the wrist deal was offered in exchange for Greenhouse' guilty plea, who, along with fellow officer Derrick Stafford, killed Mardis and attempted to kill Christopher Few, Mardis' father, in a hail of gunfire following a low-speed vehicular chase. Given that Greenhouse initiated the chase and shooting, the fact that he got off with such a slap on the wrist is an insult to justice.
Stafford was convicted in March of 2017 following a jury trial and was given 40 years in prison. Greenhouse, whose father is the assistant DA in Avoyelles Parish, LA, is obviously tapping into the special privilege of being so well-connected. As TFTP reported at the time, Greenhouse came under fire for being allowed to leave the country to take a Caribbean vacation to St. Thomas while awaiting trial and out on bail—a privilege only well-connected children of government officials enjoy.
Infuriatingly enough, the person who seemed to have caused most of the conflict was Greenhouse, yet he was the one who got the more lenient sentence. It's unclear why. Many believe it's because his father is a member of the local district attorney's office, and was somehow given a sweeter deal than Stafford. At any rate, Greenhouse was only required to serve a maximum sentence of 7.5 years but was then let out well over five years early.
Greenhouse, at the time of the November 2015 killing, was not even allowed to be a police officer, but was with Stafford, an Avoyelles Parish officer. Greenhouse had reportedly been fired for having an inappropriate relationship with a 14-year-old. He was also accused of attempting to get a 16-year-old girl to sext him by sending him nude photos of her breasts. With respect to Jeremy Mardis, Greenhouse was reportedly obsessed with Few's girlfriend, Megan Dixon.
When Few discovered Greenhouse had made more than a few unwanted sexual advances toward Dixon, Few reportedly told Greenhouse to stay away as any man would do. Greenhouse may have taken the threat so literally that he attempted to carry out his assassination on Few in an effort to clear the way for him and Dixon to have a relationship.
When the facts came out that there was no reason for the stop—at all—the above scenario makes perfect sense.
According to Greenhouse and Stafford, the officers decided to conduct a traffic stop that night because Few had an outstanding warrant. However, the Clerk of Court, the District Attorney's Office, Marksville Police Department, and City Court noted that they did not have any warrants against him. The officers also claimed Few had a weapon, that was also a lie.
The only reason Few ran from Greenhouse that night was to catch up with Dixon so he could give her Jeremy in case he was arrested.
"The whole reason there was even a chase was for his well-being,"he said.
The sick and twisted way Greenhouse hid behind his badge and released a hail of bullets which left Mardis dead, Few wounded, and two former officers charged in connection with the child's death. How Greenhouse was even allowed to bail out was a mystery to many. His lenient treatment coupled with the confirmation the out of control former cop had been allowed to enjoy a vacation in the Caribbean, led many to predict this son of an assistant DA would enjoy a bit of immunity—and he did. You can't make this up.
Originally, Greenhouse was charged with 2nd-degree murder and 2nd degree attempted murder in the death of Jeremy Mardis and the attempted murder of Christopher Few.
If the judicial system is so effective in the U.S., how is it the person with the most number of sins in the case is the one who gets out first? Stafford received 40 years for his trigger work that fateful evening, but Greenhouse, who arguably bore most of the moral burden for the crimes, only served 21 months behind bars. How in the world is that fair?
The case further illustrates the justice system in the United States is flawed, irreparable, and favors the well-connected with financial resources.
Greenhouse should never have been allowed into the police cruiser that evening. How was he allowed to make bail? Why did the court allow him to go on a vacation to the Caribbean? Why was he released so early? These questions, if they remain unanswered, will lead many to believe true justice is dead in the United States.