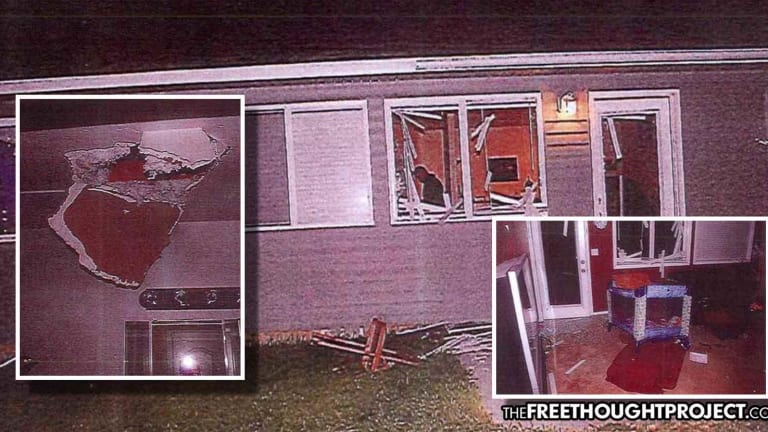 Innocent Mom Gave Permission for Cops to Search Her Home, They Destroyed It With Grenades Instead
Attorneys with the Institute for Justice are asking the US Supreme court to hold cops accountable for raid that destroyed an innocent woman's home with grenades.
Caldwell, ID — Cops in Idaho managed an epic act of incompetence when they shot up and teargassed a woman's home — even though she had given them the key — after initiating an hours-long standoff with an empty home, occupied only by the family pet. 
"Basically, they had a standoff with a dog," Shaniz West's attorney said at the time. Now, after fighting the corrupt system that left this innocent mother and her children homeless, she is fighting her case all the way up to the Supreme Court, thanks to the Institute of Justice.
The question brought forth before the Supreme Court of the United States is this: If you tell cops they can search your home, can they legally stand outside and fire dozens of tear gas grenades inside and destroy everything you own, and do so with impunity?
So far, the answer has been yes they can. Hopefully, however, that is all about to change.
West's nightmare began in 2014 when she told her ex-boyfriend he needed to leave her home. She told him that she was leaving and when she came back, he needed to be gone. This happened, and Fabian Salinas — a wanted felon — took his belongings and left.
When West, who was six months pregnant, returned with her children, an eight-year-old and six-month-old, a slew of Caldwell police SWAT officers surrounded her home.
West gave officers the key to the front door to let them go search the home — but they never bothered to use it.
Instead, SWAT brought in an armored vehicle and, for the next ten hours, waged war on the house.
"During the course of the standoff Caldwell police officers broke numerous windows to gain entry, crashed through ceilings while they were maneuvering through the home, and punctured holes in the house by shooting canisters of tear gas that released noxious chemicals into the home," West explained.
While the prolonged assault on the house continued for hours, the irate homeowner says, her "pet dog Blue was the only occupant of the home."
Unsurprisingly, officers nearly decimated the house and everything inside — even though they had possession of the key the entire time.
According to her complaint:
"When Ms. West was allowed to re-enter the home, she found the house destroyed. Her and her children's personal possessions were saturated with tear gas and littered with debris from the walls and ceiling, and broken glass from the windows.
"Ms. West, who was 6 months pregnant at the time, was left to clean up the wreckage by herself and it was two months before Ms. West and her children could occupy their home."
West also noted she only gave consent for police to enter the home, nothing more. As the Institute for Justice reports:
With her life in shambles, her personal property either destroyed or coated in a toxic film leftover from the tear gas, Shaniz—who was left homeless for months following the siege—sued to challenge the warrantless destruction of her home and property. The officers defended their actions by claiming that they didn't need a warrant because Shaniz had given them consent to go into the home. Amazingly, the judge bought the police's defense.

The reason is a controversial legal doctrine called "qualified immunity," which the U.S. Supreme Court created in 1982. Under qualified immunity, a government official can only be held accountable for violating someone's constitutional rights if the violation is "clearly established." That means law enforcement officials can only be held accountable if a court has previously ruled that exactly what they did is unconstitutional—thus putting them on notice that they cannot do something, even if that something is clearly unreasonable, unethical, or unconstitutional. So, if a government official finds a new and unique way to violate someone's constitutional rights, there is little that can be done to hold the official accountable.
West was given an ambiguous ruling in the United States Court of Appeals for the Ninth Circuit who couldn't say whether the cops were right or wrong to destroy her home. Instead the court found that "no Supreme Court or Ninth Circuit case clearly established, as of August 2014, that Defendants exceeded the scope of consent." West was then essentially told to kick rocks.
Now, West along with her team at the Institute for Justice are seeking to change this ridiculous tyranny and set a precedent that cops cannot violate your constitutional rights with unlimited impunity.
This case needs to be a victory as West is not the only victim. Though West's ordeal would seem a rare occurrence, in Police State, U.S.A., destruction of civilians' homes — and authorities' failure to compensate appropriately, if at all — has become sadly routine.
Thanks in large part to the failed war on drugs, SWAT teams routinely trash the homes of suspects and their unwitting families — worse, a growing number of reports of officers raiding and trashing the wrong house indicate police can't operate GPS, navigate a map, or even read an address correctly. Sometimes, their gross incompetence is lethal — for people or their pets.
Police apparently also have a difficult time — despite the presence of a massive surveillance state in the U.S. — keeping up with who lives where.
As in West's case, hours-long standoffs with empty homes also frequent headlines.
Incidents caused by hapless Keystone cops — in which civilians are left no choice but to pay the price for law enforcement reckless incompetence — clearly illustrate why a growing segment of the public not only mistrust, but despise American police.
Though police apologists largely worship the badge and the laws enforced regardless of whether or not either are moral or ethical, what they fail to grasp is that in order to earn respect, it must also be given.
It would be difficult at best for someone in West's shoes to respect the authorities who obliterated her home and failed to provide adequate compensation in the aftermath — especially considering they didn't ever try the key she willingly provided.