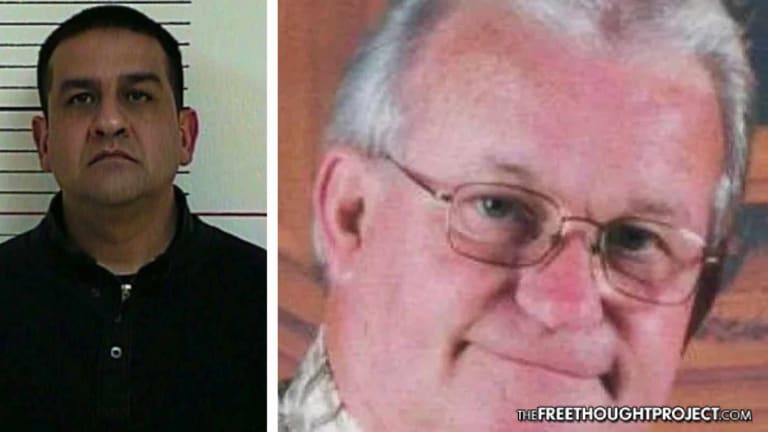 Cop Forced to Pay $6.3M of Own Money to Family of Innocent 70yo Man He Cuffed and Watched Die
Only after 2 hit-and-runs and the deaths of two civilians a cop finally held responsible for his actions for handcuffing an innocent man and watching him die.
Malakoff, TX — As TFTP has frequently reported, if police officers are not held accountable for their actions in one department, they will simply change departments and continue abusing citizens. We call them gypsy cops. One such gypsy cop is Ernesto Fierro, whose time has finally come.
In 2005, Fierro was allowed to resign from the Dallas Police Department after he was involved in two hit-and-runs in which he fled the scene. That would be a felony conviction for the average citizen, but police officers are often given a pass for their crimes, allowed to resign and be employed elsewhere at another LEA (law enforcement agency).
Later, Fierro was employed in 2011 with the Ferris, Texas, Police Department when he was involved in the death of a motorcyclist during a high-speed chase. Had Fierro been held accountable for his actions in Dallas and later in Ferris, he might not have allegedly killed William Livezey Jr. (70), of New Sharon, Iowa. But, he was not held accountable and was therefore allowed to strike again.
Fierro, the gypsy cop, left Ferris and was employed in Malakoff, Texas in April 2014 where he was a police officer. While riding his own personal motorcycle, Fierro was involved in a road-rage incident with Livezey, who was driving a tractor-trailer load of reclaimed barn lumber from his business in Taintor, Iowa, to a client in Houston.
The incident began when Fierro perceived Livezey to be trying to kill him with his truck. According to the DesMoines Register:
Fierro claimed in testimony that Livezey, who lived in New Sharon, Iowa, had "homicidal intent with his attacks of road rage" and came close to killing him while he was on his motorcycle.
But Fierro's claims Livezey was trying to kill him were disputed by more than one witness who saw the gypsy cop driving erratically.
But witnesses said they saw the motorcycle weave from side-to-side and dart in front of Livezey's truck at least 15 times, forcing it onto the shoulder. At one point, Fierro allegedly kicked the truck's tire, witnesses told police.
Fierro then arrested Livezey for "aggravated assault" and placed the elderly man in handcuffs. That's when the truck driver said he wasn't feeling well. He told the other officers he was afraid Fierro was going to kill him. Fierro claimed he was faking his illness.
When backup officers arrived, Livezey said his chest was hurting "and he thought the other man was going to hurt him," the lawsuit says. Fierro claimed Livezey was "faking" and just "putting on a show" to avoid going to jail.
The other officers who were on-duty, apparently realizing the man's health condition was grave, took him out of handcuffs and placed him into his vehicle, where he turned purple and stopped breathing. Shortly after, he was declared dead of a cardiac arrest. The family sued the city of Malakoff, the police department, and officer Fierro.
A judge removed the city and the police department from the lawsuit and allowed the suit to proceed against Fierro as the solely responsible individual for Livezey's death. A jury found him guilty and awarded the family $6.3 million dollars as a civil penalty for causing the elderly Iowa man's death. Fierro will be solely responsible for paying the judgment.
The Livezey family's attorneys claimed Fierro "wrongfully and illegally handcuffed, arrested, assaulted, and detained which ultimately caused his death at the scene." The jury agreed. Finally, after two hit-and-run incidents, and the deaths of two citizens, Fierro was forced to surrender his Texas peace officer's license.
Finally, after two hit-and-run incidents, and the deaths of two citizens, Fierro was forced to surrender his Texas peace officer's license. If Fierro had been held accountable for his actions when he was in Dallas, and been charged with felony hit-and-run, for example, maybe the two other individuals would still be alive today.
Fierro's story is precisely why we at TFTP do what we do, to expose the double standard, and hold police officers to the same standard to which the rest of society is held.