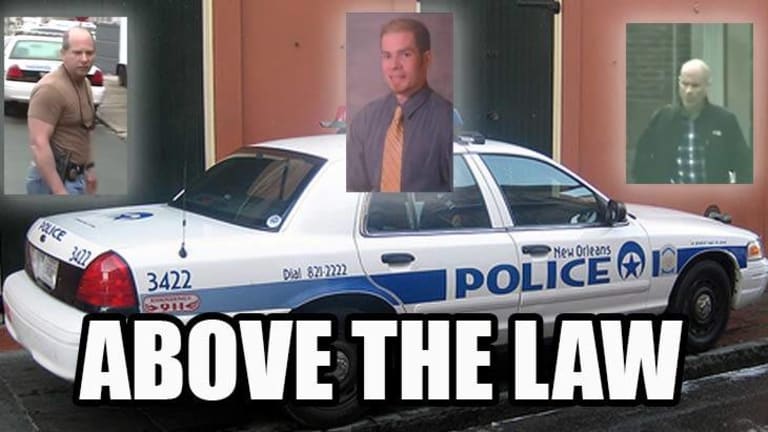 More than Half-dozen New Orleans Officers Charged with Child Porn, Rape All Still Working as Cops
If you are an NOPD Cop you can be charged with rape, get caught with a slew of child porn, get caught with a prostitute and still stay a cop.
New Orleans, LA -- What happens to a citizen when hundreds of images of child pornography are found on their computer and phone? Well, if you are a law enforcement officer, the answer is, nothing.
An investigation into the New Orleans Police Department has revealed a disturbing lack of discipline for individuals who've been caught and accused of despicable acts.
The residents of a Mandeville neighborhood felt safe knowing that a 16-year veteran of the NOPD, Sgt Bradley Wax lived down their street. However, that would quickly change after Wax was arrested and charged with 38 counts of possessing child pornography.
The Louisiana Attorney General's office conducted a search on Wax's personal computer and other electronic devices and found them to be full of explicit photos of young children.
He was obviously fired immediately and not allowed to be a cop any longer, right? Or at the very least he was suspended until the trial, right? Wrong.
WDSU, who carried out the independent investigation, found that Wax was initially suspended but has since returned to work as normal, working in fleet management at the NOPD headquarters.
"It's incredibly hard to imagine anyone in that capacity would be back working and being paid for it at taxpayer expense," said Dr. John Penny, criminologist at Southern University at New Orleans.
It is indeed hard to imagine how any morally sound establishment would continue to allow a man, who was found in possession of so much child pornography that he faces more than 500 years behind bars if convicted, to continue to draw a salary as a cop.
But to the NOPD, it's business as usual.
Wax's scenario is not an isolated incident either. WDSU found more than a half-dozen officers charged with everything from child porn to the state's most serious sexual assault charge, aggravated rape.
NOPD Officer Michael Thomassie was another one. Thomassie was accused and arrested on charges of aggravated rape over a year ago. However, when WDSU investigators went to New Orlean's 4th district, they found Thomassie currently still working as a cop.
While these officers were initially suspended, as soon as the spotlight moved on, they were silently allowed back across the blue line.
Naturally, the department has declined an interview about this situation, but they have released the following statement:
"An emergency suspension is generally used as a tool for emergency situations when an officer has been arrested and is physically unable to come to work and perform their duties. Once the officer is able to return to work, they are reassigned to administrative duties pending the outcome of an investigation. Based on civil service rules, officers are disciplined after an investigation is completed and a formal disciplinary hearing has been held."
Apparently it takes the NOPD more than a year to conduct and investigation and find guilt in a man whose iPhone was a pedophile's paradise.
Of course, everyone, even the vilest of criminals deserves the right to due process. But the double standard here is where the issue arises.
These people claim the responsibility of upholding the law. When they are the ones suspected of violating that law, they should be held to a much higher standard, not a lower one.
"It sends a very dangerous message to the citizens of this community," said Dr. Penny. "The appropriate action was taken; now you step back from that and put them, back to work and pay them, and it sends an incredibly dangerous message."
The message it sends is that police are above the law.
Meanwhile, as police collect child porn and rape the citizens, the school children are told to write Thank You letters to them.