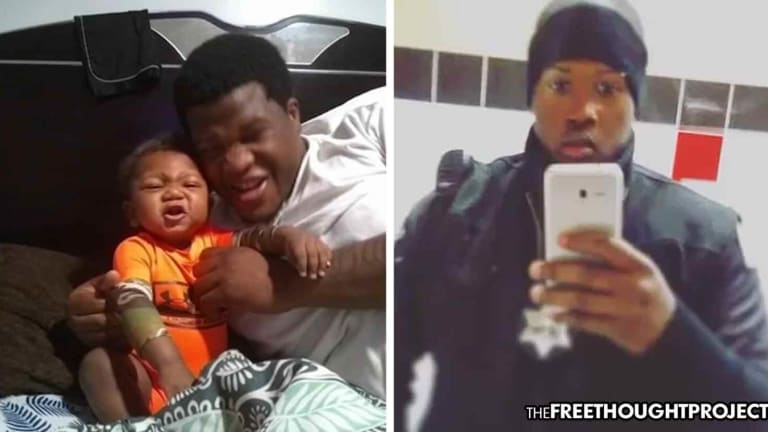 Cop Shows Up to Aftermath of Mass Shooting, Kills the Hero Who Stopped It — NO CHARGES
A hero security guard saved an untold number of lives and had the shooter in custody when a trigger happy cop showed up and killed him.
Robbins, IL — Early on a Sunday morning back in November 2018, a tragedy took place in Illinois after a hero security guard stopped what was quickly becoming a deadly mass shooting. Instead of being honored for his heroism, he would be shot by police moments later. Jemel Roberson, 26, was working security at Manny's Blue Room when his heroism got him killed. Now, two years after the Roberson's tragedy has fallen out of the news cycle, police announced that the cop who killed him, will not face charges.
"After an extensive and thorough review of the police-involved shooting resulting in the 2018 death of Jemel Roberson, the Cook County State's Attorney's Office (CCSAO) has concluded that the totality of the evidence is insufficient to support criminal charges against Midlothian Police Officer Ian Covey," the news release from the attorney's office states.
Beatrice Roberson, Jemel Roberson's mother, said she was "devastated" by the decision and that State's Attorney Kim Foxx let her family down by not bringing charges against Covey.
"I will not stop fighting for Jemel as long as I live," she said at a news conference. "As long as I live, I will be trying to get justice that he deserves. My family and I will never be able to put this behind us."
This decision comes amid mass protests across the country over cops killing people. While many of those people were killed while committing crimes, Roberson was not only innocent but he was also a hero.
"I am acutely aware in this age of civil unrest that police-involved shootings are viewed under a microscope, as they very well should be," Foxx said in a statement. "The death of Jemel Roberson is tragically heartbreaking, and while it might feel to some people like justice was not served here, I have both an ethical and legal obligation to make charging decisions based on the law and the evidence."
The incident began after multiple individuals were asked to leave the bar for being unruly. Witnesses say all the men left and then returned and one came back in with a gun opening fire into the bar. As everyone else ran for cover, Roberson according to witnesses, engaged the shooter with his own gun.
Roberson then apprehended one of the men involved in the shooting and held him at gunpoint as the police showed up. Four people had been shot, but thanks to Roberson, no one else was hit, and those four people were transported to a local hospital and treated for their injuries. Sadly, Roberson would not be so lucky.
At around 4 a.m., police officers from multiple suburban departments responded to the call of shots fired. When they arrived, Roberson was holding one of the men on the ground so he could be apprehended by police.
"He had somebody on the ground with his knee in back, with his gun in his back like, 'Don't move,'" witness Adam Harris said.
"Everybody was screaming out, 'he was a security guard,' and they basically saw a black man with a gun and killed him," witness Harris tells WGN TV.
Roberson—who was licensed to carry a firearm—and was a father of a 9-month-old boy, saved an untold number of lives that night only to be gunned down shortly after by Covey who apparently ignored every single one of the witnesses telling him that Roberson was the good guy.
Adding to the irresponsible nature of the shooting is the fact that an attorney for the family noted that Roberson was actually wearing security attire and had a hat on with "security" emblazoned across the front.
At the time, WGN reported that friends said Roberson was an upstanding guy who had plans to become a police officer. He was also a musician, playing keyboard and drums at several Chicago-area churches.
"Every artist he's ever played for, every musician he's ever sat beside, we're all just broken because we have no answers," the Rev. Patricia Hill from Purposed Church said. "He was getting ready to train and do all that stuff, so the very people he wanted to be family with, took his life."
"Once again, it's the continued narrative that we see of shoot first, ask questions later," the Rev. LeAundre Hill said.
Indeed. The fact that a cop can show up to a bar, kill the hero and face no consequences shows us that shooting first and asking questions later is not just some expression, it's their policy.