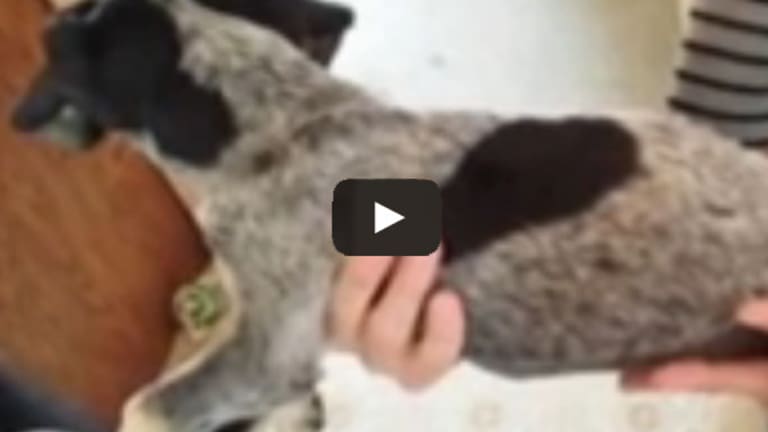 Heroic Woman Charged with Theft for Rescuing a Starving Dog from a Deputy's House
"There wasn't water. There wasn't food. There were three dogs chained, and then I went to the side of the house where I saw the puppy"
Matt Agorist
June 6, 2014

Meriko Cerda was on her way out of town when she passed by her neighbor's house and saw something that compelled her to act; her heroic actions would later lead to her being charged with theft.
She lives on a rural road in Elk Park, and noticed that she hadn't seen neighbor Jack McCloud in a while. So she went to look around the yard and saw three dogs in horrible dismay.
Her neighbor, McCloud, also happens to be an Avery County Sheriff's deputy.
"There wasn't water. There wasn't food. There were three dogs chained, and then I went to the side of the house where I saw the puppy," said Cerda.
She said the sight of these dogs broke her heart.
"If I left the dog I knew it was going to die," Cerda proclaimed. "Its eyes were rolling in back of its head. I didn't know when they were going to come home and the dog needed immediate attention so I took it to a safe place."
Since she was on her way out of town, she needed to find someone to take care of the puppy.
According to WCNC, Sheriff Kevin Frye says that's where Cerda broke the law.
"No one, no matter what good cause it is, can take the law into their own hands," says Avery County Sheriff Kevin Frye.
Sheriff Frye says she should have called an authority. But Avery County doesn't have an animal control you can call, and the local Humane Society says not only do the police not do anything if you call them, but the law even prevents them from taking in other people's animals.
"We wouldn't have been able to take it because we've already been accused of having stolen property. The dog has to be turned in by his owner, so we would have had to turn her away," said Avery County Humane Society Executive Director Bruce Malfatone.
Cerda was subsequently charged with theft after taking the dog to her house and giving it food and water.
The community is rallying behind Cerda and she plans on fighting the charges.
In reference to her neighbor McCloud, Cerda said, "He wanted it back still and I said the dog would have been dead by time you guys got back from vacation. And his exact words were, 'That's beside the point.'"
Bravo deputy McCloud, you sure look like a wonderful public servant now.