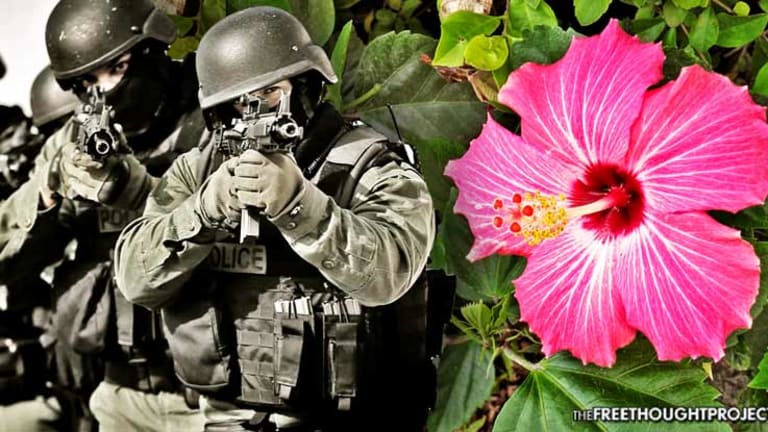 Innocent Family Raided by SWAT, Held at Gunpoint After Cops Mistook Hibiscus for Weed
A Pennsylvania couple is suing local police after a SWAT team raided their home and held them at gunpoint for growing hibiscus.
Butler County, PA — A Butler County couple is suing their insurance agent and local police after the two colluded to arrest the family for growing marijuana. However, the family was not growing marijuana—they were growing hibiscus.
The Nationwide Insurance agent was investigating a claim surrounding a fallen tree last month when he noticed what he thought was cannabis. Being the good little see something say something citizen that he is supposed to be, he then acted.
The agent notified the Buffalo Township police department that he saw what he believed to be marijuana growing in the couple's home. Instead of doing even the most basic police work, and investigating the matter with, let's say a pair of binoculars, police reportedly got a warrant instead.
After getting their warrant, they decided it would be a good idea to go into the home like a SWAT team going after a fugitive. On October 5, police decided to execute their search warrant and penetrate the Cramer home. Audrey and Edward Cramer had no idea what was coming their way. Audrey Cramer told reporters:
I'm starting to understand why a lot of the public do not trust police officers...I really feel like I've been smacked in the face with this, and no, I don't think I'll ever trust a police officer again.
She said they knocked on the door and pushed their way inside when she opened it. She was still in her underwear. They came in with assault rifles and guns ready to shoot anyone who posed a threat, and only left when they realized the plant they were looking for was actually a hibiscus plant. Now the couple is suing.
Their attorney, Al Lindsay, said:
She came down. She opened the door. She was confronted with what she thought was a dozen police officers with assault weapons who said they had a warrant...They pushed her. They went through the house.
It's not the first time police have been ignorant in their understanding of horticulture. In their insane quest to squash cannabis users and growers, a drug which kills no one, police have made it their business to invade people's homes, disturb their privacy, and use civil asset forfeiture to confiscate their possessions.
As TFTP has reported, Cartersville, GA cops used a helicopter and an invasion force to invade Dwayne Perry's property in search of cannabis. Instead of finding the healing herb, they found Perry's okra crop. Perry reflected on the home invasion by police:
Here I am, at home and retired and you know I do the right thing...Then they come to my house strapped with weapons for no reason. It ain't right...The more I thought about it, what could have happened? Anything could have happened.
As Matt Agorist described in 2015, a lot of negative things can happen when police take it upon themselves to shirk their responsibility to do basic investigative work before taking such drastic measures as to call in a SWAT team. The Garden of Eden, a hippie commune in Arlington, TX was raided after police suspected the group of growing weed. Agorist wrote the commune was invaded by Arlington SWAT, and humiliated when they didn't find cannabis:
What they did find, however, was a myriad of fruits and vegetables; and they seized them. After seemingly disgusted in themselves for such an ignorant and ill-conceived plan, the officers heroicallyproceeded to confiscate, "17 blackberry bushes, 15 okra plants, 14 tomatillo plants … native grasses and sunflowers."
It's time for the insanity to stop. Instead of going after cannabis users and growers, police instead need to turn their attention to real crimes in which there are actual victims.
As a result of their buffoonery, the Buffalo Township police will now likely be responsible for causing every citizen's property taxes to rise. The Cramer family will likely win their civil suit in court, and taxes will have to rise to cover the costs of infringing on one family's civil rights. But nothing will likely change the epidemic of badge abuses taking place all across the country.