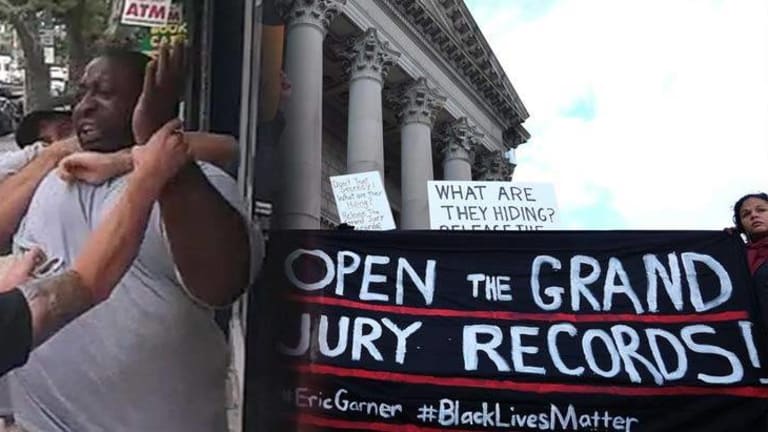 What are they Hiding? Judge Refuses to Release Eric Garner Grand Jury Records
What it is that the New York justice system does not want you to know?
Judge William Garnett declined to release grand jury records in the Eric Garner case, stating the plaintiffs had not made a "compelling" case for "need." Requests for the records were made by civil rights groups and the New York Post.
In his 12-page decision, the New York state Supreme Court Justice said that during oral arguments, the petitioners had asked for the minutes from the grand jury proceedings for public distribution – and with the hope that would affect legislative change. Judge Garnett wrote the request was "not a legally cognizable reason for disclosure" and legislative change was "purely speculative and does not satisfy the requirements of law."
The records request was made after a Staten Island grand jury concluded its inquiry in December and announced that the officer in charge who killed Garner after placing him in a chokehold would not be charged with a crime. The Staten Island district attorney, Daniel M. Donovan, Jr., the prosecutor in the case, made public some of the information about his instructions to the grand jury.
Separate motions were filed by the NAACP, the New York Civil Liberties Union, New York Public Advocate, the Legal Aid Society and the New York Post to have grand jury records released. The NYCLU and the NAACP argued in court that the release of the records was necessary to foster transparency and demonstrate fairness to the public.
"The failure to indict the officer responsible for the death of Eric Garner has left many wondering if black lives even matter," said NYCLU Executive Director Donna Lieberman. "Sadly, today's decision will only leave many asking that same question again."
Counsel for the New York Public Advocate, Letitia James, argued in court that the jury minutes were needed to make recommendations and issue reports regarding police conduct, including the use of excessive force. James announced she would immediately appeal the judge's decision.
"We are clearly disappointed with this ruling, but undaunted in our quest for justice and promoting the reform of a broken system. The secrecy of the grand jury process is not absolute, it is not sacrosanct, it should not be shrouded in secrecy, or cloaked from the watchful eyes of the public. What we, and millions of Americans saw on those two videotapes did not match up with the failure to return an indictment," said James.
"The judge said that none of the parties who were seeking access to the records had shown a 'compelling and particularized need' for the release of the records – but, we believe the decision is wrong. I am announcing that we will immediately appeal this decision to the appellate division and we are inviting all interested parties to join us."