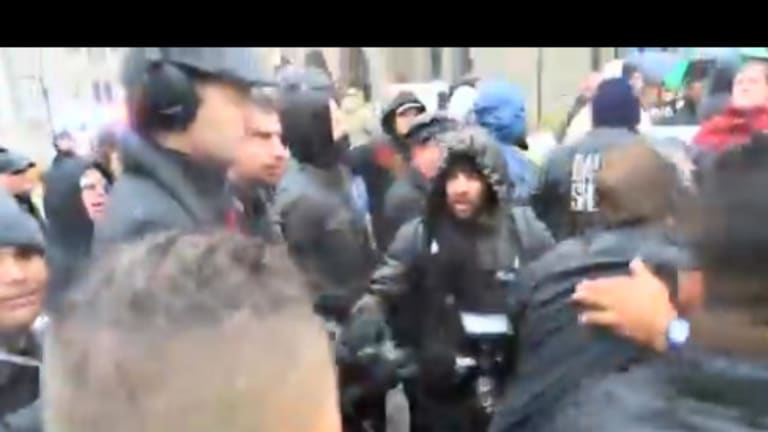 High-Def Video: Rampaging Feds Attack Free Speech Demonstrators
Police violently shoved demonstrators back one city block
Kit Daniels
Infowars.com
Dallas Co., Texas sheriff's deputies assaulted peaceful demonstrators almost immediately after arriving at the Dealey Plaza and proceeded to push the free speech activists back at least one city block in today's violent assault initiated by law enforcement.
The deputies marched in from behind the non-violent crowd to the very front of the rally, turned around, and opened up their own barricades to begin the assault, which continued from Dealey Plaza to the John F. Kennedy Memorial Plaza at least one full city block away.
Prior to the attack, the protestors stayed behind the barricades and did not attempt to move them.
The intent of the police, apparently under orders by Homeland Security, was to create a "free speech zone," in other words a zone banning the right to speak freely and assemble peacefully in a public place during the JFK 50th anniversary event.
One demonstrator said that after the deputies arrived in single file, they looked at each other, counted down from three and then charged the crowd.
"They begin to charge, to shove and grab indiscriminately," J.W. stated. "I screamed at them and said 'there are children here, there are children here!'"
"What I witnessed here today, I believe, is what happens all throughout history when truth is pushed to the head."
"As people join the fight, these are the natural effects of our cause," he added. "However they can be circumvented peacefully, and that's why we are out here."
"People think we're out here to rouse violence. No, we're out here to educate, to humble and to peacefully assemble as our Founders advised us."
Source: Infowars.com