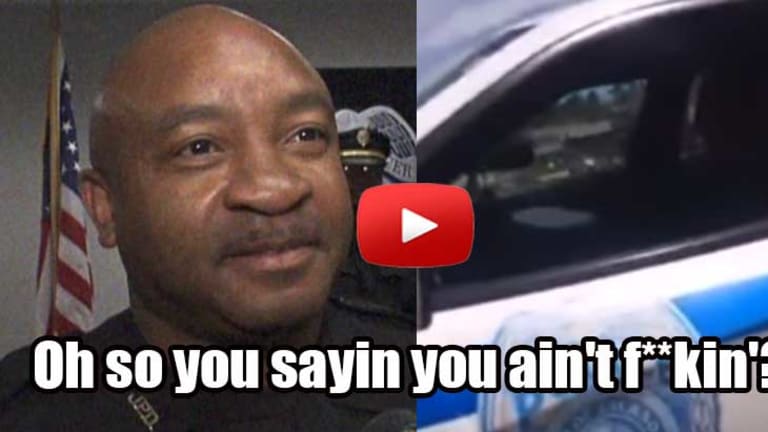 Cop Caught on Video Trying to Make Girl Skip High School to Have Sex with Him -- ON DUTY
A cop has been fired after a disgraceful viral video showed him encourage a girl to skip high school to have sex with him, on duty.
Jackson, MS -- A Jackson police officer has been fired after a disgraceful viral video showed him attempting to solicit sex from a high school girl -- while on duty.
Officer Darryl Stasher was demoted to desk duty on Tuesday and finally terminated on Wednesday after the video found its way to the police department.
"Chief Vance finds this video to be very disturbing," said JPD Commander Tyree Jones. "He has a zero tolerance policy for any type of behavior that is obviously displayed on this video itself."
In the video, Stasher clearly cares not about being filmed while propositioning a high school girl for sex from his patrol car. This young girl is someone's daughter and she is being obscenely solicited for sex by a public servant.
Not only is he propositioning her for sex, but he's also encouraging her to skip school to do so. By acknowledging that she is in school, this officer obviously knew the girl was young and cared not about the immoral nature of an adult hitting on a child.
As the video begins, the girl is apparently attempting to ward off the officer's lewdness.
Officer: Man, you look like you're scared to fuck, you said you wasn't going to school.
Female: Man, I ain't scared to fuck with nobody what you talking about?
Officer: Okay, well why you acting like you can't go to the room? Ain't nobody going to know what we doing in the room. I'm going to take care of you, so.
Female: You can take care of me but I don't go to rooms.
Officer: Okay, where the hell you go? How do you do grown folk stuff then?
Officer: Oh so you sayin you ain't fuckin'? 
Female: I don't fuck.
In the video, it appears that officer Stasher is no stranger to hitting on girls while on duty -- even underage girls going to school. How many other girls has this officer seduced into hotel rooms at the expense of Mississippi taxpayers?
"This is not a representation of the Jackson Police Department," Jones added. "Nor how officers are supposed to conduct themselves in public venue."
As the Free Thought Project reported last November, an investigation by the AP revealed around 1,000 policemen across the US had their licenses revoked and lost their jobs over the last six years on account of numerous sexual offenses that included rape and possession of child pornography.
The probe revealed that 550 officers were decertified for various sexual assaults, including rape. Some were dismissed for sodomy or sexual shakedowns, where victims were forced to perform sexual acts to avoid arrest.
A further 440 officers lost their jobs for other sex-related offenses, such as possessing child pornography, being a peeping Tom, sending sexually charged messages to underage teens or having sex while on duty.
About one-third of the officers lost their jobs for committing sexual offenses with juveniles.
Officer Stasher in now added to that list.