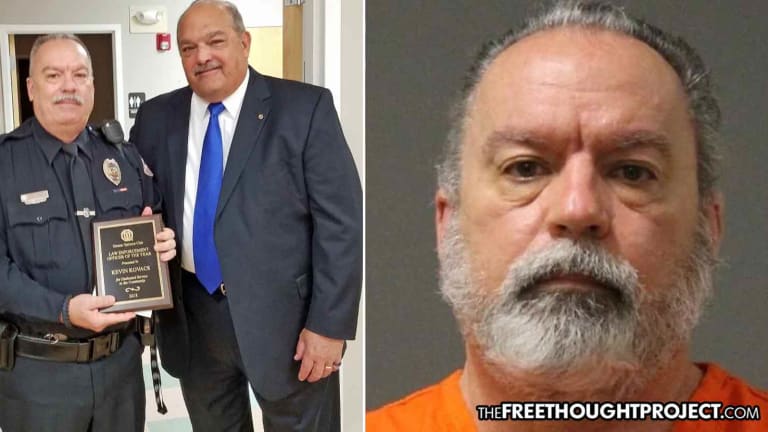 Highly Decorated D.A.R.E. Cop Admits to Running Enormous Child Porn Ring That Abused Toddlers
A former DARE "Law Enforcement Officer of the Year" had pleaded guilty to possessing and distributing utterly horrifying child sexual abuse material.
Beavercreek, OH — The Drug Abuse Resistance Education (D.A.R.E.) program should better be called an egregious exercise in how not to convince kids to keep away from substances the state deems illegal. As cops hopped on their high horses and had children pledge not to do drugs, the rate of drug use skyrocketed — thrusting the country into one of the worst drug epidemics in human history. The hypocrisy by the cops who pushed the D.A.R.E. program has been well-documented over the years, explaining, at least in part, as to why the program was such a failure from the start. Now, another cop who pushed kids to 'just say no' has pleaded guilty to disturbing criminal activity. 
Parents whose children participated in the D.A.R.E. program in Beavercreek, Ohio now need to question their children who may have had contact with former Beavercreek police officer Kevin A. Kovacs. In April 2019, Kovacs, 60, was arrested at his home for unspeakable crimes against children. This week, he admitted to all of it and it's utterly horrifying.
"Videos featured the sexual abuse of children as young as toddler aged," the U.S. Department of Justice said in a statement. "One video depicted a toddler lying on a diaper whose arms and legs were bound by black tape."
In total, as of December 2019, Kovacs possessed more than 780 images and 5,100 videos of child pornography, according to the release. He had used online messenger, social media, cloud storage and email accounts to transport and possess child pornography.
This disgusting individual will now be spending up to the next 240 months in a cage, where he belongs.
"The conduct he is alleged to have committed is both disgusting and extremely disappointing," said former Beavercreek Police Chief Dennis Evers at the time of Kovacs arrest. "As a former D.A.R.E. officer who received departmental and community awards for his work, he, of all people, knew this criminal activity to be exploitation of children and unlawful."
Less than two years before this cop was arrested for running a child porn ring, Officer Kovacs received the "Law Enforcement Officer of the Year" Award. When presented with the honor, the Beavercreek police department praised him for his work with young children.
Officer Kovacs has served the community of Beavercreek for 25 years.  Currently in his sixth year as the D.A.R.E. officer for Beavercreek schools, Officer Kovacs teaches 5th grade students decision-making skills to help them lead safe and healthy lives,  empowering them to respect others and choose to lead lives free from violence, substance abuse, and other dangerous behaviors.  As the crime prevention specialist, Officer Kovacs provides information to citizens and businesses on safety and security issues and assists in developing crime prevention initiatives in the community.  Officer Kovacs' commitment and dedication to working in partnership with our community and helping to educate the youth of Beavercreek inspires respect for law enforcement and fosters the well-being of the community.
Kovacs retired in August 2018 after 25 years with the Beavercreek Police Department. He worked as a patrol officer, crime prevention specialist and DARE officer with Beavercreek City Schools, according to a Beavercreek police Facebook post announcing his retirement.
It is highly unlikely that this officer, who worked around young children for nearly a decade, just decided to get into child porn after his retirement.
The school system — who put this man in front of countless potential victims, expressed their shock after Kovacs' arrest.
"Beavercreek City Schools administration was alarmed after learning of the allegations against Ofc. Kovacs," said Beavercreek Superintendent Paul Otten. "School staff and parents have been notified about this alleged incident and are encouraged to reach out to local law enforcement if they have specific concerns or information related to this case."
According to WHIO, Evers also added that this type of activity is part of a larger problem in today's society and he's encouraging legislatures to look at passing more stringent laws that would make it more difficult to access this kind of material on the internet. He also is calling for the increasing of penalties who chose to knowingly access and download the material.
Indeed, it is a growing problem in today's society — and top cops continue to be the ones getting busted for it. Just within the last week, TFTP reported on yet another high ranking cop busted for running a similar network. Peter Bilardello was indicted on charges of distributing and possessing child pornography, the U.S. Attorney's Office in the Northern District of Georgia said in a news release on Wednesday, Feb. 9.