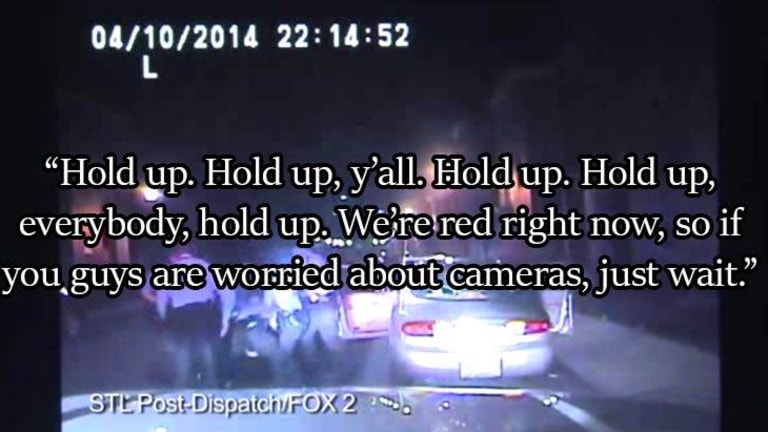 "Hold up. We're red right now!" Cops Caught Turning Off Cameras Before Further Beating Man
St. Louis police provide a compelling example of why so many people are losing trust in police.
St. Louis, MO -- A lawsuit was filed, and charges have been dropped after dash cam video was released showing St. Louis cops turning off their cameras prior to further assaulting an 18-year-old man.
In a prime example of why police are lobbying to make their camera footage secret, St. Louis cops were caught coordinating the turning-off of their cameras during an arrest.
Officers who were following up on a report of shots fired pulled over Cortez Bufford at 10:00 pm on April 10, 2014. The video, released by Buford's lawyer, Joel Schwartz, shows city officers pull Bufford from a car, kick him repeatedly and shock him with a taser.
Officers Nathaniel Burkemper and Michael Binz were the officers who originally pulled over Buford and his passenger. According to Burkemper's report, both men in the Taurus raised their hands when asked.
In the video, Burkemper is heard yelling at Buford to get out of the vehicle. Schwartz said that getting out of the car would have been "the right thing to do" but said Bufford was "just exercising his rights" to refuse. He was then pulled out.
As backup officers arrive they pile on top of the man, who they claim was resisting and kicking officers. At 10:15:38 the commotion seems to be over, and Buford shows no signs of resisting.
Less than one minute later, Officer Kelli Swinton approaches Burkemper's patrol car. The car door opens, and she loudly declares: "Hold up. Hold up, y'all. Hold up. Hold up, everybody, hold up. We're red right now, so if you guys are worried about cameras, just wait."
The audio immediately cuts out, and 8 seconds later the video stops.
In an open records request, views from other dash cams were obtained. According to the St. Louis Post-Dispatch:
One shows that after Burkemper's camera stopped, officers continued to huddle around Bufford. That camera shuts off, too, leaving a gap of more than two minutes before Bufford is seen on it again, stumbling and falling once as he's taken to a police vehicle. Other videos show unrelated scenes and both Bufford and his passenger sitting inside vehicles.
Attorneys for Buford claim that after the video ended that their client "got banged up pretty good."
According to the lawsuit, Bufford suffered abrasions to his fingers, face, back, head, ears and neck, and incurred medical bills of $6,439.32. It seeks unspecified damages from Burkemper, Jenkins, and two unnamed officers.
A 9mm pistol was recovered from Buford's vehicle, but Schwartz maintains that Bufford should not have been stopped in the first place. He says that the car was not logically connected to the reports of shots fired and that the U-turn, which caused the stop, was legal.
While police have refused to comment on the officers turning off their video, they have stood by the use of force in regards to the incident. Had they not turned off the cameras, police probably would have had a case against Buford; instead their insidiousness got the best of these cops.
Circuit attorney's spokeswoman, Susan Ryan, said the case was dismissed not because the officers were at fault, but because "the action of turning off the dash cam video diminished the evidentiary merits of the case."
This is not the first time police camera footage has stopped just prior to a suspect being beaten. However, in the majority of the prior instances, the public has been told that they "malfunctioned."
The claims of "malfunctioning" police cameras have always been looked at with scrutiny by those who hold police accountable. This incident will only serve to bolster that scrutiny.
Dear police officers, this is why people don't trust you.