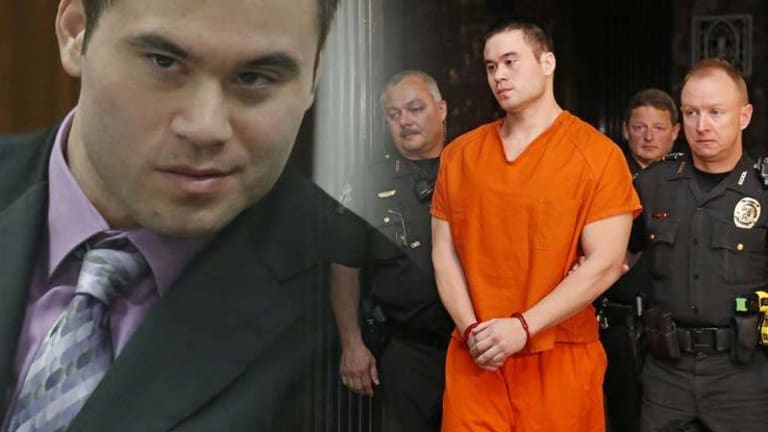 America's Most Notorious Serial Rapist Found Guilty on 18 Counts - Despite Being a Cop
Ex-Oklahoma city police officer Daniel Holtzclaw had so much evidence amassed against him that not even his blue privilege could get him out of it.
Oklahoma City, OK -- Although former Oklahoma City Police Officer Daniel Holtzclaw was found guilty Thursday of multiple rape and sexual assault charges, at least three other cops have recently been acquitted or will not face charges for blatant abuse captured on video. Caught beating a mentally ill homeless woman, tasing a handcuffed man 28 times, and kicking an innocent man's head like a football, the actions of these officers were somehow deemed justified.
Around 2 a.m. on June 18, 2014, Officer Daniel Holtzclaw pulled over a 57-year-old middle class grandmother with no criminal history and forced her into the back of his patrol car because she could not roll down her broken driver's side window. Instead of requesting a female officer, Holtzclaw forced her to expose her breasts and pull down her pants. As Holtzclaw exposed his penis with his gun in plain view, she pleaded, "Please don't do this. You're not supposed to do this!"
After Holtzclaw ordered her to perform oral sex, he dropped her off at her daughter's house. She immediately reported the assault and was taken to the hospital to receive a medical forensic exam. In the hospital, she met Det. Kim Davis of the Oklahoma City Police Sex Crimes Unit who connected her report to a similar unsolved assault report involving the same officer in May 2014.
The second victim reported Holtzclaw forcing her to perform oral sex in exchange for her freedom. Instead of driving her home, Holtzclaw drove in the opposite direction towards an open field where the victim began to panic and scream. Immediately changing his mind, Holtclaw turned around and dropped her off at a different location. After she showed Det. Rocky Gregory the route they took, Gregory compared her directions to the GPS recorder in Holtzclaw's patrol car. It was an exact match.
After accessing the list of names that Holtzclaw had run through the department's databases, the Sex Crimes Unit interviewed the women on that list and discovered six more women who accused Holtzclaw of sexually assaulting them. The women had been afraid to report the crimes because most of them had a history of drug abuse or prostitution. According to the Sex Crimes Unit, Holtzclaw used one database to check for existing warrants and the other database to see if any of his victims had reported him.
Holtzclaw was arrested on August 21, 2014, and originally charged with two counts of first-degree rape, four counts of sexual battery, four counts of forcible oral sodomy, four counts of indecent exposure, one count of first-degree burglary, and one count of stalking. Accused of raping over a dozen women while on duty, Holtzclaw ended up with 36 criminal charges against him.
During the trial, Holtzclaw's defense attorney focused on trashing the victims. Instead of presenting evidence to show his innocence, the defense attacked the victims citing their drug use and questioned why the allegations weren't immediately reported.
During closing arguments, Scott Adams, the ex-officer's attorney, called Holtzclaw "an honorable and an ethical person" who "has put his life on the line."
On Thursday, Holtzclaw was convicted of 18 charges, including five counts of rape and 13 counts of sexual assault. The jury recommended sentences that add up to over 260 years in prison. His sentencing is scheduled for January 21.
"I didn't do it," Holtzclaw said before he was led out of the courtroom in handcuffs, Reuters reported.
In contrast, a Dover cop and a former Oglala Sioux police officer were acquitted Tuesday of assault charges after videos caught them attacking people in separate incidents. In a case of mistaken identity in August 2013, Dover Police Officer Thomas Webster ordered Lateef Dickerson to get on the ground. As Dickerson complied with his orders, dashcam video captured Webster suddenly kicking him in the face and breaking his jaw.
On August 15, 2014, Oglala Sioux Police Officer Rebecca Sotherland tased Jefferson Eagle Bull 28 times while he remained on the ground in handcuffs. Caught on cellphone video, Sotherland finally stopped attacking Eagle Bull after several witnesses ordered her to stop and helped the injured man into a patrol car.
On December 3, the Los Angeles County district attorney's office announced that it would not file criminal charges against former CHP Officer Daniel Andrew for ruthlessly beating a mentally ill homeless woman. Instead of restraining Marlene Pinnock as she walked barefoot along the 10 Freeway in Los Angeles on July 1, 2014, Andrew grabbed her from behind, threw her to the ground, straddled her body, and ripped her clothes while repeatedly punching her in the head and upper torso.
When compared to these incidents, Holtzclaw's case merely illustrates that for every cop who cannot escape justice, there are several others who continue to walk free. Although no video evidence was presented at Holtzclaw's trial, these videos clearly depict Webster, Sotherland, and Andrew using excessive and unnecessary force against nonviolent people. But what could possibly justify their heinous actions? To serve and protect, of course.