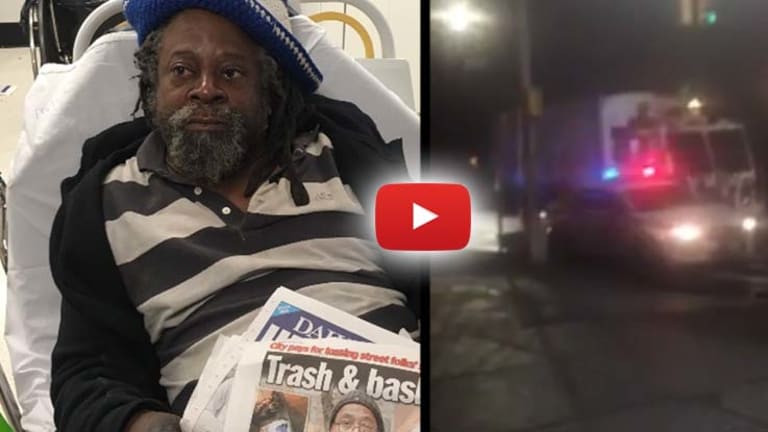 VIDEO: Cops Take One-Legged Homeless Man's Stuff -- Including His Crutches -- And Trash It
A one-legged homeless man was left injured and possessionless after cops took everything he had and threw him to the ground.
New York, NY -- Just one day after New York City agreed to pay a settlement to three homeless people who alleged police stole their things and crushed them in a garbage truck, another homeless has come forward with similar allegations. However, the allegations brought forward by Thomas Harris are backed by video and are far worse.
Harris and witnesses say cops and sanitation workers took the homeless man's belongings and threw them in the trash. These belongings included clothing, blankets — and Harris' crutches — as a train accident has left him with only one leg.
According to the New York Daily News, the drama between the man and city workers began Tuesday night and resumed on Wednesday.
"They treated me like a piece of s--t," he said while on a gurney in the emergency room at Kings County Hospital, reports the Daily News. "I was crying like a baby. It was humiliating."
Harris is known to locals as the 'drum man' as he would sell small African-style drums that he would make himself at the Prospect park drum circle according to the Daily News.
"You can see it in the Daily News," he said, as he held a copy of the Daily News' coverage of the recent settlement for cops stealing the belongings of homeless people. "They're taking homeless people's stuff and throwing it in the trash. I'm just the latest."
Harris and the other homeless people in New York are not alone. This 'crackdown' on the right to exist has been happening all over the country.
In Denver, as John Vibes reported for TFTP last month, local police have sparked national controversy after video of them stealing blankets from homeless people went viral. The police confiscated the blankets and camping gear claiming that the property was being held as "evidence." The officers were enforcing a city-wide ban on "urban camping," a measure that is popping up in cities across the country. These "urban camping" bans are an obvious assault on the homeless population who does not have a choice but to camp on the streets.
Police are denying that they threw away most of Harris's belongings and only claim to have thrown away bottles of urine and garbage. But Harris and witnesses disagree. Along with his crutches, Harris says police took his blankets, clothing, bicycle, backpacks, and cookware.
District leader Geoffrey Davis, who was also at the scene backed up the accounts of Harris and the other witnesses — not police.
"It's not your call to say what's valuable and what isn't. Those are his belongings, they shouldn't be tossed in the garbage," Davis said.
"He's a very nice man. Very independent, doesn't bother anyone," Davis said. "He'll have a conversation with you, but he just wants to do his own thing."
"The whole thing, to me, it was disturbing," Neysa Malone, a musician who filmed parts of the encounter told the Daily News.
Harris claims that during the altercation with police, he was also hurt.
"They tried to put me in the pysch ward but there isn't a damn thing wrong with me," Harris said.
Kasia Bednarska has since started a gofundme for Harris to help him get back on his feet after having everything taken.
[author title="" image="https://tftpstagingstg.wpengine.com/wp-content/uploads/2016/03/magorist-e1456948757204.jpg"]Matt Agorist is an honorably discharged veteran of the USMC and former intelligence operator directly tasked by the NSA. This prior experience gives him unique insight into the world of government corruption and the American police state. Agorist has been an independent journalist for over a decade and has been featured on mainstream networks around the world. Follow @MattAgorist on Twitter and now on Steemit[/author]