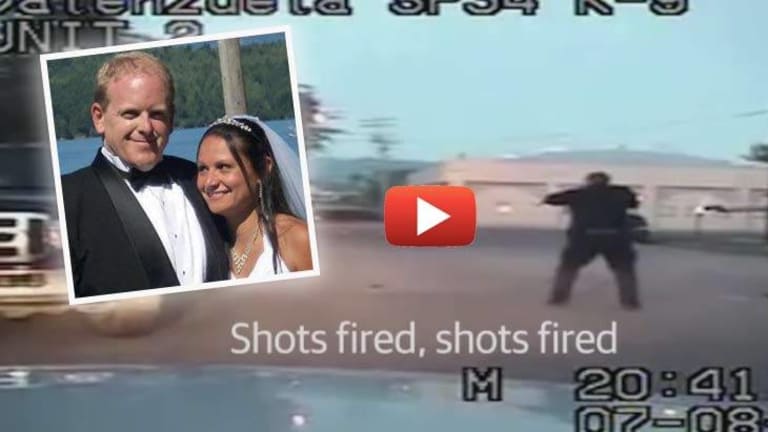 Horrifying Video Shows Two Officers Shooting Mentally Ill Pregnant Woman
Despite the department providing crisis intervention training to deal with the mentally ill, neither of the officers who killed this pregnant mother of 3, had taken the course.
Sandpoint, ID-- Jeanetta Marie Riley, a homeless 35-year-old mother of three and stepmother of one, was brought to the hospital on July 8, 2014. Her concerned husband who was hoping to obtain assistance as his wife had a history of mental health issues as well as a tragic past. The woman was armed with a knife and had been threatening suicide. The Guardian reports that the woman was pregnant when her life was taken.
Jeanetta's husband, Shane Riley, went inside the hospital, desperate for help to deescalate the situation and told staff that his wife was outside with a knife threatening to harm anyone who approached her. The couple had reportedly been fighting most of the day, and his wife had drunk half a bottle of vodka and was armed with a 3.5" paring knife. The hospital was immediately put on lock down, and the police were called to the scene.
Riley, who was described as a "chronic" domestic violence victim with substance abuse issues and a history of being abused as a child, was reportedly posing no threat to anyone when the three officers arrived. The distraught woman was sitting in a vehicle calmly speaking to her husband until she was approached by the police with their weapons fixed on her. The police then escalated the situation in a way that only men armed with loaded AR-15 rifles can.
"Walk over here," Ziegler ordered. "Show me your hands."

"F*ck you," Jeanetta replied. "No."
Only 15 seconds after the police arrived on the scene, Riley was shot by both Officer Ziegler, 29, and Officer Valenzuela, 27, after she refused commands to drop the knife. The petite woman was nowhere near the officers as she was shot at five times. At five feet tall and less than 100 pounds, it is a scary world when police officers who are supposedly trained to protect the public, cannot non-fatally disarm a person of that stature.
At one point in the very brief encounter, Ziegler had switched to his taser, but opted to holster it and go back to his handgun.
Jeanetta Riley was hit by three of the bullets. Two entered her torso while a third pierced her heart. Her body was handcuffed as she laid face down in the street, bleeding her life away.
The officers "caused a lethal confrontation that any reasonable person could have avoided and they should have been trained to avoid," according to the two million dollar lawsuit against the city and the hospital that was filed by Riley's husband on January 2.
A lawsuit has also been filed by Riley's ex-husband for one million dollars on behalf of their daughter.
Both officers were cleared of any wrong-doing, and no apology has been issued for her death.
The department does provide officers with crisis intervention training, which is designed to teach police how to handle mental illness and properly diffuse tense situations. Of course, neither of the officers involved in her shooting had taken the course.
A study released last year by the American Psychiatric Association found that CIT-trained officers "had sizable and persisting improvements in knowledge, diverse attitudes about mental illnesses and their treatments, self-efficacy for interacting with someone with psychosis or suicidality, social distance stigma, de-escalation skills and referral decisions."
Much like the case of Yanira Serrano, the under-trained police have killed another person who just needed some help and compassion.
There is no excuse for CIT training not being mandatory for every officer in every state.