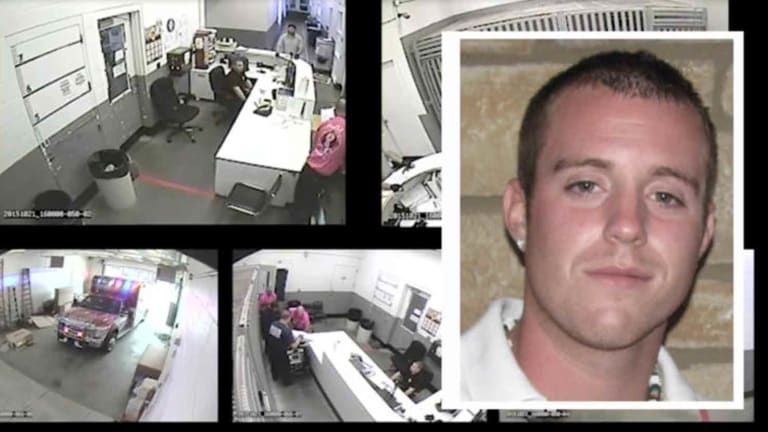 Horrifying Video Shows Officers Mock Suffering Father Until He Turned Blue and Died
A young father begged for his life as he suffered in jail over a DUI but instead of getting help, he was mocked and ridiculed until he died.
"They're not going to help me, are they? I think I'm going to die."
Miami, OK — Terral Ellis, 26, had made a mistake. In 2015 he got a DUI and then missed his court date. It's a mistake thousands of people make every week across the country but because of the horrifyingly corrupt and negligent jail staff in Oklahoma, this mistake would cost Ellis his life. Just 12 days after turning himself into the Ottawa County Jail for missing his court date, Ellis would die a slow and agonizing death—all of which was entirely preventable.
Ellis' last hours alive were captured on the jail's surveillance system and the resultant videos are nothing short of horrific. As he writhed in agony on the floor of his jail cell, officers mocked him and accused him of faking it. Even the jail's nurse got in on the action and laughed at the "boy who cried wolf."
"I'm sick and tired of f---ing dealing with your ass!" nurse Theresa Horn yelled. "Ain't a damn thing nothing wrong with you!"
But there was something very wrong with Ellis and only a few hours later, this 26-year-old, with his entire life in front of him, would be dead. Although this incident unfolded in October of 2015, the gruesome surveillance footage was only just released. The multiple videos show how officers and other jail staff repeatedly ignored Ellis' cries for help and even mocked him as he died a slow painful death. It also shows them ignoring the pleas from his cellmate and other inmates who could see the pain Ellis was in.
Sometime after turning himself in on October 10, 2015, Ellis would get pneumonia and eventually septic shock that would prove to be fatal because instead of receiving help, he was mocked and ignored.
"If you don't have everything I have, this is just some kid who died in jail because he got sick," said attorney Dan Smolen, referring to the detailed audio and video clips showing officers mocking a sick man until he turned blue and died. "I want people to understand this is happening, every day, all day long, in jails across the United States. I think it has just been captured [here] in a really awful way."
Smolen specializes in lawsuits for in-custody deaths and has seen many "horrific jail death cases." This one, however, he says was the worst.
"It's a complete dehumanization of people in custody," he said. "This video, this audio, really captures that."
As the video shows, Ellis walked into the jail healthy. His grandfather had talked him into turning himself in and Ellis wanted to do the right thing to make his toddler son proud. Ellis was placed in a cell with Michael Harrington who would go on to document Ellis' decline in health in a letter.
As the Washington Post reports:
Surveillance video shows Ellis lying in bed for eight days, according to the court filing. During this time, Harrington said in the letter, he was concerned that his new friend was growing severely dehydrated because he was sweating profusely.

"I literally had to hand-feed and water him," Harrington wrote. "It got so bad that I had to give him cups to urinate in and then dump them out for him."

Harrington said their requests for medical attention were denied. Eventually, according to court documents, Horn diagnosed Ellis with a "displaced rib" on Oct. 19 and directed him to stay in bed, according to court documents and her own medical notes filed as an exhibit in the case.

Ellis complained that he felt his condition was worsening, Harrington said in his letter. At one point, Harrington said in his letter that he and Ellis pleaded for help from detention officer Johnny Bray, who accused Ellis of faking his illness in a ploy to get out of jail. According to Harrington's letter, Ellis later said: "They're not going to help me, are they? I think I'm going to die."
He was right.
On October 21, Ellis began to have a seizure causing the other inmates to call for the officers. Bray and other officers again accused Ellis of faking it. Eventually paramedics were called and did not take all of Ellis' vital signs because Bray told them he was faking and told them not to take him to the hospital.
Officers then punished Ellis for "faking" it and he was moved to an isolation cell with no toilet, no water, and no bed. They were supposed to check on him every 15 minutes, but despite logging the checks into the jail log, video shows they never checked on him.
Between 8:18 a.m. and 8:40 a.m. on October 22, Ellis again asks for help and is met with mocking remarks and denials from jail staff.
"My legs! Please! Please don't go anywhere!" Ellis said.
"Please, dude. Wait, dude. I can't believe y'all are doing this! Help! Help! Help! Somebody Help! Help! Help!" Ellis said.
"Help! Help me! Help!" Ellis said.
As he begs for help, officers can be heard on the video mocking him and refusing to call medical.
Instead of helping him, Ellis was threatened with being shackled to the floor. Hours later, at 1:38 p.m. Ellis was found unresponsive in his cell. At 2:03 p.m. he was hauled out on a gurney and finally brought to the hospital. But it was too late. Ellis would be pronounced dead on arrival.
"If it weren't for the negligence and total disregard to human life, Terral would still be with us today," Harrington wrote in his letter. "No one deserves to be treated like that. Something needs to be done."
We agree. Sadly, however, nothing has been done. According to the Post, as of this week, nobody who interacted with Ellis during his time in jail has been criminally charged, nor was anyone formally disciplined, Smolen said, citing their investigation and depositions of those involved. The Ottawa County Sheriff, Jeremy Floyd, confirmed to The Washington Post that the two named detention officers in the suit, as well as Horn, were not disciplined or charged at the time. In the four years since Ellis's death, all three have left as employees of the jail, Floyd said.
"We as parents spend our lives teaching our children how to walk, talk, ride a bike and survive in this world," Ellis's father, Terral Ellis Sr., said in a statement. "Nobody looked at my 26-year investment the way I did. He was a kindhearted, loving boy that became a man for a very short time when strangers decided to erase something that was not theirs to erase."
Below are the videos. Warning, they are extremely graphic.