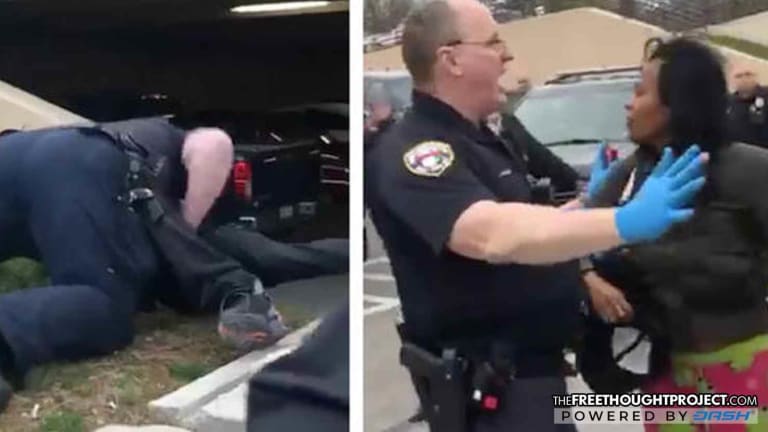 WATCH: Cops Arrest Grieving Mother, Keep Her from Seeing Her Dying Son in the Hospital
When a mother rushed to the hospital after she heard that her son was shot, staff refused to allow her to see him, and then police arrested her for "causing a disturbance."
When a mother received the call that her teenage son had been shot and rushed to the hospital, she dropped everything and went to see him. When she arrived, hospital personnel refused to let her see her dying son and when she begged in protest, she was arrested and taken away by police.
Nylik Moore was just 18 years old when he was shot in the back and the arm, causing injuries that took his life. When his father called his mother, Cheirha Rankins, and told her the news, she rushed to York Hospital, just a few blocks from their home.
Instead of cordially allowing Rankins to see her son, hospital personnel refused to allow the grieving mother to enter his room. Worse still, the denial of entry allegedly led the family to cause such a disturbance that Mrs. Rankins was eventually arrested.
Moore's family simply wanted to see his body and to be allowed to grieve, but the hospital had been placed on emergency lockdown, which is standard procedure when shootings occur. Understandably, anger is present when a loved one is gunned down. Equally concerning is the safety of hospital personnel who often times get caught in the middle of revenge shootings inside medical facilities. Even with those considerations in mind, the family claims more could have been done to allow them to see Moore's body.
The young man was pronounced dead about 30 minutes after he was shot, and taken to the hospital for treatment. But not only was the mother not allowed to see her son, she was arrested for "causing a disturbance."
Three days passed before the family was allowed to see Moore's body, and to properly say "goodbye" to him. The mother told WMAZ that she would have given anything to be able to see her son before he died, and that is why she put up such a fight when hospital security and police officers tried to keep her away.
"I thought I could save his life if he heard my voice," Rankins said. "I just wanted him to hear my voice."
Following Moore's death, the coroner conducted an examination. The body, which usually is then seen by the family, was sent to the morgue where an autopsy was conducted.
The mayor, the chief of police, and hospital administrators are now investigating the incident. Coroner Pam Gay said it is normally routine procedure for the family to be allowed to see the body, but Rankins had already been arrested and cited for "disorderly conduct." That charge was later rescinded but the damage was done and the grieving mother was prevented from viewing her son's body.
"If we don't do it, then the family won't see their loved one until the body returns from the autopsy...We try to do everything within our power to make that happen here [in the hospital]," Gay said.
Gay explained the frustration experienced in such a difficult situation whereby Rankins was prevented from being with her son immediately following his death. "I'm not really sure what the difference was this time...It's frustrating for us at all levels. I don't know what happened in this instance," she said.
Mayor Michael Helfrich reached out to the family both through his chief-of-staff and in person. Phillip Given promised the family the mayor was looking into their case and spent Friday morning meeting with both the chief of police and hospital administrators. Helfrich then had dinner with Rankins and her family.
"Neither the city nor the hospital is happy with what happened here," Helfrich confirmed, going on to promise that the city and the hospital will review current procedures in place in an effort to, "know what's supposed to happen."
"Our goal is to make sure that people are treated with respect and treated the same way every time...I'm a person who wants justice," Helfrich said.
Shelley Buck, York Hospital's CEO, issued the following statement and admitted the hospital had talked with Rankins and her family, "to offer our condolences and to sincerely apologize for what occurred Tuesday night."
"These are our patients and our neighbors, and we're deeply sorry for the pain they're experiencing...We believe strongly that family members should have the opportunity to be with their loved ones at these difficult times, and we regret that we did not make appropriate accommodations to ensure that occurred in this case. It was a very challenging and complex situation for all involved."
Buck explained that the ER staff was dealing with "multiple trauma patients" at the time Moore was admitted. The hospital CEO's statement continues:
"It is always our goal to balance the needs and safety of our patients, family members and our staff during these times...Unfortunately, we did not have a well-established process in place to ensure family access to their loved one during such a complex situation."
The meeting with the mayor and the statement by the hospital are of little consolation for the mother who was not only disallowed from seeing her son in his dying moments but was arrested by police for, understandably, causing a disturbance.
"I lost my son. My son," Rankins said.
The family has raised nearly $4,000 of the needed $10,000 to bury Nylik Moore. They have set up a GoFundMe page in order to raise the required funds. The description reads:
"A good life taken to soon. Nylik Moore, 18, was cheated of life on April 24, 2018, due to gun violence. He just got his high school diploma and was looking for a job. He had so much life in him, he was a great kid, just liked to hang out with his friends and be with his family. The violence has to stop. Nylik had such a great personality, his laugh was amazing. He never hurt anyone and now we have to say goodbye. I'm asking all friends and family to come together and help send Nylik home the proper way. Anything will help, we just want to make sure everything is perfect for Nylik and his parents."