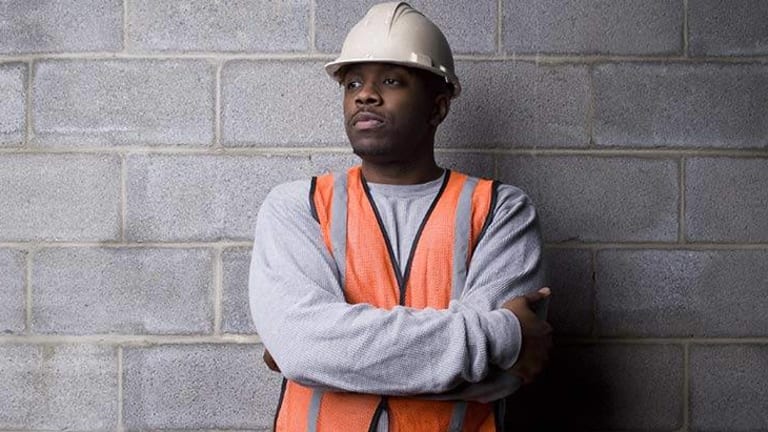 Housing Authority Forces Workers to Wear Orange Vests So NYPD Cops Don't Shoot Them
Housing Authority orders their employees to wear bright orange jackets so they don't get shot by the "trigger-happy" NYPD.
New York City, N.Y. – In a testament to the "trigger-happy" nature of NYPD cops, the city Housing Authority has ordered all workers fixing elevators in NYC housing projects to wear construction orange vests.
New policies were enacted by the Housing Authority after officers pulled a gun on a maintenance crew and fatally shot an unarmed man in a stairwell in a separate incident.
According to a New York Post report:
"[The elevator workers] were basically told the reason was because of recent incidents where cops had pulled a gun on a caretaker and a supervisor on the roof of a housing project," a source said.

"No one got shot, but they also referred to the cop shooting and were told, 'We're doing this for your protection. Your lives are in jeopardy, and we don't want you to get hurt,' " the source said
Pulling no punches, one Housing Authority supervisor allegedly told his crews that the new policy was due to NYPD cops being "trigger-happy."
In addition to wearing the bright orange vests, workers will now also be required to wear their official identification on a neck lanyard.
"They said that in case a cop stops you, we don't want you reaching around in back pocket That could be another reason for a cop to shoot you," the source told the Post.
According to a Housing Authority spokeswoman, the new policies were simply standard operating procedure regarding safety.
"The issuance of the safety vests was one action taken to increase safety for elevator personnel through our ongoing 'Safety in Motion' initiative. Although not tied to any particular incident, we hope that this simple action will further protect these hardworking employees and allow them to be easily identified when needed," the spokeswoman said.
Regardless of the Housing Authority's public statements, it's quite clear that new measures are a response to the overall violent demeanor of the NYPD. More specifically, they are in response to the killing of unarmed father of two Akai Gurley in a dimly lit stairwell on November 20, 2014.
When city agencies feel the need to have their employees wear brightly colored vests to be sure they aren't killed by cops while on the job, you may just have a severe policing problem on your hands.
Jay Syrmopoulos is an investigative journalist, freethinker, researcher, and ardent opponent of authoritarianism. He is currently a graduate student at University of Denver pursuing a masters in Global Affairs. Jay's work has previously been published on BenSwann.com and WeAreChange.org. You can follow him on Twitter @sirmetropolis, on Facebook at Sir Metropolis and now on tsu.