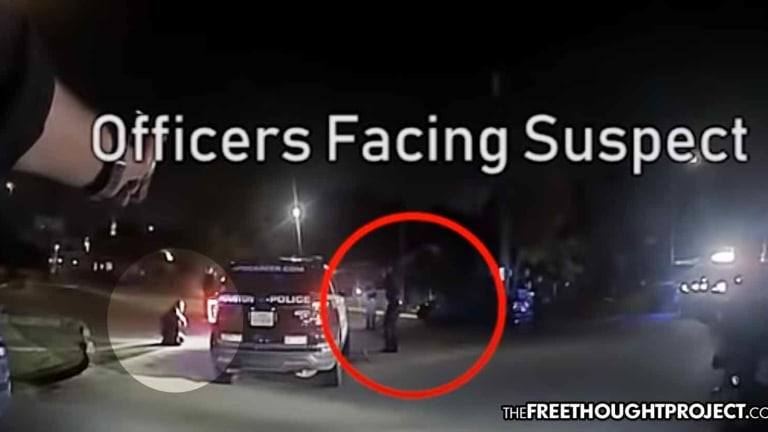 4 Cops Fired After Video Showed Them Executing Man on His Knees, Dumping 21 Rounds Into Him
A man was kneeling down with three bullet holes in him when 4 cops decided to open fire on him again, dumping 21 rounds into him, execution style.
Houston, TX — Suicide by cop — in the land of the free — is an unfortunate, and oft-used option for those in mental distress. All too often, police officers respond to incidents in which mentally ill people need help, and then kill those people, so it makes it a rather easy option. As a case out of Houston, Texas illustrates, sometimes the details of these stories that the public is told by authorities, do not match up with what actually unfolded.
Last April, police officers in Houston shot and killed a 27-year-old man, Nicolas Chavez, who they claimed charged at them and was suicidal. However, a video was submitted to the Free Thought Project which painted a completely different picture at the time, and now, five months later, police are finally admitting that as well. The four cops who dumped 21 rounds into a kneeling unarmed man have now all been fired.
According to the Houston Chronicle, the officers involved in the April 21 death — identified as Sgt. Benjamin LeBlanc, officers Patrick Rubio, Omar Tapia and Luis Alvarado — were fired Thursday for what police Chief Art Acevedo said was their decision to fire a combined 21 rounds at Chavez, who was suffering from an apparent mental break and who died following their 15-minute encounter in east Houston. Acevedo determined the fatal shots were "not objectively reasonable."
According to police, they responded to a call around the 800 block of Gazin Street about a man who had been reported jumping in and out of traffic and was reportedly suicidal and had a "weapon."
That weapon was later found to be a short piece of rebar. Though police claim the man threatened people, no one, including the officers who killed him received so much as a scratch. When police confronted the 27-year-old, they claimed he did not comply and threatened them.
According to the body camera footage just released by the HPD, Chavez walked up to a constable holding the piece of rebar and one officer shot him three times. This did not kill him and when officers approached him to place him in handcuffs, Chavez yelled profanities at them and took refuge in a ditch.
"Kill me," Chavez pleaded.
Another officer replied, "You're bleeding out, so let me help you."
The officer who originally fired the taser into Chavez knew it was empty and dropped it because he didn't want fellow cops to trip over it. This left the taser wire, attached to an empty taser, connected to Chavez — a fatal mistake.
Officer Adovasio, whose body camera catches most of the interaction, appears to be the only rational cop on the scene. The entire time he is trying to de-escalate the situation, telling officers to turn off the sirens and put their guns down. Unfortunately, none of the other officers listened.
Chavez then comes out of the ditch, taser wires still stuck in his body — from a non functional, entirely spent taser — before he throws his "weapon" away. He is hit with more bean bag rounds and at this point is completely unarmed except for the wires in his body and a spent plastic taser that could not fire.
The next round of gunfire erupted as Chavez began reeling in the taser by the wire, which police admit was missing both cartridges. LeBlanc, an 11-year veteran of the agency, fired twice, while Tapio and Ruio — both with HPD for a year — each fired six times. Alvarado fired seven shots.
Though police originally claimed Chavez charged officers, the video shows he was on his knees when multiple officers opened fire. The first cop to fire claimed he had no other choice after Chavez reached for the taser.
"He never looks at it (the taser) to shoot himself. He looks directly at me," LeBlanc said, according to Houston police records. "At that moment, I make the decision to fire my duty weapon — my pistol at him two more times to end that threat."
The threat that was non-existent.
An internal review found that even if the taser would have been functional, all the officers were out of range when they killed him.
"It's tough for everybody but it's most tough for a mother that gave birth to a son," Acevedo said during a news briefing on the scene back in April, adding the officers opened fire when he started "charging" at them. "All I could tell her was that whatever demons he was dealing with, as a person of faith, he's in a perfect state in God's hands."
Acevedo went on to note that suicide by cop is an unfortunate reality in America, stopping short of claiming cops are always there to oblige.
"Mental health experts don't like using that term, suicide by cop. I know that's a term used frequently around the country, but this was a person who was not compliant. I think the facts speak for themselves, and I will let people draw their own conclusions," Acevedo said as he pushed the false narrative that Chavez charged the officers.
The "fact" that this man "charged" the officers is certainly not true and now, Acevedo is reversing course.
"You don't get to shoot somebody 21 times," Acevedo said Thursday. "Because, at the time, Mr. Chavez was at his greatest level of incapacitation."
Though police originally claimed Chavez charged them, TFTP received exclusive cellphone footage at the time of the shooting which destroyed that narrative from the start. Now police are finally catching up.
As the video below shows, the man is on his knees. While he appears to be crawling toward the cops, they shoot him with a bean bag. This does not stop him but he is still on his knees.
The cops then deploy tasers and the man is seen throwing something at them. This was likely the tiny piece of rebar as we can hear it clink when it hits the pavement on the video — hitting no one. As the man grabs the taser wires and starts reeling them in, cops dump over 20 rounds into him.
The fired cops have all since appealed their termination and with the help of the union, will likely be rehired. The notoriously unscrupulous Houston Police Officers Union President Joe Gamaldi, defended the officers involved and claimed they did everything they could to preserve life.
"It was clear when viewing the video that these officers did not want to shoot Mr. Chavez and did everything in their power not to," Gamaldi said.
When you watch the video below, you will see that only one officer was actually concerned with preserving life and the other four were hell bent on executing Chavez.
Original cellphone video.