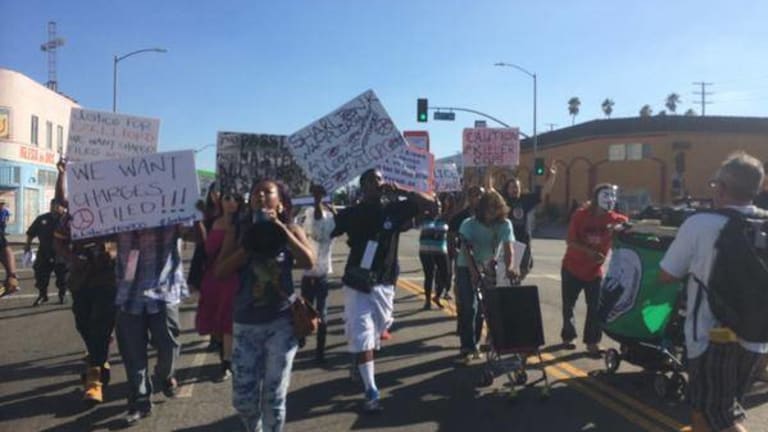 Hundreds of Police Show Up to Intimidate and Threaten Peaceful Protesters
Los Angeles, CA -- On Saturday, September 20, dozens gathered to march from the murder site of Ezell Ford to the LAPD Newton division to demand answers, justice, and accountability. The protest was entirely peaceful, except for the thugs who brought weapons- the police.
We took the streets for the long march to LAPD Newton, we had a couple of mobile sound systems and got lots of support from people in the community along the way.
While there was certainly a lot of justified anger, pain, and frustration, the protest remained peaceful as we approached the police department, and members of the community attempted to engage the officers in a conversation as they blocked the entrance to the department.
All officers remained stone faced and silent, refusing to answer any questions or engage with this community in any way. Who do these people work for again?
Eventually we took the streets once again and marched back to 65th and Broadway, while being followed by police vehicles as well as a helicopter. When we arrived at the scene there was a police vehicle waiting for us, so many decided to take the intersection in protest. This was still peaceful, and created a minor inconvenience for some people at most. This area is all blocks and you could avoid being stuck by simply turning either direction. However, the LAPD believed this was such a huge threat that they needed to bring out what appeared to be at least 100 officers, all armed with rifles and loaded with what we assumed to be rubber bullets. I would estimate the remaining protesters were out numbered nearly five to one.

Two helicopters began circling with spotlights shining on us.
The police next decided to block three of the four streets and side walks leaving us only one exit route, despite almost everyone moving out of the intersection.
Moments later they did an extremely low volume dispersal order that none of us could hear clearly. They allegedly gave us 5 minutes to disperse, but after only three minutes officers with rifles began running at us.
Video courtesy of PM Beers-
A spokesman for the LAPD went on the news and claimed this huge show of force was because protesters were throwing bottles at officers. This is a blatant lie. Nobody was throwing anything and everyone was entirely peaceful, with their hands in the air.
In the United States all people have the right of free speech and assembly guaranteed by the First Amendment of the Constitution. The First Amendment states "Congress shall make no law respecting an establishment of religion, or prohibiting the free exercise thereof; or abridging the freedom of speech, or of the press; or the right of the people peaceably to assemble, and to petition the Government for a redress of grievances."
We were assembled on the side walk by the time of the dispersal order and by the time the armed police charged at us. The only danger to the community that evening were these lunatic police, likely salivating over the chance to attack us. Freedom of assembly is a Constitutional right, therefore, courts have ruled these laws can apply only to unlawful assembly, not to assembly itself: "We construe Penal Code section 416 as empowering a public official to demand dispersal only where there is probable cause to believe that the purpose of an assembly is unlawful, according to the facts and circumstances of each individual case." This means, to be an unlawful assembly, the acts of the crowd must either be violent or inciting others to violence. How can a group of people with their hands in the air chanting "don't shoot" be interpreted as violent or inciting violence? A reasonable person would see this as quite the opposite. Again, the only people inciting violence were those men and women in uniform who charged at us with rifles. For every person executed, more rise up and join the movement to put a stop to this. Rest in power, Ezell Ford. LAPD you are guilty and we are not stopping or backing down, no matter how many times you try to intimidate us out of exercising our rights. Please join us on November 1, when we attempt to do a 'die in' outside the LAPD HQ to represent the 589 people they have executed since 2000. Night of the LAPD Dead