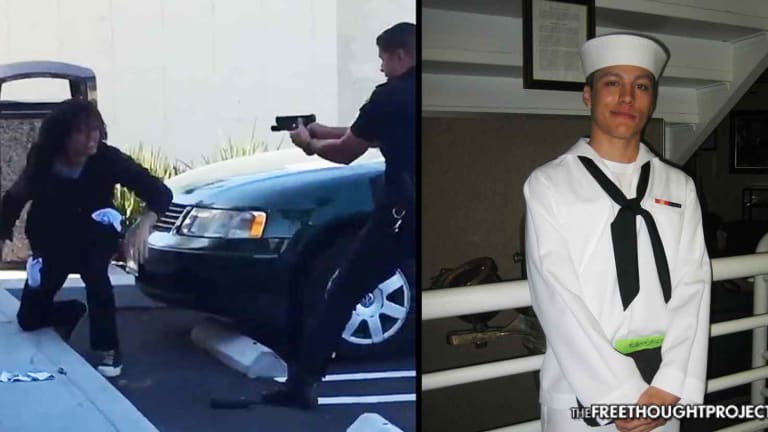 Cop Cleared of Wrongdoing After Killing Unarmed Navy Veteran on Video
A Huntington Beach, CA officer has been cleared of all wrong-doing in the shooting death of a 27-year-old homeless Navy veteran who was unarmed at the time of his death.
Huntington Beach, CA — The investigation into the fatal shooting of 27-year-old Navy veteran Dillan Tabares has come to a close. Huntington Beach police officer, believed to be Eric Esparza shot and killed Tabares on September 22nd after an altercation which led to the young man's death. On Wednesday, at a press conference, the Orange County district attorney's (OCDA) office cleared Esparza of all wrongdoing citing several reasons why they arrived at their decision.
Adding to the controversy of the incident is the fact that Esparza refused to give a statement to investigators in the days and weeks following the shooting, an action the OCDA said was inconsequential in the outcome of the investigation. Tabares pleaded guilty in 2016 in the beating of a Del Taco employee for asking him to leave the premises. He pleaded guilty and was subsequently sentenced to prison. He had only been out of prison for eight days when he was fatally killed by Esparza, who was also a combat veteran. Tabares reportedly developed a Methamphetamine addiction, was struggling with mental illness, and was homeless.
To this date, no information on why Esparza stopped Tabares that day has been released.
Immediately following his release from prison and just days before his death, Tabares became the chief suspect in the beating death of 80-year-old Huntington Beach resident Richard Darland. Darland and Tabares were acquaintances. After Tabares failed to meet with his probation officer, he was labeled by a judge a "parolee at large" two days before being killed by Esparza.
As a result of Tabares' violent criminal past, his alleged role in Darland's death, and the fact he attacked Esparza when he confronted him, the OCDA believed there existed sufficient justification to clear the officer of any alleged criminal wrongdoing for ending Tabares' life. OCDA Ebrahim Baytieh said in a statement the young man's DNA was found on the officer's belt, a fact which corroborated the video's depiction the homeless vet was attempting to gain control of the cop's gun. Baitieh said:
There is no evidence to support a finding that there's any criminal culpability on the part of officer Esparza...Our office is closing its inquiry into this matter.
Tabares' killing provoked outrage when it appeared to show a police officer drawing his weapon and gunning down a young man for no reason. That initial footage was just a snippet of a larger, more serious confrontation with police which involved a fist-fight, a violent struggle for control of the officer's weapon, and the subsequent shooting.
Not even a deployed taser had an effect on the mentally ill man who seemed intent on conflict with the officer, even wrangling flashlight from the officer's utility belt. Esparza reportedly told a fellow officer Tabares was attempting to remove his pistol and presumably use it against him.
Still, questions remain as to whether or not the officer should have killed the man, especially since he successfully created space between he and his attacker. Some have contended the officer should have waited for backup. Others say he should have backed away. And still others lament the fact the officer chose to initiate the confrontation at all.
Now that the backstory to Tabares' life has been made available, an action some would say is likened to 'blaming the victim', a more informed conclusion can be drawn. We would still like to know what you believe. Was the officer's actions justified, in light of the statements by the OCDA's office, or should he still be charged with some crime? Please like, comment, and share. Below is a compilation of all available footage of the incident, which includes Esparza's body camera recording.