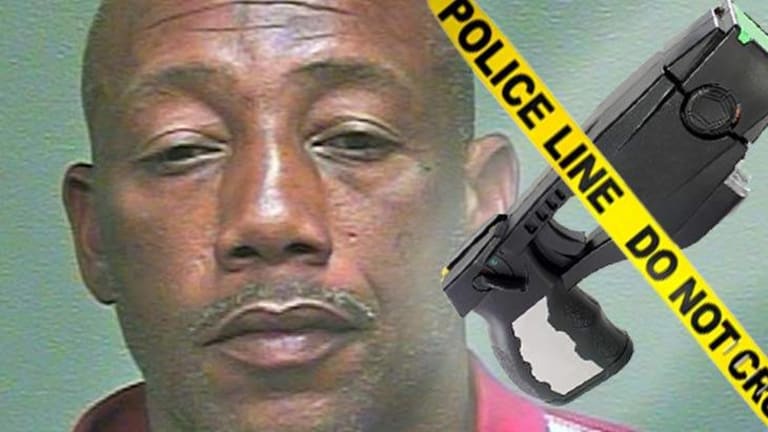 "I Wish I Never Called the Police" Woman Regrets 9-1-1 Call that Led to Boyfriend's Death by Taser
"They kept tasing and tasing him and tasing him until his heart blew out… It was too much. They did too much."
Oklahoma City, OK -- Ruth Temple called out Oklahoma police officers Sunday night after her boyfriend started acting strangely.
That 9-1-1 Call would eventually lead to Temple's boyfriend, Darrell Gatewood's death.
Police say they were called to the residence because Gatewood was breaking glasses and other things inside the apartment. When police arrived, they found Gatewood lying on broken glass on the floor of the apartment.
At one point, Gatewood appeared to be "shadow boxing" and throwing punches in the air, police said. A clearly mentally distraught Gatewood was then dragged into the street and pepper sprayed and tasered.
"They kept saying you're resisting and fighting. So they kept pulling the trigger on the taser over and over again," said witness Leeann Mize.
"They should have restrained him inside the house because they could have." Mize urged. "They could have put his hands in handcuffs and put him in the back of the police car but instead they drug him out and electrocuted him in a puddle of water."
"He would release, Taser again, release, Taser again." said Mize. "It was scary and out of line. They killed a husband, a father and a grandfather in front of the grandbabies, wife and the daughter."
"They kept tasing him until his heart blew out… It was too much. They did too much," Mize added. "He was not a bad person," said Mize. "Yes he had a record and none of it was violent. He was a family man. He was a good sweet family man."
"I wish I never called the police," said his girlfriend. "They shouldn't have tased him."
Gatewood's death has led to three police officers being suspended pending an investigation.
The official cause of death has yet to be determined.
"In this case we don't know what caused him to die," said Oklahoma City police Capt. Paco Balderrama. "We're not saying that the Taser was the cause," he added. "We're saying that a Taser was one of the things that was utilized to try to get the person into custody, but there were also many other factors ultimately contributing to the death of that person."
Gatewood has a history of drug abuse, and his family believes he was acting under the influence of K-2, a synthetic version of marijuana.
We often ask, "why didn't that cop use a taser instead of his gun?" However, it is important to remember that while a person is less likely to die from a taser shock than a gun shot, they are still an often fatal weapon and should be treated as such.
According to Amnesty International, between 2001 and 2008, 351 people in the United States died from being shocked by police tasers. Electronic Villiage has documented another 283 taser-related deaths in the United States from 2009-2014. That means there have been at least 634 documented taser-related deaths in America since 2001. You can view the list here.
There are 50,000 volts of electricity that shoot out of a police issued Taser and into their target. The American Heart Association has been vocal about the fact that tasers can cause cardiac arrest and death.