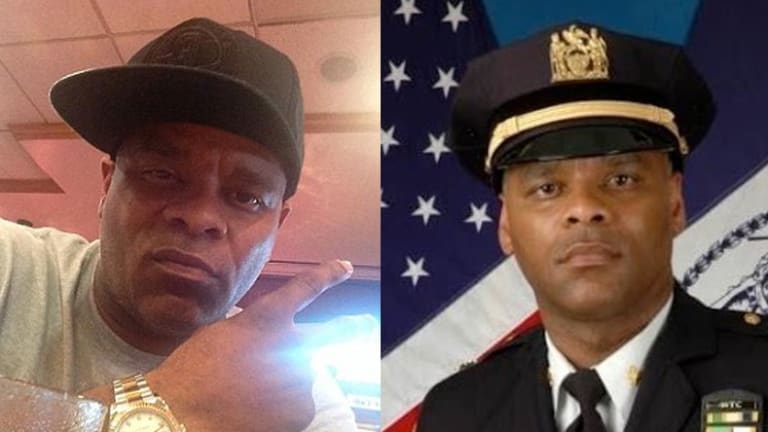 "I Dealt Crack as a Gangsta" High Ranking NYPD Cop Reveals his Criminal Past
"I was like, 'Yo, I'm going to murder him' . . . It was all about street cred.''
New York, N.Y.- A retired police commander, Corey Pegues, 45, has come forward with startling claims about his lifestyle prior to joining the NYPD. In an online podcast interview with "The Combat Jack Show," he revealed his dark past as a means of publicizing his unpublished memoir, "From the Street to the Beat."
Pegues retired from the force in April of 2013 after serving for 20 years on the NYPD rising through the ranks to become a deputy inspector awarded command of the 67th Precinct in East Flatbush. He receives a disability pension of $135,000 a year tax-free after falling off a chair, according to the NYPost.
The crimes he revealed during the interview were of the most egregious nature, but due to the statute of limitations having expired none of his admitted crimes are prosecutable.
During the interview Pegues boasted that as a young man in Queens in the early 80s, he was a part of the feared "Supreme Team", headed by crack kingpin Kenneth "Supreme" McGriff. McGriff was sentenced in federal court in 2007 to life without parole for drug trafficking, murder-for-hire, racketeering, and various other crimes.
Pegues claimed that he made enough money as a crack dealer in his early years to buy gold jewelry worth $30,000 and a collection of 75 pairs of expensive sneakers.
He talked about attempting to murder a rival dealer claiming that had the gun not misfired the man would be dead, telling the interviewer, "I was like, 'Yo, I'm going to murder him' . . . It was all about street cred.''
He even had advice for those looking to become street gangsters.
"The biggest asset I learned from the streets is don't trust nobody. Everybody's a threat. I don't trust my mother,'' he said in the interview. "You can't trust nobody."
There had been rumors for years within the department that Pegues had been previously affiliated with gangsters as a youth, which this interview confirmed.
One of Pegues biggest fears over the course of his career was that other officers would become aware of his friendship with the most infamous cop killer in the history of the NYPD.
In the interview Pegues claimed to be a good friend of David McClary. McClary was the man who murdered rookie officer Edward Byrne with 5 shots to the head while Byrne was sitting in his patrol car while on duty outside the home of a witness.
"You're talking about the most infamous murder in the history of the Police Department with Eddie Byrne, and I have to hide that relationship for 20-something years," he said.

"If they [other cops] would have had any inclination that David McClary was my man... I probably would have had a hard time,'' he said in a most damning understatement. "It would have been a problem."
After the New York Post initially ran the exclusive on Pegues, he was seen buying three copies of the Monday paper at a Hempstead gas station with him on the cover and was unapologetic claiming, "Do you know how much I'd have to pay to get on the cover [of The Post]? $1 million!"
When a Post reporter approached him in the parking lot while he sat in his new Mercedes-Benz E350 looking for comment Pegues said, "I think it's irresponsible reporting, but you know I can't comment," he said.
He went on to implicitly threaten the reporter saying, "You gotta stay away from my house, you gotta stay away from my family. Otherwise, you're going to see this side of me come out," he said, tapping The Post's front page about him being a former drug thug.
Pegues appeared on CNN Tuesday evening to defend himself asking,
"Should I never have a second chance at life? I turned my life around. I knew I was either going to be a hero or a street legend. And I didn't want to be a street legend because a street legend doesn't make it to 25. So I made that decision to separate myself from running around in the streets... so lets talk about the impeccable life I have lived for the past 21 years as a New York City police officer."
During the CNN interview, Pegues claimed that he would have been better suited to handle the arrest of Eric Garner, who was choked to death by an officer.
"If I'm there that's a whole different scenario," he said. "It was very simple for me to go into minority communities and police."
Since the revelations by Pegues about his past, the NYPD has gotten the Nassau County cops to come to his home in Hempstead to seize his three guns claiming violation of the "good conduct" clause on his permit.
It is rumored that the NYPD is also attempting to find legal grounds to revoke his line of duty pension he receives, which could possibly be done by proving that he lied on his employment application to become an officer.
Pat Lynch, President of the Patrolman Benevolent Association has demanded an "extensive and thorough investigation," going on to state "He's a stain on the reputation of a heroic department."
I question whether Lynch truly believes he is a stain on the department. I would venture to say he is typical of the type of officers that the NYPD wants to hire... now it's just become politically expedient to distance themselves from him given his admission of his past.
How else can they explain his ascension through the ranks to become a precinct commander if he wasn't exactly what the NYPD was looking for? Hindsight is 20/20 and they can NOW claim all they want that he is a stain on their department, but the fact of the matter is that he excelled and thrived in the environment of the NYPD… so what does that say about the NYPD and their culture?
Jay Syrmopoulos is an investigative journalist, freethinker, researcher, and ardent opponent of authoritarianism. He is currently a graduate student at University of Denver pursuing a masters in Global Affairs. Jay's work has previously been published on BenSwann.com and WeAreChange.org. You can follow him on Twitter @sirmetropolis and on Facebook at Sir Metropolis.