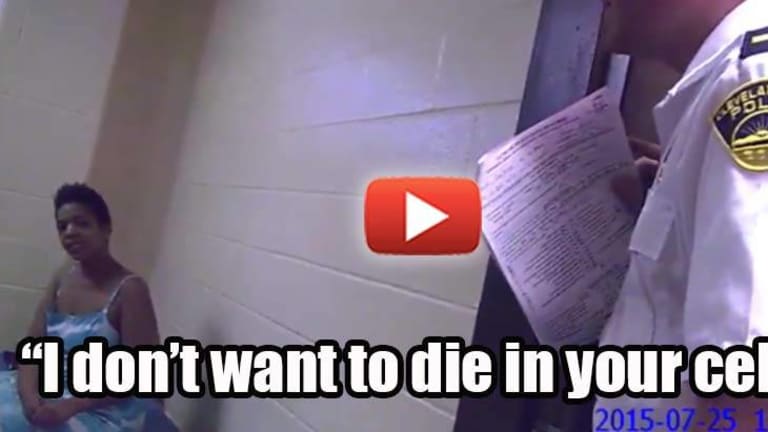 "I Don't Want to Die in Your Cell" Body Cam Shows Woman Predict her Own In-Custody Death
The body camera footage of a Cleveland Heights cop was released showing Ralkina Jones predicting her own death.
Cleveland Heights, OH -- Ralkina Jones, 37, was arrested and brought to jail last month after an altercation with her husband. She would not leave that jail alive.
On July 24, Jones was arrested after police responded to a fight between her and her ex-husband, Brandon Jones, in a grocery store parking lot.
Jones was brought to the Cleveland Heights City Jail where she clearly laid out the details of her serious medical condition to officers. The interview was captured on video from the body cameras of officers inside the jail.
In the video, we see Jones calmly explaining to officers her serious medical conditions, some of which cause her to get light-headed and pass out. During the interview, Jones calmly tells the officers that she doesn't want to die in jail.
"I'm not asking for any exception to any rules," she says. "But I will tell you this, I don't want to die in your cell." Hours later Ralkina Jones was found dead in her cell.
According to the Medical Examiner, Jones' death is under investigation.
Below is the body cam footage which was just released from inside the jail.
Ralkina Jones' death comes on heels of several other tragic in custody deaths across the country. All too often people die in jail, prior to being convicted of a crime. In fact, a new report released by the Bureau of Justice Statistics has shown that an overwhelming amount of inmates who die in police custody haven't been convicted of a crime.
As we have seen recently with the cases of Sandra Bland, Rexdale Henry, Sarah Circle Bear, and others, many of the deaths that occur in prison happen under extremely suspicious circumstances and are labeled as "suicides" without proper investigation.