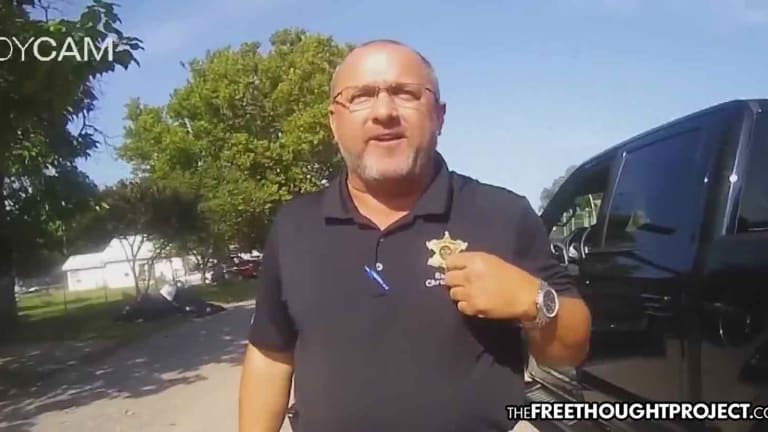 'I'm the Sheriff.' Sheriff Resists Cop Who Pulled Him Over for Speeding, Refuses Orders, Nothing Happens
An Oklahoma sheriff had no problem verbally accosting the officer who dared to pull him over for dangerously driving and nothing happened to him.
Carter County, OK — In the ostensible land of the free, there are two sets of justice systems: one for all those within and connected to the system, and one for everyone else. A perfect example of this two tiered system is the fact that people are jailed and even killed over refusing to give police officers their identification during a traffic stop. However, if you're the sheriff, you can refuse, even get out and harass the ticketing officer, and face absolutely no consequences.
Last month, Carter County Sheriff Chris Bryant was pulled over by a police officer for driving 12 miles per hour over the posted speed limit. When the officer approached the sheriff to tell him why he was stopped, the sheriff immediately began his resistance.
"I'm the sheriff, I'm not giving you my license," Bryant is seen and heard saying on body camera footage.
The scared cop appears to obey the corrupt sheriff and starts walking back to his car with his tail between his legs. But that wasn't enough for sheriff Bryant, he wanted to make sure this cop knew he was out of place for daring to hold him accountable.
As the officer walks back to his patrol car, the sheriff hops out of his truck, gun on his hip, and begins scolding the officer for daring to stop him.
"I'm the sheriff. Okay? I'm not giving you my driver's license. You realize I'm the sheriff in this county. You pulled me over, made your contact, are you gonna write me a ticket?"
"I was just gonna look at your license and let you go," the officer said, apparently infuriating the sheriff even more.
At this point, the sheriff starts rifling through his wallet to pull out his license and his police identification as if this grants him special privilege.
Despite the sheriff originally refusing to give up his license and speeding, he was then let go without arrest or a ticket or even a verbal warning.
After the body camera footage was made public, the sheriff — in a futile attempt to save face — issued a statement apologizing for his behavior, calling it "poor judgement."
"I apologize for my actions on Friday in Wilson. It was poor judgment on my part to be driving in excess of the speed limit and to not promptly display my driver's license when asked to do so. For whatever little it is worth, I did return to the Wilson Police Department about an hour later and apologized to the officer who had initiated the traffic stop. I have also apologized to the City Mayor as well as the Police Chief. There was no need for me to be curt. This man was simply doing his Job."
While the sheriff can chalk this up to poor judgement, others haven't been so lucky.
Unlike sheriff Bryant, Robert Earl Lawrence, 30, hadn't committed a crime when police asked for his identification. In fact, Lawrence was carrying out an an act of compassion, taking a stray cat to the Dothan Animal Shelter, when a officer Maurice Eggleston approached him and demanded to see his ID.
When Lawrence refused, Eggleston killed him. 
Seven Reycraft was another innocent individual who, like Bryant, refused to offer up his ID during a traffic stop. Instead of being sent on his way like Bryant, however, Reycraft was pulled from his vehicle, beaten, handcuffed, and forcibly injected with the sedative ketamine.