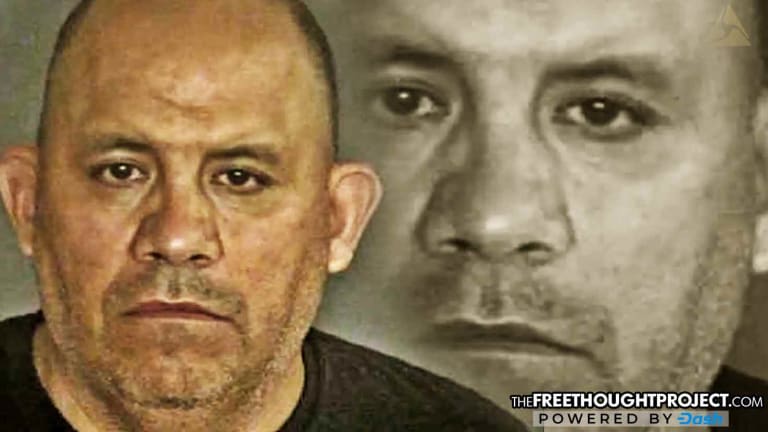 Sicko Cop Arrested for Repeatedly Raping 4yo Girl, Threatening Mom with Deportation if She Told
A predator cop has been arrested and charged after he was caught repeatedly raping a 4-year-old girl and using the mother's immigration status to keep it secret.
San Antonio, TX — As the immigration controversy continues to escalate and children are pulled from their mother's arms to be thrown in cages, psychopaths who abuse their authority are using this time to prey on the weak. One such case of this horrific abuse became evident this week in San Antonio as a police officer was caught repeatedly raping a toddler whilst threatening her undocumented mother with deportation if she spoke up about it.
Bexar County Sheriff Javier Salazar made an announcement this week noting that one of his deputies had been arrested for the repeated rape of a 4-year-old girl. Deputy Jose Nunez, 47, was arrested over the weekend and charged with super aggravated sexual assault.
Using his position of authority, Nunez preyed on a small child. When the child told her mother and the mother confronted Nunez, he abused his authority once more and threatened to have the undocumented mother deported if she reported him.
"The details of the case are quite frankly heartbreaking, disturbing, disgusting and infuriating all at the same time," the sheriff said.
According to police, the girl made an outcry to her mom over the weekend. Knowing that she couldn't trust police because Nunez had threatened her, the girl's mother went to the fire department to make a report.
The alleged abuse had been going on for months according to police. How Nunez was able to gain contact with the girl was not immediately clear but it is clear that Nunez used his position as a law enforcement officer to threaten the mother into silence. Thankfully, however, the mom was not willing to stay silent on the abuse.
According to the sheriff, the mother has been granted temporary protection so that she is not deported while the criminal case is underway.
"The little girl now is safe, and we're continuing to process the case," Salazar said.
During a press conference on Sunday, Salazar said that he believes there could be more victims. He urged anyone with information on this predator cop to come forward and cal the Bexar County Sheriff's Office at 210-335-6070.
Salazar told reporters that they are conducting an internal investigation as well.
Sadly, because of the United State's policy on child immigrants, abuse like this is likely rife and parents have little to no recourse to stop it because reporting it means they could possibly lose their child altogether.
As TFTP has reported, the crackdown on illegal immigration is separating children from their parents at an alarming rate. Private prison companies are converting old Walmarts into detention centers in which hundreds of children are housed in horrifying conditions.
These young children who are forcefully separated from their parents are treated like prisoners and taken to detention centers where they are forced to live among hundreds of other children they have never met.
The individual cases are horrific, and Congresswoman Pramila Jayapal recently shed light on her experience visiting a facility near Seattle where she met with more than 170 women who were taken into custody near the southern U.S. border.
"Thirty to 40 percent of these women came with children who had been forcibly taken away from them. None got a chance to say goodbye to their children—they were forcibly taken away," Jayapal told The Nation. "One said she was deceived because they were in detention together. Then the CBP officers told her she was going out to get her photograph taken. When she came back, she was put in a different room, and she never got to see the child again. Some of them said they could hear their children screaming for them in the next room."
As the case out of San Antonio illustrates, those in positions of power are able to prey on the children of undocumented parents and use their "illegal alien" status against them. As TFTP reported last month, nearly 1,500 of these children are unaccounted for, fostering suspicions of kidnapping and child trafficking.
Sadly, because undocumented people are often dehumanized by the media and politicians, many people seem to look the other way in the face of this abuse. Hopefully, Nunez' case is able to shine some much needed light into this vast pit of darkness.