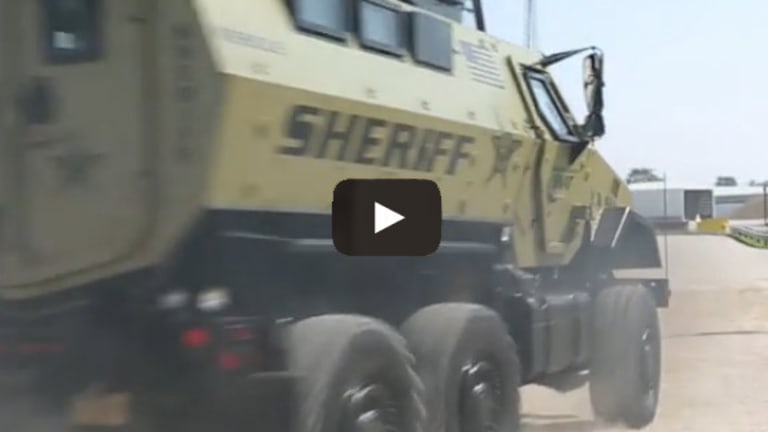 Indiana Sheriff: We Need Military Equipment Because USA Is A War Zone
Who are the police at war with?
An Indiana sheriff has defended the large scale transference of military equipment into the hands of law enforcement nationwide, declaring that cops need gear previously used in Iraq and Afghanistan because America is now a battlefield.
 Steve Watson 
June 10, 2014 
Recently there have been a spate of reports documenting the trend of the Department of Defense and the Department of Homeland Security outfitting America's local police departments with military equipment such as bomb proof vehicles, body armour, and machine guns.
An article in the New York Times this week, notes that "police departments have received tens of thousands of machine guns; nearly 200,000 ammunition magazines; thousands of pieces of camouflage and night-vision equipment; and hundreds of silencers, armored cars and aircraft."
In Indiana, Pulaski County Sheriff Michael Gayer told reporters that "The United States of America has become a war zone." The Sheriff has received much media attention lately following his department's acquisition of a Mine Resistant Ambush Protected (MRAP) vehicle via what has clearly become a militarization program emanating out of the Pentagon, with the approval of the federal government.
"It's a lot more intimidating than a Dodge." Sheriff Gayer noted regarding the MRAP.
Just exactly why Pulaski County needs to intimidate anyone is left unexplained. As noted in the Indianapolis Star report, Pulaski County is a farming community with just 13,124 residents. In 2012, the County experienced only 11 incidents of theft, and just 17 property crimes. There was 1 murder, however it is unlikely that a mine resistant vehicle would have prevented this, nor is it clear why the other $5,000,000.00 worth of military equipment purchased under Sheriff Gayer would be required.
The Sheriff firmly believes all of it is necessary. "There's violence in the workplace, there's violence in schools and there's violence in the streets," said Gayer. "You are seeing police departments going to a semi-military format because of the threats we have to counteract. If driving a military vehicle is going to protect officers, then that's what I'm going to do."
Writing on the department's website, Gayer notes "With the threat of homeland terrorism, rising violence in our schools, drug and alcohol abuse, our society and freedoms that we so dearly cherish are being challenged."
Except, of course, there has not been one single instance of terrorism in the county, and pointing bayonets at drunks and drug abusers probably doesn't get to the crux of the problem.
Quite clearly Gayer believes that he is engaged in some kind of war with his own citizens, or other American citizens coming into his county. Indeed, in the Indianapolis suburbs, officers said they needed a mine-resistant vehicle to protect against a possible attack by veterans returning from war.
"You have a lot of people who are coming out of the military that have the ability and knowledge to build I.E.D.'s and to defeat law enforcement techniques," Sgt. Dan Downing of the Morgan County Sheriff's Department told the local Fox affiliate, referring to improvised explosive devices, or homemade bombs.
Is the same attitude and belief held by other law enforcement departments across the nation?
The figures suggest it is. The NY Times notes that "Since 2006, the police in six states have received magazines that carry 100 rounds of M-16 ammunition, allowing officers to fire continuously for three times longer than normal. Twenty-two states obtained equipment to detect buried land mines."
If this isn't a clear indication of the build up of a militarized police state then what exactly is?