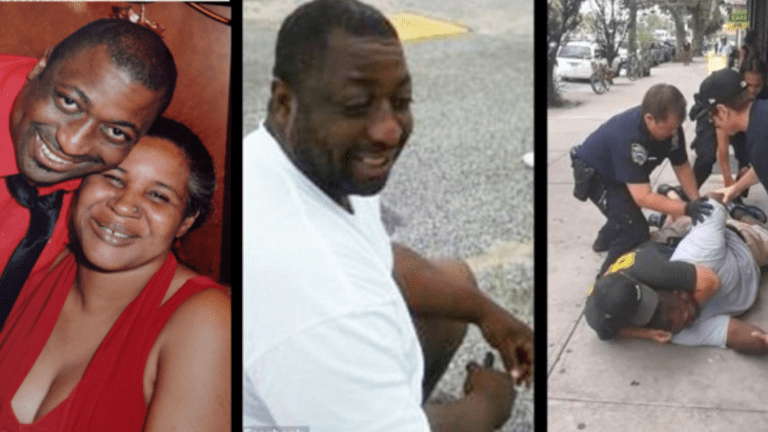 No Indictment for Cop Who Killed Father of 6, Eric Garner, on Video
New York, NY -- On July 17 of this year, Officer Daniel Pantaleo of the NYPD, placed Eric Garner in a chokehold, a maneuver which has been prohibited by the department since 1993, eventually killing the man. The entire incident was caught on video.
Today, in a devastating blow to justice, a grand jury decided not to indict Panteleo for the murder of Garner.
Pantaleo placed father of 6, Eric Garner, in a chokehold and slammed his head to the pavement, piling on top of him as he gasped for air; all of this over a claim by police that Garner was selling loose cigarettes.
The continuous pleas for help were bone chilling as he was telling the cops that he couldn't breathe.
The video went ultra viral, helping to expose the atrocious acts of the NYPD.
The world watched in horror as NYPD cops killed a man on film.
Most of us could see this violence for exactly what it was, murder. The New York City Medical Examiner's office even released a statement ruling the official cause of death a homicide due to "compression of neck, chest and positioning during restraint by police."
This decision not to indict will undoubtedly and justifiably be met with heavy protests.
Representative for New York's 13th congressional district, Charles Rangel, said in a press conference Wednesday that the people of the United States deserve to see the evidence in this case to "find out how this jury could possibly come to this decision."
Police in New York City actually began preparing for potential protests before the grand jury decision was announced.
"We, as you might expect, are planning accordingly," New York Police Commissioner Bill Bratton said at a news conference on Tuesday.
Bratton did not reveal how many officers were placed out on the streets ahead of the announcement, but he said that officers have been told to walk a fine line between allowing the protesters to express their anger while keeping public order.
"If they engage in criminal activity, such as vandalism ‒ actual crime ‒ they will be arrested, quite simply," he said. "But we have the ability to have a level of tolerance ‒ breathing room, if you will."
Our hearts go out to Garner's family, this decision is truly devastating.