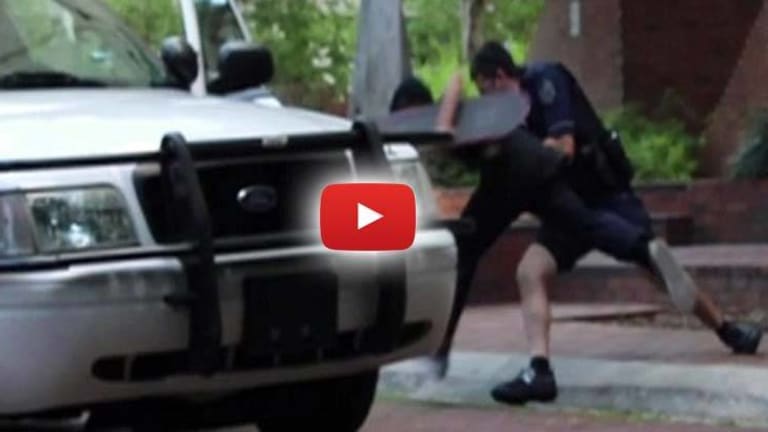 Infuriating Video Shows Cops Attack and Brutalize a Small Teen Boy for Skateboarding
Cops appeared to be conducting a snatch and grab on a child as they attacked him without saying a word.
Tampa, FL -- Tampa cops were apparently out for blood this weekend and a video uploaded to YouTube shows just how much they wanted it.
In a brief video filmed over the weekend, two Tampa cops are seen pulling up to a group of kids who appeared to be doing nothing wrong. When the cops get out, however, they single out the smallest kid to attack.
Apparently frightened by two armed men running at him, a 15-year-old kid tries to back away. However, this was perceived as 'resisting' by the officers, so one of them immediately resorts to violence and body slams the kid down to the concrete.
The teen is 15 years old, stands about 5'4″ and weighs maybe 120 pounds, said Patrick Van Kampen, 18, who was part of about a dozen skateboarders skating on a public street that was closed off to traffic in downtown Tampa on Saturday, reports Photography is Not a Crime.
According to Van Kampen, there were no signs prohibiting skateboarders.
"I don't know his name, but I know he's a good kid," he said in a telephone interview with Photography is Not a Crime Monday.
When the cops arrived, one of them went after another teen who was recording, but he managed to get away. Apparently frustrated with their missed opportunity to slam multiple children down, the two Tampa cops proceeded to humiliate the one teen they did manage to catch.
"These police officers literally forced a minor onto the ground without saying anything," said Sly Sullivan, a friend of the teen who shot the video.
The teen, who had done nothing wrong, begins crying, apparently wondering what it was that he did to get arrested.
"My mom is gonna kill me," he's heard saying as cops vigorously dig through his pockets and pat him down.
As the cops throw around the 120 pound teen like a rag doll, they are heard saying, 'stop resisting' in spite of the fact that the teen was obviously not resisting.
According to Bay News 9, the Tampa police department said the teen resisted arrest after he was caught skating near city hall and that the officer's actions were justified.
Tampa Police spokesman Steve Hegarty said, "One of the teens was going away from the officer. When the officer reached out to arrest him, he pulled back and resisted," he said.
For being frightened of his silent assailants, this teen is now facing charges of resisting arrest without violence.
"I was shocked," said Van Kampen. "We've never had problems before with Tampa police. We've skated in groups of 60 people and had no problems."
"He also picked on the smallest kid in the group," he said.
After everyone had skated away, Van Kampen said he snuck back to take a look and said there were six cop cars in that area -- allegedly all for this one teen.
"He didn't have any warrants or anything, but they held on to him for 12 hours until his mother picked him up from the police station," Van Kampen said.
"Six cars for one kid," he stressed. "The smallest kid in the group."
This is the second video in just a few days in which we see a police officer brutalizing a teenager for normal childhood recreational activity. On Saturday, the Free Thought Project reported on the video of Monique Tillman and her brother, who were riding their bikes when they were stopped by an apparently aggressive police officer.
As the duo attempted to ride away from a man whose intentions were decidedly unscrupulous, Tacoma Police Officer Jared Williams attacked. Surveillance video shows the disturbing scene that unfolded next.
This heroic officer ripped the girl from her bike and slammed her up against a parked car with his hand around her neck. As the child struggled to breathe, grabbed her by the hair and flung her around like a rag doll.
Clearly overpowering the small child, half his size, the officer wasn't satisfied with the damage he'd inflicted so far. So, for good measure, Williams pulled out his taser and sent 50,000 volts into this poor girl.
"He was choking me, grabbed me by my hair and tried to slam my face into the concrete. The next thing I know, I'm on the ground being tased," Tillman said.
Now face down, tasered, handcuffed and brutalized, Williams stood over his victim like a hunter and his kill. He had protected society from the likes of a dangerous brother and sister riding their bicycles.
In the Land of the Free, children are now the subject of brutal police behavior for doing nothing more than being children.
[author title="" image=""]Matt Agorist is an honorably discharged veteran of the USMC and former intelligence operator directly tasked by the NSA. This prior experience gives him unique insight into the world of government corruption and the American police state. Agorist has been an independent journalist for over a decade and has been featured on mainstream networks around the world. Follow @MattAgorist[/author]