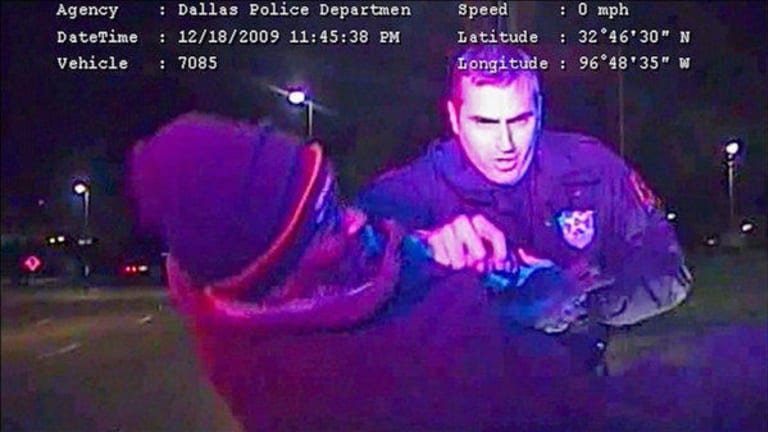 Innocent Black Man Beaten and Imprisoned for 15 Months By Cops Looking for 2 White Men
March 31, 2014
Ronald Jones, a black man, was walking down the street when Officer Matthew Antkowiak of the Dallas PD, drove by him responding to a call about two white men who were reported fighting downtown.
Even though Officer Antkowiak was looking for two white men, he felt it necessary to pull over Mr. Jones and pummel him.
According to Don Tittle, Jones' attorney, Officer Antkowiak "pulls one of Mr. Jones' arms up very aggressively and Mr. Jones turns around to see what is going on and why was he being placed under arrest, and from there it goes," . The officer took Jones to the ground and hit him a few times.
The two struggled as more officers arrived.
Two dash camera videos obtained by News 8 show multiple officers on top of Jones; one officer is seen kicking him several times.
All the while, Jones, who is 62 years old is crying for help.
After the beating Jones was arrested and spent the next 15 months in jail.
In his report, Officer Antkowiak stated that Jones "...took his right hand and grabbed the officer by his throat, choking him and lifting him off the ground."
But take a closer look at the dash camera video; it's Antkowiak who is on top of Jones, choking him.
In his official report, Officer Antkowiak also claimed that Jones "kicked him in the testicles and groin area, while still choking him." But that never happens on video.
Jones' attorney says on the second dash camera video, the officer is asked to turn off the camera. Then the officers said they found a crack pipe and claimed Jones was intoxicated.
Jones was arrested for aggravated assault of a police officer and spent 15 months in jail until his attorney started requesting the dash camera videos as evidence.
Nearly two years after the incident, the police department finally opened internal affairs and criminal investigations into the officers involved in this incident.
Antkowiak resigned; the other officers were cleared.
Last week the tax payers were held liable for the atrocities of these costumed thugs to the tune of $1.1 million.