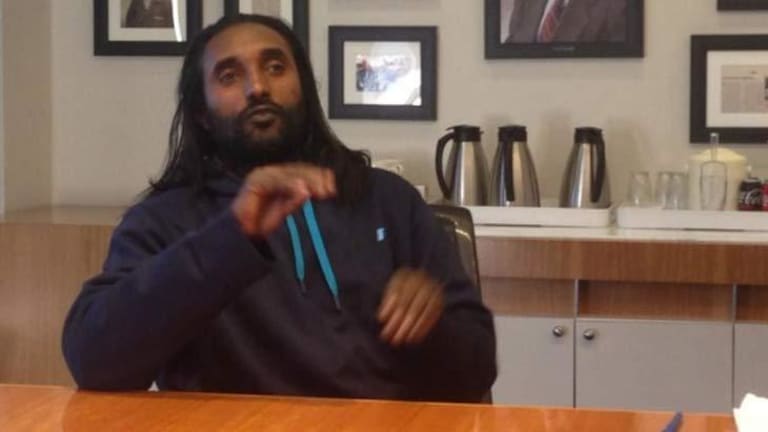 Innocent Deaf Man Imprisoned for 6 Weeks Because the Jail Never Provided Him with Interpreter
An innocent man was kidnapped and caged for 42 days because of an incompetent "justice" system that failed him every step of the way.
Arlington, VA -- A Virginia man is suing the Arlington Sheriff after he was wrongfully accused of a crime and imprisoned for six weeks.
Abreham Zemedagegehu was kidnapped and locked in a cage for a 42 days because of the gross incompetence and negligence of the Arlington sheriff's department.
He was arrested on Feb. 2, 2014, after being accused of stealing a man's iPad. Not until 2 days later did Zemedagegehu find out why he was in jail.
The fact that the iPad was later found by the man claiming Zemedagegehu stole it had no effect on his imprisonment. The Arlington sheriff's office could have simply referred to the New York Times article from 2013 that showed Zemedagegehu actually owned his own iPad.
Because Zemedagegehu is deaf and was denied proper translation, he had no idea that he was arrested for stealing an iPad until after he'd been in jail for several days.
Zemedagegehu is an American citizen who is currently homeless. While he knows how to sign in English, his writing knowledge of the English language is rudimentary at best.
From the time he was arrested, throughout the entire time Zemedagegehu was in prison; he was denied a translator.
According to NBC San Diego, Zemedagegehu said the booking process was bewildering, with someone speaking on a video screen and he not understanding what was happening.
After he was booked, he underwent a medical screening and says he was given forms to sign. He didn't know what they were, and refused to sign them. He says they stuck a needle in his arm without explaining what was occurring - he later learned it was tuberculosis test, to which he suffered a bad reaction.
"I felt like I was losing my mind,'' Zemedagegehu said through an interpreter in an interview at his lawyer's office. "I thought Virginia would give me an interpreter and they said no. That's why I felt lost.''
The sheriff's department is refusing to comment on Zemedagegehu's case, stating only that they have accommodations for deaf inmates. The "accommodations" for deaf people is a basic TTY device in the jail.
Zemedagegehu said the device was useless to him as it spells out words in English text, which he does not understand.
Despite the iPad never having been stolen by Zemedagegehu, he was forced to strike a plea deal just to get out of prison. On March 14 he pleaded guilty to a lesser misdemeanor charge in exchange for time served.
Zemedagegehu's public defender filed a motion after the guilty plea seeking to have the conviction overturned, saying prosecutors failed to turn over evidence that the man who claimed his iPad was stolen actually had found it some time before the guilty plea. Prosecutors deny withholding evidence.

A judge refused to overturn the conviction, saying the appeal had been filed too late.
This case is an example of how callous and unapologetic the so-called "justice" system is in America. An innocent man was chewed up and spit out thanks to the incompetence that was rife throughout his entire ordeal.
Sadly, the taxpayers of Virginia will be the only ones held accountable for this entire mess.