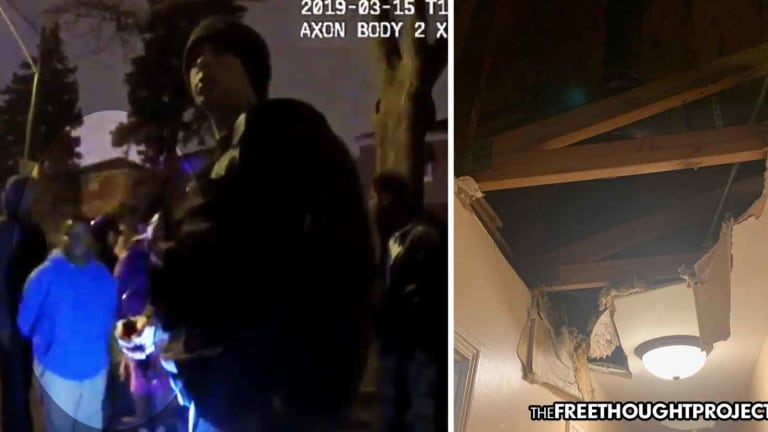 WATCH: Cops Raid Innocent Family, Terrorize Small Children, Destroy Their Home, Laugh About It
After a long uphill battle, body camera footage was released showing an innocent family getting raided by a SWAT team who terrorized them.
Chicago, IL — Because of their gross negligence and incompetence, the city of Chicago is facing a slew of lawsuits for raiding the homes of innocent people — allegedly by mistake. TFTP has reported on several of these lawsuits in which cops raided a four-year-old's birthday party and held other children at gunpoint. One of these families has even been raided — mistakenly — three times. One family's recent mistaken raid, however, exposed a blue wall of silence and showing how far the Chicago police department is willing to go to cover up their crimes. After their requests to receive the body camera footage from the brutal raid were denied several times, an innocent family has finally gotten that video. But it comes with a catch — video of what happened during the first 20 minutes was conveniently missing.
Over the past few years, the residents of Chicago have been subject to a militarized police state occupation. Innocent family after innocent family each waking up in the middle of the night as heavily armed storm troopers throw flash bangs into their homes, haul them outside in the cold, point guns at their heads, and even handcuff small children. These families are being terrorized in their own homes, many of them left with PTSD, and no one is being held accountable—because the state is the one behind the terror.
And because they are the state, they are refusing to hold themselves accountable and going through great lengths to keep their terror campaign secret.
Some of the latest victims in this state-sponsored police terror campaign are Domonique Wilson and her children. Wilson's raid has just exposed a troubling problem within the department as well.
Wilson's home was raided in March by a SWAT team who was acting on bad information. Her tiny children had guns pointed at their heads and were placed in handcuffs. They were marched outside like slaves and forced to stand in the freezing wet rain for hours.
"They made me stand up straight and my hands just behind my back, and they had them tight," said Wilson's 8-year-old son, Royal Smart.
Body camera footage now confirms this child's horrifying treatment at the hands of Chicago's finest. As the family is forced to stand outside their home while cops destroy it, we can hear flashbang grenades deployed and the boy's family pleading with cops to uncuff their small child.
"Why is he in handcuffs? Ain't nobody else in handcuffs but grown-ups," an adult relative said. "That's a kid. That ain't cool, man. That ain't good for him. He's a kid, 8 years old. He's already experiencing something that ain't right for him, for his eyes."
According to CBS 2, they reviewed 14 video clips that contain approximately 16 hours' worth of body camera video in an effort to piece together what happened the morning officers executed a search warrant at the Wilsons' home.
Many of the videos, which include 10 different officers' cameras, mirror much of the, family's original account of what happened.
Conveniently left out of the massive amount of video, however, is the beginning of the raid during which police are alleged to have pointed an AR-15 at the head of 8-year-old Royal.
Wilson said police used excessive force on her children who were clearly afraid for their lives.
"I was worried about my sister most, because she's only 6 years old," Royal said. "My legs were shaking."
Handcuffing an 8-year-old is "an extraordinary event that should happen in the most extreme circumstances," Chicago Inspector General Joe Ferguson, who has since launched an investigation into Chicago police terror, said. And that would require a hell of a lot of justification." We agree.
After they terrorized this entirely innocent family, including small children, the body camera footage shows some of the 40 officers who were involved in the raid, joking about it.
"Was that a flashbang grenade?" One officer asked.
"Yeah," another answered in a snarky tone, laughing. "It was necessary, man. It was necessary."
"The scene is safe," the other replied. The first officer laughed.
An officer also commented on SWAT's decision to march the family out to the street with children.
"They f****** came out and they're like, 'There's a search warrant on your house, come out.' And I'm like, that's like the worst way to do this." An officer laughed.
As we reported last month, after they were wrongly raided and terrorized by police, Wilson said she went to the department to get the body camera footage which she says shows how terribly the cops treated her family. But police refused to turn it over.
CBS 2 News also went to the Chicago police department with a Freedom of Information Act request to get the body camera video, but they refused to honor it.
"What do you believe that body camera footage will show when it comes to your 8-year-old son?" CBS 2's Dave Savini asked Wilson.
"It's going to show them placing my 8-year-old son in handcuffs; how scared he was – traumatized."
"Do you think they're hiding something?" he asked.
"Yes. They're hiding that they put rifles to me and my children's heads," said Wilson.
Unfortunately, police chose to keep the video a secret which would've shown them pointing guns at children.
CBS 2 reports, this isn't the first time Chicago Police officers' body worn camera video has been missing from a bad raid. Peter Mendez, 11, said officers pointed guns at him and his little brother Jack when police wrongly raided their home in 2017. But some body camera video from that raid is missing too.
Al Hofeld Jr., whose law office represents multiple families who've been wrongfully raided by incompetent Chicago police, held a press conference in July to address this very serious problem.
"There is a silent epidemic of trauma being perpetrated upon the children and families of the South and West sides of our city by Chicago police barreling into the wrong homes, holding guns on children, handcuffing children ... ," Hofeld said.
"Chicago police officers behave as if our children of color and their trauma is collateral damage in Chicago," said Holfield.
And he's right. As TFTP reported earlier this year, when Samari Broswell, 7, was celebrating her younger brother, TJ Broswell's 4th birthday earlier this year, she never expected to see 17 heavily armed cops come smashing through her door. However, thanks to a severe case of police incompetence, that is exactly what happened.
Now, just like Wilson's family, this family is left traumatized while people who claim to 'protect' them instead ignore them and continue the same practice. In the Broswell's case, police claim video from officer-worn body cameras showing the horrifying raid simply went "missing."
But that is not all.
Also, just last August, two little boys who used to look up to police were traumatized and their view of police tarnished after a SWAT team burst into their home at night and held the entire family at gunpoint, including the children. The family was innocent and just like the above cases, the raid was on the wrong home.
Those two children now suffer from PTSD and have to attend counseling.
It's not just children either, Chicago cops have raided the wrong homes of elderly women too.
Elizabeth Harrison, 82, used to tell kids to "respect the law." Then on March 17, 2016, a gang of Chicago cops raided her home, busting down the door and holding her at gunpoint. Because of this trauma, Harrison had to be rushed to the hospital.
The great-grandmother said police must have had the wrong house, but they insisted it was the correct address based on their "intelligence." No one believed her when she said she was a widow and lived alone. Harrison was made to sit in a chair, overwhelmed with anxiety, while they searched her home for non-existent drugs. The stress was so overwhelming, Harrison was hospitalized.
Despite this history of dangerous terrorism from raiding wrong homes, it appears Chicago cops aren't trying to get any better at their jobs and remain entirely unapologetic.