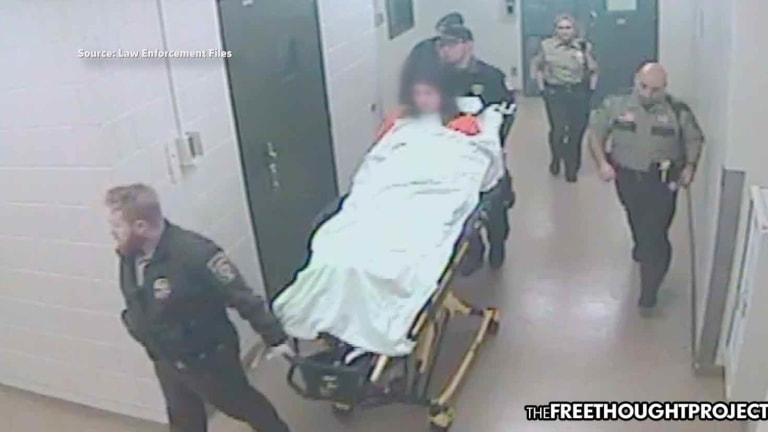 Cops Mistake Innocent Pregnant Woman for Criminal, Kidnap & Force Her to Give Birth in Shackles
An innocent family was wrongly raided and the 9-month pregnant mother was forced to give birth to her child while in chains, shackled to a metal bed.
Hennepin County, MI — In January of 2020, Faris Hussien opened fire on a group of home invaders who kicked in his door to kidnap him and his 9-month pregnant wife Sara. He missed, and the home invaders, dressed in plain clothes, successfully kidnapped both of them. Instead of the justice system protecting the Hussien family after they were victimized by home invaders, it persecuted them to the fullest extent of the law — because the home invaders were cops.
On the night they were kidnapped, the Hussiens were cooking dinner and talking about the birth of their first child who would be coming in just two weeks. They had no criminal record and had committed no crime.
"We were so excited to be a family," Faris said in an interview with KARE 11, who broke their story.
It turns out that the police were mistaken, as they often are, and raided this innocent family because they wrongly suspected Faris was working with a shoplifter. He was not.
Nevertheless, both Faris and Sara were kidnapped and brought to jail. Sara was thrown in a cage for crimes she never committed and Faris was also jailed for shooting at home invaders who turned out to be cops.
Sara was left alone in the jail cell, begging police for help. She cried and tried to tell them she was in labor but that help wouldn't come. Instead, her water broke as she lie in her concrete prison cell.
Only after seeing that her water had broken was Sara taken to the hospital. She would be shackled to a gurney and forced to give birth while chained down like an animal.
It is a clear violation of Michigan state law to force a pregnant woman to give birth while shackled since it was outlawed in 2014.
"Based on the facts of the case I have, nothing suggests that it was legal to restrain this woman in the way that she was," said Rebecca Shlafer, a University of Minnesota Department of Pediatrics assistant professor who was part of a team that advocated for the ban, according to KARE 11.
"This is a very clear case in which the law has been violated," Shlafer said.
"The use of shackles to restrain a pregnant woman during the birthing process is a barbaric practice that needlessly inflicts excruciating pain and humiliation," the American Medical Association says.
Regardless of state law and against the recommendations of the AMA, Sara spent five hours in labor whilst chained to a metal bed, shackled during what is supposed to be a woman's most incredible life experience. What's more, Sara had no idea why she was even in shackles, why police raided her home, or why her husband was still in a cage.
It would be several days before Faris finally made bail and was able to see his wife and new child.
"They took away my happiness that day," Sara said.
"I will never forgive them," Faris added, according to KARE 11.
A year has since passed since police made a near-fatal blunder that led to the subsequent torture and humiliation of an innocent pregnant woman and her husband. Luckily for Faris, the multiple felony assault charges he faced for shooting at his home invaders, were all dropped.
Hussien's attorney successfully argued in court that this soon-to-be father was defending his home and pregnant wife from home invaders. His actions of locking all the doors, calling 911, and firing to stop the assault, were all consistent with self-defense and not an attempt to kill cops.
The Hussien family has since filed a lawsuit against Hennepin County and are essentially guaranteed to receive a large taxpayer funded settlement.
In the land of the free, innocent an pregnant woman can and will be kidnapped and forced to give birth in shackles — and all of it carried out by those who claim to protect her.