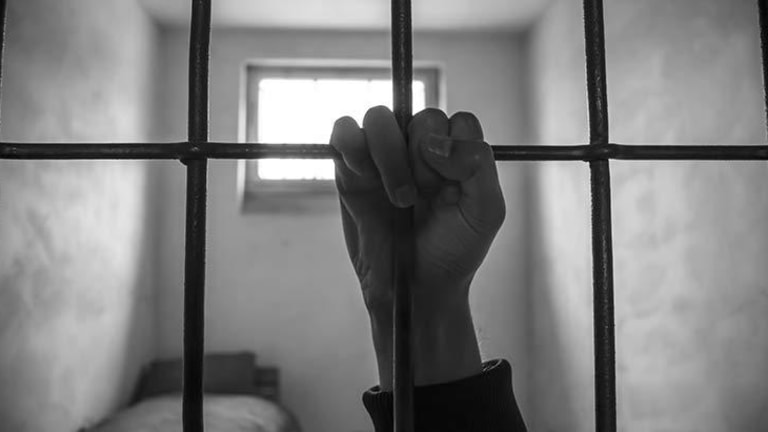 Innocent Man Approaching 900 Days in Jail Because He's a Material Witness to a Murder
In The Land of the Free, you can be kidnapped, locked in a cage, and forced to testify in court....indefinitely.
Approaching 900 days in jail, Benito Vasquez-Hernandez may be the longest-held material witness in US history. Despite committing no crime, he is being held on $500,000 bail while waiting for a murder trial against his son to begin.
Vasquez-Hernandez, 59, and son Moises Vasquez-Santiago were arrested nearly two and a half years ago in California's Central Valley following the murder of Maria Bolanos-Rivera, a widowed mother of six children. Investigators believed one of Vasquez-Hernandez's sons was responsible for the death, according to The Oregonian, and the arrests were made on grounds that they were hindering prosecution charges.
Vasquez-Hernandez told investigators he had seen blood in a van driven by his other son, Eloy Vasquez-Santiago. Moises said Eloy had admitted to stabbing the woman to death, adding that their father had also seen Eloy hiding a knife. Shortly after their arrests, Eloy called investigators pleading to let his family go. A day later, Eloy told police in San Diego he had stabbed Bolanos-Rivera while they were on a date, allegedly after she had insulted him. But he would not admit to the location of her body.
"I can't let go of your family until I find the body, until I find the truth from you - all of the details," the detective in the case told Eloy, The Oregonian reported. "Because they're all witnesses that can tell me what you said to them."
Prosecutors have maintained that the testimony of Vasquez-Hernandez is crucial to the case, and that he has not cooperated with opportunities in pretrial deposition that would likely allow him to go free. They said they're afraid that if he is released before trial, Vasquez-Hernandez would not return to testify.
The defense says Vasquez-Hernandez cannot read or write, has had a difficult time communicating with his attorneys via translators, and has a very low understanding of the American criminal justice system. Thus, he did not cooperate fully when he had the chance to speak out during the videoed pretrial deposition that could have freed him from jail.
US states have various laws regarding how long a material witness can be incarcerated. Some laws mandate that witnesses can be held for seven days maximum, such as Arizona, while New Jersey law says they cannot be held in jail at all.
Oregon's statute is one that is open-ended, though witnesses are typically held for days rather than months.
"We only ask for it in extraordinary situations," said Senior Deputy District Attorney Jeff Lesowski, the Washington County prosecutor handling Eloy Vasquez-Santiago's case.
The Oregonian reported that legal scholars say the length of Vasquez-Hernandez's incarceration is likely unprecedented for a material witness not accused of a crime.
"Assuming it is ever constitutional to lock up an uncharged person to secure his testimony, the detention must be as minimal as possible to avoid a grave injustice," said Lee Gelernt, an immigration rights attorney for the American Civil Liberties Union.
Vasquez-Hernandez and his son Moises were eventually transferred to Oregon's Washington County jail in early 2013. Moises was subsequently diagnosed with schizophrenia during his detention. His lawyer said the interminable time in custody was devastating for his mental well-being.
Finally, in September 2014, Vasquez-Hernandez's attorney attempted to get him to offer a sworn statement via video deposition. But, angered over his prolonged custody and confused about the legal process he was involved in, according to his defense, he was not ultimately deposed. The frustrated judge threw him off the stand.
Moises took the stand next. Though he was "confused and rambling" in his testimony, he said Eloy had admitted to murdering the woman in 2012. Moises was released that night. Vasquez-Hernandez, meanwhile, was sent back to detention.
Eloy Vasquez-Santiago's murder trial is set to begin Tuesday.
"I sincerely regret keeping [Vasquez-Hernandez] locked up," prosecutor Lesowski said when a pretrial deposition was first proposed by the defense.
"But I don't see any alternative that is fair to these people," he said, referring to the murdered woman's family members seated in the courtroom at the time. "I'm trying to convict a man who has confessed to killing a mother. It's not a real easy job. It's not perfect."
Lesowski said he eventually "agreed to the unorthodox deposition process" that "worked out for Moises," though the father "declined to take advantage of it."
Vasquez-Hernandez's attorney, Alan Biedermann, said his client simply wants to see his family, and that his lack of cooperation during the deposition was a matter of his low mental competency.
"It was not a matter of contempt or defiance," he said. "It was the result of his failure to understand the process."