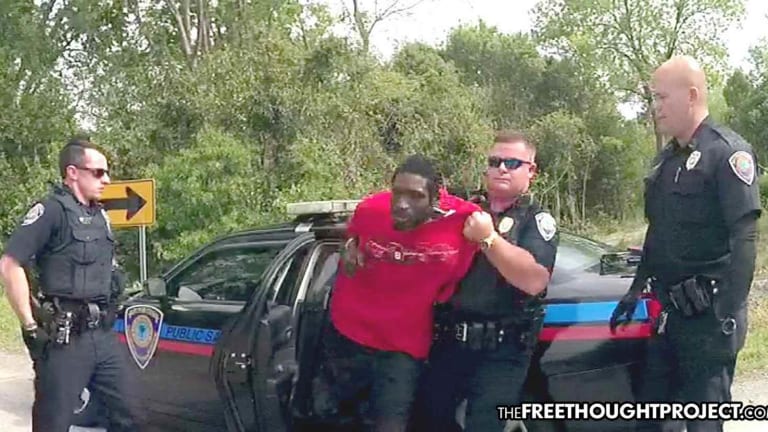 Cops Conspire On Video to Frame Innocent Man for Assault, Get Him Convicted — Not Fired
An innocent South Carolina man spent 128 days behind bars for an assault on officers that never happened and was entirely fabricated by cops.
Columbia, SC — Demetrius Jamison sat in a cage for 128 days, staring down the barrel of a 20-year prison sentence he was facing — for a crime he never committed. He was found guilty of this crime because public servants conspired to frame him. Despite the fact that the officers lied to frame an innocent man for a crime he did not commit, not a single one of them was charged — or even fired.
This week, taxpayers in Columbia, SC were robbed of $750,000 to pay for the lies and cruelty of Corporal Justin Harris, and officers Cody Miles, Nicholas Smoak and Phillip Martin. This is an insultingly low payout considering the fact that Jamison served four months in jail and could've spent 20 years for a crime he did not commit.
"This is a case of failed leadership," Justin Bamberg, Jamison's attorney said, following the settlement approval. "Imagine law enforcement alleging that you were guilty of something that some of them already knew you didn't do, and all the while, you sat in jail contemplating the 20 years in state prison you were facing. That's unacceptable and un-American."
Jamison's nightmare started in April 2018 when cops asked him about bulges he had in his socks. Jamison admitted to the officers that he had several marijuana roaches in his socks. Not wanting to be kidnapped or extorted for possessing a plant that makes him happy, Jamison made the decision — albeit a poor one — to run. He was tackled immediately and put into handcuffs as there were more than a half dozen cops responding to the roaches in his socks.
After Jamison was placed in handcuffs, Harris, who was the ranking officer at the scene, questioned the officers about what happened. Officer Miles said he was struck in the face—it would later be determined that he sustained a broken eye socket—and Martin suffered an injured ankle.
Jamison was arrested and charged with assault and battery of a high and aggravated nature, a felony, as well as misdemeanor assault and battery, and resisting arrest.
When he was arraigned, the judge refused to grant Jamison bail due to the severity of his alleged crimes. The judge told Jamison "You have an officer who has sustained severe injuries that are possibly career ending. That is of grave concern to the court."
Police Chief Mike Adams also went before the judge — without any proof — and said, "This individual standing before us appears to be highly dangerous, especially to law enforcement."
During the trial, in which Jamison represented himself, he continuously denied hitting the officers, or even touching them. But the cops came in with their lies and committed perjury to put this innocent man in jail.
Officer Smoak would testify under oath that Jamison had headbutted Miles and injured Martin during the struggle to arrest him. Smoak said that Miles was knocked out and suffered a concussion.
The court believed the lying cops over the innocent man and Jamison was sentenced to prison.
After he was convicted, Justin Bamberg, who would eventually go on to represent Jamison in his civil suit, obtained a copy of an internal police department memo created on June 3—three days before Jamison's misdemeanor trial—that detailed how the officers who had been injured were actually hurt by their fellow officers, not by Jamison.
According to the National Registry of Exonerations,
According to the documents, on May 7, 2018—less than two weeks after Jamison was arrested—the Orangeburg police training office reviewed the police body camera footage from the arrest. When a lieutenant noticed there was no contact between Jamison and the officers, he requested a copy of a "use of force report," which was required to be completed when officers used force to subdue a suspect. However, the report had not been completed—a breach of policy.

When the report was finally completed by Corporal Harris on June 3, it said that Jamison headbutted Miles while Jamison was "actively resisting" arrest. The report was approved by a sergeant, and then by a captain and ultimately Orangeburg police chief Mike Adams.
The lieutenant would then write his own memorandum telling the truth about what happened and how the officers were injured. During the melee, one officer jumped on another and they injured themselves. All the while, as the body cam shows, Jamison was pinned face down in the dirt.
"It is clear that (Jamison) never made physical contact or attempted to make contact with…Miles. This claim appears to be false," the training officer wrote. "Officer Miles should be immediately relieved from duty and have an internal investigation…to find out why the officer made false claims against the suspect and if criminal charges need to be pursued."
The lying cops even admitted on the body camera footage that "One of you hit me in the face…somebody headbutted me." And when Martin was asked what was wrong with his ankle, he replied, "Smoak's big ass landed on it."
State police eventually discovered these facts after they investigated Jamison's arrest, ultimately determining he did not hurt any officers, according to Bamberg. Despite committing multiple crimes and conspiring to frame an innocent man, prosecutors did not bring charges against officers — a travesty of justice indeed.
Below is the body camera footage. Had Jamison known of its existence, he could've presented it on his behalf in court and never would have been convicted.