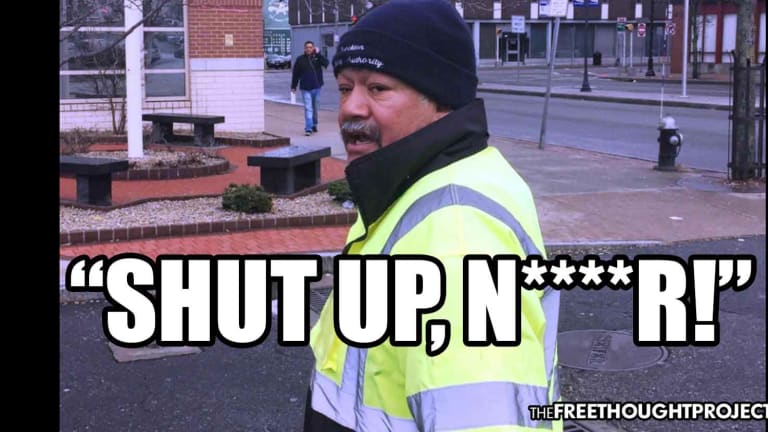 Innocent One-Legged Man Called a 'N****r' then Framed By an Officer for Parking in Handicap Spot
An innocent one-legged man was targeted by law enforcement, called racial slurs, framed, kidnapped and caged, for legally parking in a handicap spot.
Brockton, MA — A federal lawsuit filed this month in Massachusetts is exposing one of the most egregious cases of racism, corruption, and negligence within the ranks of American law enforcement we've reported on. For legally parking in a handicap parking space on his way to the hospital, an innocent black man—with only one leg—was targeted, verbally assaulted, framed for a crime he did not commit, and arrested and tried—in spite of exculpatory video evidence showing he was innocent.
Massachusetts resident, Sean Williamson was on his way to therapy at the Brockton Neighborhood Health Center on March 29, 2017. Despite legally parking in a handicap space, and having the card to prove it, Williamson was approached by officer Jorge Delgado, a parking control officer, to be ticketed for illegal parking.
When Williamson attempted to show his state-issued handicap placard to the racist officer, Delgado responded with a racial slur.
"Shut up, n-----," said the officer. While that story is bad enough on its own, it gets far worse. According to the lawsuit, Williamson then went to file an immediate complaint with City Hall over the officer's actions. However, instead of Delgado being fired or disciplined, Williamson was arrested.
Delgado had told police that Williamson threatened him with a knife. And, despite this being an entirely fabricated story, Williamson was arrested and charged with threatening to commit a crime and assault with a dangerous weapon.
But it gets worse. When police reviewed the surveillance footage of the pair's interaction, they saw that no such threat was ever made. Also, Delgado admitted to calling Williamson the N-word.
"This video depicted the events as they unfolded and for the most part reflected exactly what Mr. Williamson described minus the audio," said the Brockton police report, filed on April 3, 2017. In spite of this admission, police still pursued the case.
Instead of dropping the charges, however, the case against him still went to trial in February this year because the exculpatory video evidence suddenly disappeared from Brockton police custody, said an attorney representing the disabled man.
As Enterprise News reports, Williamson, who has an amputated left leg, waived his right to a jury trial and a judge found him not guilty.
The lawyer for Williamson said the arrest and criminal prosecution took place even though his client immediately went to City Hall when the incident happened, reporting the racial abuse in-person at the office of Brockton Mayor Bill Carpenter. Delgado admitted to using the N-word against Williamson and the racial abuse was corroborated by two witnesses outside of Brockton Neighborhood Health Center, said the lawyer, citing court testimony by the parking control officer and a police report about the incident.
"The Brockton Police Department should have cleared Mr. Williamson then and there, and saw to it that Mr. Delgado was fired from his city job for using a racial slur against Mr. Williamson, and lying," said Daniel W. Rice, a Braintree-based attorney representing the plaintiff. "Brockton had Mr. Williamson arrested, jailed, and prosecuted for a serious crime its own police department's investigation showed he didn't commit. If this weren't outrageous enough, Brockton continued to prosecute Mr. Williamson all the way until he was found 'not guilty' of the false charges at trial, even though it had somehow 'lost' the exculpatory videotape along the way."
According to Rice, this racist officer, who made up lies to get an innocent man kidnapped and caged, is still on the job.
"Brockton's conduct in this matter, therefore, includes the condonation of racism, and a malicious prosecution made even more malicious by its destruction of exculpatory evidence," said Rice, in a statement to The Enterprise. "That Brockton's illegal acts were aimed at convicting Mr. Williamson of a crime, for which he would surely have been incarcerated and had his reputation ruined, is shameful and conscience-shocking. Mr. Williamson is justified in seeking substantial damages against Brockton for its illegal conduct."
The case has since sparked outrage in the community, with people condemning the fact that Delgado is still employed.
"Apparently, a parking control officer can call a man a 'n-----' while he is on duty, make up a ridiculous false cover story about why he called him a 'n----' and get away with it," said Phyllis Ellis, president of the Brockton Area Branch NAACP. "This is exactly what Jorge Delgado did. Yet, Jorge Delgado is still employed by the city of Brockton. Why? Does the City of Brockton condone this type of behavior? The Brockton Area Branch NAACP does not."
Philip Gordon, an attorney representing another victim of the same bureaucracy, did not mince words when he issued a statement last week on the treatment of Williamson.
"Even with a surveillance camera and two witnesses, the city continues to act as though it is above the law," Gordon said. "Instead of protecting and serving the community, it appears that the city government has decided to protect and serve itself."