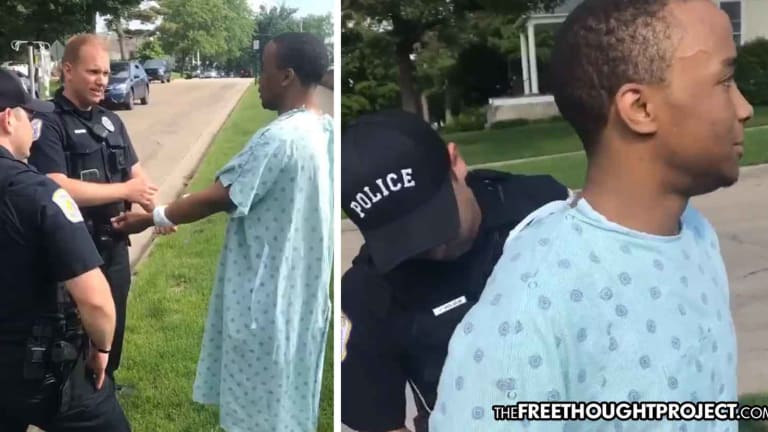 WATCH: Cops Accuse Innocent Hospital Patient of Trying to Steal His IV Bag, Rip IV From Arm, Arrest Him
For walking outside a hospital on the doctor's orders, an innocent man was accused of stealing his IV equipment and arrested.
Freeport, IL — Shaquille Dukes, 24, was admitted to the hospital earlier this month with double pneumonia and trying to make a recovery when his hospital visit took a turn for the worse thanks to police. While listening to the doctor's orders and taking a walk outside — like people do in hospitals every day across the county — Dukes was accused of attempting to steal the IV equipment that was still attached to his arm, and he was arrested.
Naturally, police are urging the public not to rush to judgement. However, one cannot help to be furious at the situation, especially considering that Dukes' health was put in jeopardy by these officers when they kidnapped from the hospital and threw him in a cage.
As the Journal Standard reports:
Dukes, 24, who has lived in Freeport for about a month, said he had been in the hospital for two days with pneumonia when his doctor cleared him to go for a walk outside, as long as he didn't leave hospital property. Dukes, his brother and another person went for a walk just after 4 p.m. on June 9, but were stopped in the parking lot on their way back into the hospital, Dukes said.

The security officer, who has not been named, demanded that Dukes and his companions walk over to his vehicle parked on the side of the street. The security guard, employed by FHN, then accused Dukes of attempting to steal the hospital equipment, according to Dukes.
"He had gotten out of his vehicle and said, 'What are you going to do, steal that and sell it on eBay?'" Dukes said. "I told him, 'This machine is pumping fluid into my veins as we speak.'"
The security guard didn't care that Dukes was out walking around on the doctor's orders, so he called the police.
When police showed up, they just knew that this man in a hospital gown and an IV tube in his arm was a hardened criminal who had contrived this elaborate scheme to steal an IV machine and sell it on the black market.
Dukes' brother and a friend were out walking with him and filmed the interaction. His friend captured the infuriating scene unfold as this innocent man was arrested, the IV ripped from his arm, and thrown into a police cruiser.
For good measure, police arrested Dukes' brother and their friend too.
Dukes said police told him he was under arrest for attempted theft of the IV machine since he was off hospital property when police arrived. However, Dukes said he was off hospital property because he made his way to the security guard when ordered to do so.
Last week, police later admitted that Dukes had no intention of stealing the IV equipment but they charged him with disorderly conduct anyway.
The police have since taken to the media to blame Dukes for his own arrest.
"The issue here is that his actions were why he was arrested," Freeport police Lt. Andrew Schroeder said. "Had they been able to engage in a civil discourse with hospital security, we wouldn't have been called at all."
"As far as the video goes, all you are seeing is a snippet of a longer incident. I think people need to be careful about rushing to judgment against the police without all the information."
Dukes was not harming anyone, was obeying the doctor's orders to take a walk and was accused of trying to steal the equipment which was literally stuck in his arm. He had every right to be angry at the situation. Instead of understanding his anger, however, police arrested him.
What's more, after police ripped the IV from his arm and kidnapped him, they also took his asthma inhaler which nearly killed him.
"Eventually while I was being transported, I passed out and had a seizure," Dukes said. "When I woke up in the back of the car, I had an asthma attack. I didn't get my inhaler until probably four minutes later."
After he got to jail, police were forced to bring the innocent man back to the hospital so he didn't die.
"An ambulance was summoned for him and he was taken back to the hospital," Schroeder said.
Luckily, he recovered once he got to the hospital.
Dukes now has a court date of July 11 for the charges of disorderly conduct.
Posted by Shaquille Dukes on Monday, June 17, 2019
Posted by Shaquille Dukes on Monday, June 17, 2019
Posted by Shaquille Dukes on Monday, June 17, 2019