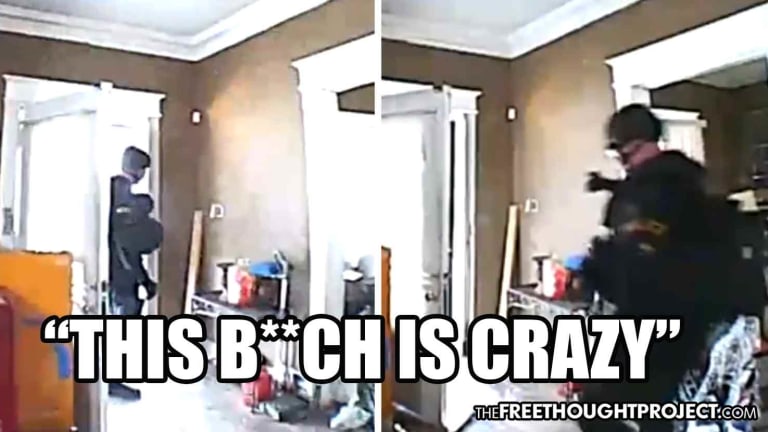 WATCH: Innocent Woman Didn't Let Cops See Her Ring Video, So They Raided Her Home, Mocked Her
Because she feared police, an innocent woman refused to turn over her surveillance video to them — so they raided her home to prove here right.
Kansas City, MO — In January of this year, Monecia Smith was awakened in the middle of the night as a shirtless man pounded on her door seeking help. Moments later the man ran to her neighbor's house before gunshots ran out. Monecia has a Ring camera system which did not capture the shooting but did capture part of the deadly encounter.
"I could see the muzzle (flash) of gunfire," Smith, a mother of four, said to the Kansas City Star.
Smith said she showed the video to a family member of the victim, later identified as Derrick Smith, 31 (not related to Monecia), but when police showed up to her home and asked for it, she refused to hand it over — which is her constitutional right. Smith wasn't committing a crime and explained that her decision to keep the video from police stems from her lack of trust in the department.
As the Star explains, Smith pointed to the questionable shooting deaths of Ryan Stokes, Terrance Bridges, Donnie Sanders and others at the hands of Kansas City police officers, as the reason she does not trust them.
For all Smith knew, it was police who killed Derrick Smith and they could've been trying to seek out and destroy any evidence which showed it.
"There have been too many cases where nothing was done," Monecia Smith said. "My trust for police has gone down the drain."
Smith is not alone in her lack of trust for police. The Star interviewed 75 residents who share similar distrust.
"If people don't trust the police, it is because a very severe injustice has occurred," said Thomas C. O'Brien, a psychologist and postdoctoral researcher at the University of Illinois at Urbana-Champaign.
And, in Kansas City, severe injustice is seemingly routine.
Last week, TFTP reported on 25-year-old Deja Stallings — a nine-month pregnant woman who was body slammed and then knelt down on by cops for allegedly "hindering and interfering" while filming an arrest.
Before that, Karle Robinson, 61, was held at gunpoint and handcuffed at his home near Kansas City. His "crime"? Moving a TV into his new house — while black.
The list goes on and provides an impetus for today's distrust that goes back decades. Proving Smith's reason for distrust is the fact that she was raided by these cops the very next day after refusing to show them the video.
According to the report, Smith showed the video to a member of Derrick Smith's family and when detectives found out about it, they requested a meeting inside her home. Smith politely declined.
"I didn't feel safe with him in my house," she said.
Smith had no idea how profoundly predictive that statement would be. The very next day, a militarized unit of cops in tactical gear kicked in Smith's door and ransacked her apartment — making sure to denigrate her along the way.
Smith, who was at work during the raid on her home, was alerted by a neighbor and came over immediately. When she showed up, cops were still in her home and she was told she couldn't enter. But her cameras inside were rolling.
"Go out and make sure these detectives are OK, 'cause this bitch, (inaudible) she's getting crazy," one of the shock troops can be heard saying on the video.
"They did all of that for a DVR?" Smith said. "Why did I deserve that?"
The fact of the matter is that she didn't deserve that at all. Smith later filed a grievance over the incident which was sustained by the Office of Community Complaints, a civilian agency tasked with holding the police accountable. Unfortunately, however, the agency is largely impotent and have very few tools to actually hold cops accountable.
While many will argue that Smith should have simply let cops watch the video, this hostile relationship goes far deeper than a simple request. Entire communities distrust police because they are frequently exposed for framing innocent people, beating, shooting, and arresting them as well.
This has led to a massive resistance among communities across the country in cooperating with police. In Kansas City, alone, the city recorded its 156th homicide this week which will likely go unsolved like most murders here because of this pattern of distrust.
According to the Star:
While myriad factors contribute to the city's crime rates, experts agree that a lack of trust and disparate treatment by police stymie crime-reduction efforts.

Monecia Smith wasn't a victim of gun violence, but she could have provided investigators with valuable information about a homicide. Her experiences with law enforcement convinced her that she couldn't trust the police.
"My family, we live in fear," Smith said of the police. "Why should we trust them?"
Sadly, the way the department reacted to Smith by kicking in her door and ransacking her home will only breed more distrust, thereby adding to future lack of cooperation and more proliferation of violent crime.
For years, TFTP has been presenting solutions that would help to bring trust back into policing. Until drastic measures like these are taken, this divide will continue.